ERIC KRAUSE
In business since 1996
- © Krause House Info-Research Solutions -
---
KRAUSE GENEALOGY
---

KRAUSE
MY FATHER:
HEINRICH WILHELM "BILL" KRAUSE
(March 15, 1921, Tiegenhagen, Molotschna, Russia - January 15, 1980, Tampa Florida, USA - Interred Leamington, Ontario, Canada)
Married
(April 18, 1942, Leamington, Ontario, Canada)
ANNA "ANNIE" MATHIES
(February 25, 1923, Alexanderkrone, Molotschna, South Russia - June 2, 1988, Leamington, Ontario, Canada)
Heinrich Wilhelm Krause Jr.
Back to Eric R. Krause Genealogy
---
DESCENDANTS

NOTE: IN MANY CASES, IMAGES OF ORIGINAL DOCUMENTS WERE NOT PUBLISHED AT HIGH RESOLUTION THOUGH SUCH ARE DIGITALLY AVAILABLE ARCHIVED OFF SITE IN A DIRECTORY NAMED "KrauseEric&LyndaArchives". THIS DIRECTORY ALSO CONTAINS MANY HISTORICAL AND FAMILY GENEALOGICAL IMAGES NOT PUBLISHED ON THIS SITE. AS WELL, MANY ORIGINAL PAPER RECORDS ARE ALSO ARCHIVED IN PHYSICAL ARCHIVAL BOXES.
---
ANCESTRAL GENEALOGICAL NOTES - KRAUSE
Some Sources for the Genealogy Below
Genealogy of Heinrich Kornelsen, 1807-1975, compiled for Ernest J. Klassen by K. Peters, Winnipeg (Winnipeg, December 1, 1975)

Genealogy of Aron Martens, 1754-1977, compiled for Ernest J. Klassen by K. Peters, Winnipeg (Winnipeg, July 1, 1977)

Annie Krause
KRAUSE DESCENDANTS
UPPER LUSATIA (OBERLAUSITZ)
PRUSSIAN SILESIA
------------
PROVINCE OF SILESIA, KINGDOM OF PRUSSIA (1815- 1919)
------------
BICHOFSWERDA, KINGDOM OF SAXONY
---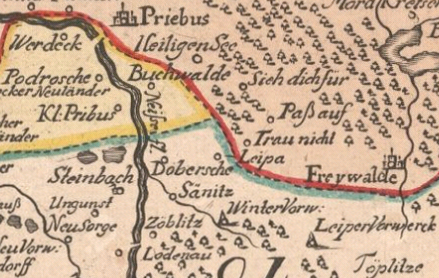 1745
UPPER LUSATIA (OBERLAUSITZ)
Steinbach - Dobers - Sänitz - Leipa - Lodenau - Freiwaldau
http://upload.wikimedia.org/wikipedia/commons/0/0a/PC_nebst_HM_-_Leippa.png
http://upload.wikimedia.org/wikipedia/commons/8/82/Priebussischer_Creis_nebst_Herrschaft_Muska.png
---
ADDITIONAL KRAUSE GENEALOGICAL RESOURCES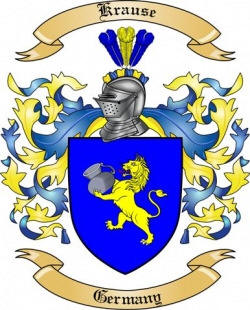 http://www.thetreemaker.com/family-coat-k/krause/germany.html -
Copyright ©2001-2011 All Rights Reserved, The Tree Maker, PO Box 128, Cedar Hill, TN. 37032
Today there are some 40,000 telephone book entries for Krause in Germany making it the 29th most common German family name.
http://wc.rootsweb.ancestry.com/cgi-bin/igm.cgi?op=GET&db=dickkraus01&id=I4063
-----------------------
KRAUSE: IN GERMANY
KRAUSE: GERMANY TO SOUTH RUSSIA TO GERMANY
-----------------------
KRAUSE: GERMANY TO CANADA
-----------------------
KRAUSE: IN CANADA
KRAUSE: GENEALOGY
KRAUSE: PHOTO ALBUMS
KRAUSE: FURTHER RESEARCH
---