ERIC KRAUSE
In business since 1996
- © Krause House Info-Research Solutions -
_____________________________________________________________________________________

KRAUSE GENEALOGY
---
HEINRICH WILHELM KRAUSE PERSONAL CHRONOLOGY
---
HEINRICH WILHELM "BILL" KRAUSE
(March 15, 1921, Tiegenhagen, Molotschna, Russia - January 15, 1980, Tampa Florida, USA - Interred Leamington, Ontario, Canada)
Married
(April 18, 1942, Leamington, Ontario, Canada)
ANNA "ANNIE" MATHIES
(February 25, 1923, Alexanderkrone, Molotschna, South Russia - June 2, 1988, Leamington, Ontario, Canada
Heinrich Wilhelm Krause Jr.
---
1921
MARCH 15
---
1926
1926, December 25
1928, February 3
Baptism (Taufe) Certification
Christening: Tauf Bescheinigung - Heinrich Wilhelm Krause - December 25, 1926
Certificate Issued by the Evangelical Lutheran Parish of Bischofswerda on
February 3, 1928

Taufbescheinigung.
Heinrich Wilhelm Krause
geboren am 15, März 1921 zu dörf Tiegenhagen,
goüvernement Taürien, Kreis Berdjansk, Halbstädter
Wollost, und sohn des hiesigen Glasmacher Metallarbeiter Friedrich Wilhelm
Kraüse, Ev. lüth., ünd ein Mennoniten Maria geb. Kornelsen,
hat am 25, December 1926
Die heilige Taufe empfangen.
Solches wird aus hiesigem Taufregister gemäss Nr. 136A des Jahrganges 1926 bezeugt.

Ev ~Luth. Pfarramt Bischofswerda, am 3, Febv. 1928.
[Stamp:
Bischofswerdensis Sigillum Ecclesiae] Sewin [?],
Oberpfarrer.
Wölf, Kirchner.
Christening.
Heinrich Wilhelm Krause
Born on 15, March 1921 at village Tiegenhagen,
government Taurien, Region Berdjansk, Halbstadter
district, and son of local glassmaker metal worker Friedrich Wilhelm
Krause, Ev. luth., and a Mennonite Maria born Kornelsen,
on 25, December 1926
The holy baptism received.
Such is made according to local baptismal No. 136A of year 1926 shows.

Ev ~Luth. Parish Bischofswerda, on 3, Febv. 1928.
[Stamp:
Seal of the Church Bischofswerdensis] Sewin [?],
Chief Pastor.
Wolf, Sexton.
Note: Wollost = Wolost, Vollost, Volost; Kreis Berdjansk or Berdyansk or Berdiansk
The Molotschna Volosts were part of the Berdiansk Zemstva
[Zemstva: the regional governements beyond the Volosts] - http://www.plettfoundation.org/Preservings/Preservings24.pdf
The seal reads: Bischofswerdensis Sigillum Ecclesiae
_______________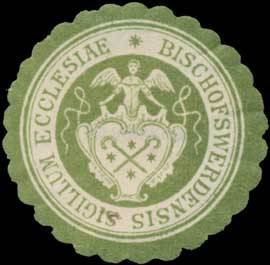 http://www.veikkos.com/description.php?II=149133&UID=2009080919012999.192.14.185
Bischofswerdensis Sigillum Ecclesiae: Location Bischofswerda
---
1932

May 1932
Graded Lesson Course - Junior
The United Church Of Canada
Board of Religious Education
Bible Study Certificate
"Christian Education ... During the 1930s the United Church also presented an evangelical face to its people through its Christian education program. Both "uniform" and "graded" curriculum materials were available to teachers in the church's Sunday schools ... The "Uniform Lessons" were the older of the two, consisting of weekly Scripture lessons intended to cover the entire Bible. These uniform lessons had been developed by editorial staff of the Canadian churches, based on outlines from the International Sunday School Lesson Committee, an interdenominational organization that had had Canadian representation from the Methodist and Presbyterian churches since the late nineteenth century. Alongside the uniform lessons, the United Church offered a "Graded Series of Lessons" which had been used since before Church Union in 1925. The United Church Board of Religious Education released a Canadian revision of these graded lessons in 1931. Unlike the uniform lessons, which followed the same basic lesson for each age group, the graded series provided lessons designed specifically for the different departments of the church school (primary, junior, and so on) and were therefore used particularly for younger children for whom the uniform lessons might prove difficult ... For this reason the Board of Christian Education, which replaced the Board of Religious Education in 1932, phased out the uniform lessons for the primary department in favour of the graded lessons in 1938. With this exception, both curricula were available to teachers in the United Church throughout the 1930s and into the postwar period ... Kevin Neil Flatt, The Survival and Decline of the Evangelical Identity of the United Church of Canada, T 1930-1971 , PhD Thesis, McMaster University, December 2008, p. 39- http://files.efc-canada.net/min/rc/thesis/Flatt_Survival_and_Decline_Evangelical_Identity_Of_UCC,1930-1971,2008.pdf
---
1935

Ontario Department of Education
High School Entrance Certificate
It is hereby certified
That William Krause
has complied with the requirements for admission to a Collegiate
Institute High School, Continuation School or Vocational School
Signed on Behalf of the High School Entrance Board
At Ridgetown, Ontario, July 6th, 1935 ...
---
1942
APRIL 18, 1942
---
1943
JANUARY 26
---
1945
MAY 6
Birth: William Alexander Krause
---
1956
MARCH 8
---
1961
William H. Krause, Jr. - Seeking office, Board of Mersea Township School Area "A"
The Leamington Post, November 30, 1961 - Pages 1 and 8

Elected, William H. Krause, Jr., Point Pelee - Trustee, Board of newly formed Mersea Township School Area "A"
The Leamington Post, December 7, 1961 - Page 1
---
1964

Wm. H. Krause Jr. , Township School Area Trustee
The Leamington Post, December 3, 1964 - Page 13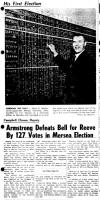 William H. Krause, Jr., Trustee, elected
The Leamington Post, December 10, 1964 - Page 1
---
c. 1969
Henry A Regier, et al, THE ECOLOGY AND MANAGEMENT OF THE WALLEYE IN WESTERN LAKE ERIE (GREAT LAKES FISHERY COMMISSION, May, 1969)

In acknowledging here a special indebtedness to a number of persons for data, observations and comments made available to us, we do not wish to imply that these persons necessarily subscribe to all the inferences we have drawn. We thank ... W. H. Krause ...
Canadian fishermen recall runs of ripe walleyes to sand and gravel areas on the west shore of Pt. Pelee and also along the north shore of Lake Erie near Kingsville (W. H. Krause, personal communication) [http://www.glfc.org/pubs/TechReports/Tr15.pdf ]
---
1980

January 19, 1980

MEMORIAM OF WILLIAM KRAUSE

Bill was born in Tiegenhagen, Russia on March 15, 1921. While yet an infant, his parents F. W. Krause and Maria (nee Kornelsen) travelled with him to Germany, the home of his father's people. At five years of age he was baptized at the Lutheran Church in Germany. He started school in Germany, but at the age of seven, at the urging of his uncle Jake Kornelsen, the family came to Canada, and lived for a while on the seventh Concession, Wheatley.

From there they went to Port Crewe and after two years in high school, at the age of 15 years, he decided it was time to help his parents earn a living. Since his Dad was working on a fishing boat [Crewe's Fishery], he joined him. At 17 years of age, he, his parents and younger brother, Rudy, moved to Point Pelee, where they bought their own fishery.

---------------


In 1942, he was married to Annie Mathies in the Oak Street United Mennonite Church. Three children were born to them:

Eric Richard - January 26, 1943

William Alexander - May 6, 1945

Kathleen Ann - March 8, 1956

He joined the Faith Mennonite Church when it began at the Margaret D. Bennie School, and was the contractor when the Church was built.

Although he had a limited formal education, his own interest in all things, combined with his talents, have resulted in the building of houses, boats, furniture, fish nets, etc. Bill was a Builder.

When he became ill four years ago and was told he had leukemia, he accepted it although he felt he still had a lot to do. He continued to fight to live as long as he could, taking one day at a time.

Peacefully he went to sleep on January 15, 1980, to wake eternally.

Sincerely,

The Bereaved Family.
----------------------------
WINDSOR STAR OBITUARIES
http://www.windsorpubliclibrary.com/obits/results.php?lname=krause&fname=&maiden=&spouse=&m1=0&y1=0&m2=0&y2=0&lim=25&search=Search
----------------------------
Der Bote ("The Messenger") is a German-language Mennonite newspaper published in Winnipeg, Manitoba, by Mennonite Church Canada.
Der Bote Obituaries: 1950-2004 Indexed by Erica Suderman
| | | | | | | | | |
| --- | --- | --- | --- | --- | --- | --- | --- | --- |
| Surname | Given Name | Maiden Name | Birth Year | Death Year | Place of Death | Country | Issue | Page |
| Krause | William | | 1921 | 1980 | Point Pelee, ON | Can | 1980 Feb 27 | 6 |
| Krause | William | | 1921 | 1980 | Point Pelee, ON | Can | 1980 Feb 27 | 6 |
Note: Death actually occurred in Tampa, Florida, USA
http://www.mhsbc.com/genealogy/bote/botek.htm
----------------------------

| | | | | |
| --- | --- | --- | --- | --- |
| NAME | CEMETERY | COUNTY | TOWNSHIP | REFERENCE |
| KRAUSE, William H. | Evergreen Memorial Park, Leamington | Essex | Mersea | EX-SX-040 |
----------------------------
H. WILLIAM, KRAUSE, JR.
January 15, 1980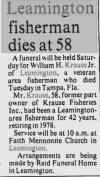 William H. Krause, Jr. of Leamington, a veteran area fisherman ...
former part owner of Krause Fisheries Inc., had been a Leamington fisherman for 42 years, reiring in 1978.
Windsor Star, January 16, 1980 - http://news.google.com/newspapers?id=oVc_AAAAIBAJ&sjid=3lIMAAAAIBAJ&pg=3587,22421&dq=krause+leamington&hl=en
----------------------------
January 15, 1980

Krause, William H Jr.,
W. Krause Jr. services held
Funeral services were conducted Saturday morning for William H. Krause Jr., of RR 1, Leamington, who died Jan. 15 at Tampa General Hospital, Florida, after a long illness. He was 58.
Born in Tiegenhagen, Mol., USSR, Mr. Krause had resided in the Leamington area for most of his life.
He had been a commercial fisherman for 42 years, retiring in 1978, and had been a former part owner of Krause Fisheries, Inc.
He served for several years as a trustee on the old Mersea Township Area Public School Board and was a member of Faith Mennonite Church, Leamington.
Surviving are his wife, the former Annie Mathies; two sons, Eric R. Krause, of Sydney, Cape Breton; William A. Krause, of Cottam; a daughter Mrs. Dan Beveridge (Kathleen), of Leamington; his parents, Mr. and Mrs. F. William Krause Sr., of Point Pelee; a brother, Rudy, of Mersea Township, and four grandchildren.
Re. Peter Janzen officiated for the last rites at faith Mennonite Church with interment in Evergreen Memorial cemetery. The Reid funeral home, Leamington, was in charge of arrangements.
http://ink.ourontario.ca/browse/lp -Leamington Post, January 23, 1980, p. 3
----------------------------
1980, January 15

H. William 'Bill' Krause
The Windsor Star, January 17, 1980, p. 39
KRAUSE -- William H., Jr., 58 years, Tuesday, Jan. 15, 1980 at Tampa General Hospital, Fla, late residence Bevel Line, RR 1, Leamington. Beloved husband Anne (nee Mathies). Dear father of Eric R. Krause, Sydney, Cape Breton; William A. Krause, Cottam and Mrs. Dan Beveridge (Kathleen), Leamington. Dear grandfather of Lisa and Robert Krause, Steven and Angela Beveridge. Dear son of F. William Krause, Sr. and Maria Krause (nee Kornelsen), Point Pelee National Park. Dear brother Rudy Krause, Mersea Twp. Resting at the Reid Funeral Home, 14 Russell St., Leamington. Funeral Sat. Jan. 19 at 10 a.m. from Faith Mennonite Church, Sherk St., Leamington, Rev. Peter Janzen officiating. Interment Evergreen Memorial Cemetery, Leamington. Memorial donations may be made to the Canadian Cancer Society or to the Marlene Dumouchelle Organ Fund of Faith Mennonite Church. Visitation after 7 p.m. Thursday.
----------------------------
1980, January 15
H. William "Bill" Krause
William Krause
Point Pelee, Ontario
Am 19. Januar 1980 versammelten sich Verwandte and Freunde in der Faith Mennonitengemeinde, Leamington, Ontario zu der Beerdigungsfeier des verstorbenen William H. Krause Jr. Br. Krause gehörte zu den Gründungsgliedern der Gemeinde.
Die Versammlung and der Gemeindechor sangen mehrere Lieder. Der ehemalige Pastor der Gemeinde, George Janzen, Er sprach über Hiob 19, 23 - 27 and Matth. 11, 25 30. Die Leichenrede hielt Peter H. Janzen. Ersprach über den Auferstehungsglauben. Nach der Beisetzung auf dem Evergreen Memorial Friedhof wurde bei der Kirche ein Gedächtnis- und Gemeinschaftsmahl abgehalten.
Lebenslauf
William (Bill) Krause wurde am 15. März 1921 in Tiegenhagen, Südrüßland, geboren. Bald darauf zog er mit seinen Eltern nach Deutschland, der Heimat seines Vaters. Im Alter von 5 Jahren wurde er getauft and in die lutherische Kirche aufgenommen. In Deutschland fing er auch an, die Schule zu besuchen, aber auf das Drängen seines Onkels, Jake Kornelsen, kam die Familie nach Kanada, wo sie zunächst bei Wheatley ansiedelte. Etwas später zog die Familie nach Port Crewe, wo der Vater im Fischfang arbeitete. Als William 15 Jahre alt war, brach er seine Schulbildung ab, um seinem Vater in der Fischerei zu helfen. Zwei Jahre später zog er mit seinen Eltern and einem jüngeren Bruder nach Point Pelee, wo die Familie eine eigene Fischerei erwarb.
1942 heiratete Br. Krause die ehemalige Annie Matthies in der Oak Street Vereinigten Mennonitengemeinde. Drei Kinder wurden dem Ehepaar geboren: Eric Richard (1943), William Alexander (1945) and Kathleen Ann (1956). Als die Faith Mennonitengemeinde gegründet wutde war die Familie Krause mit dabei. Br. Krause war der Bauherr des gegenwärtigen Gotteshauses der Gemeinde. Er widmete dem Ban kostenlos ein ganzes Jahr seiner Zeit.
Vor vier Jahren erkrankte Bill an Leukämie (Blutkrebs). Tapfer, und doch dem Willen Gottes ergeben, kämpfte er gegen these tückische Krankheit and nahm jeden Tag als eine Gabe von Gott entgegen. Am 15. Januar 1980 durfte er ruhig einschlafen, um erst in der Ewigkeit zu erwachen.
Die trauernde Familie
----------
Source and Translator: Margreta (Kornelsen) Gronski
On January 19, 1980 friends & relatives gathered at Faith Mennonite Church for the funeral of .... He was a founding member of the church.
The gathering and choir sang several songs. The Previous pastor George Janzen spoke about Hiob 19, 23-27 and Matthew 11:25-30. The main sermon was conducted by Peter Janzen. He spoke about resurrection. After the burial at Evergreen Cemetery there was a meal and memorial in the Church.
Lifestyle
William (Bill) Krause was born on March 15, 1921 in Tiegenhagen South Russia. Soon after he moved to Germany the home of his father with his parents.
At about 5 years old he was baptised in the Lutheran Church. He started his schooling in Germany but after coaxing from his uncle Jake Kornelsen the family came to Canada and settled in Wheatley. Sometime later the family moved to Port Crewe where his father started working in a fishery.
William left school at age 15 in order to help his father with the fishery. Two years later he moved to Point Pelee with his parents and younger brother, where the family had their own fishery.
In 1942 Brother Krause married Annie Mathies in the Oak St. Mennonite Church. The couple had 3 children.
Eric Krause (1943)
William Alexander (1945)
Kathleen Ann (1956)
As Faith Menn. Church was founded the Krause family took part. Brother Krause was the head builder of the actual Church building. He gave the project a year of his time.
For 4 years Bill was sick with leukemia "Tapfer?" and yet given the will of God he fought the disease and took each day as a gift of God.
On January 15, 1980 he quietly went to sleep to wake up in eternity.