ERIC KRAUSE
In business since 1996
- © Krause House Info-Research Solutions -
_____________________________________________________________________________________
KARL RUDY KRAUSE
(September 3, 1931, Port Crewe, Ontario - April 6, 2013, Leamington, Ontario)
---
SOME NOTES - KARL RUDY KRAUSE ON HIS PARENTS

Return
GERMANY (1897-1918)
His father was an excellent gymnast, and very fast


His father's sister's name was Margaret [Anna Frida still alive in 1983, and is this Margaret the daughter of Anna Frida?]
WORLD WAR 1 (1914-1918)
German Certificate: Battalion and Company
9th Co., 16.K.S. Infantry, Reg. 182
16.KGL.Sach.Jnf. Regt. 182


He was a foot soldier


His father always wondered why they were ordered to take a certain hill during the war. [Probably Autumn, 1915, Battle of Loos, Hill 70. Less likely September, 1918, Hill 1050, Macedonia, where his Saxon Jager 12, Company 3, had fought on the hill, but perhaps not including him since in February, 1918, his infantry regiment 182 (212 Division) had moved on into South Russia - Note: the last reference to him being a Jäger was March, 1918, and perhaps he was making reference to his former Jäger comrades that he had left behind.]
SOUTH RUSSIA (1918-1921)
When his parents were married, his father, being an army man, spoke up so loud during the ceremony, that he startled everyone there


In a second floor chicken coop, a very young Bolshevik soldier was going to rape his mother [Maria Mietz (Kornelsen) Krause (May 5, 1900 - April 2, 1991)] in Tiegenhagen
His father [Friedrich Wilhelm Krause (January 18, 1897 - December 9, 1983)] was still in his uniform with a straight blade razor in his hand when he encountered this act. One look at the German pants and boots, and the Bolshevik fled.
When the German soldiers in South Russia went home, his father stayed


The trigger finger of his father's left hand had been shot off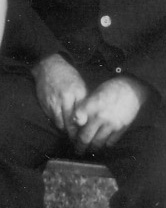 Trigger Finger, Left Hand
Friedrich Wilhelm Krause, Awarded German Iron Cross for Being Wounded August 30, 1918
GERMANY (1921 - 1928)
His father and mother (with his brother in a basket) were on the train for several weeks, in a cattle car, which stopped at every village. Beggars were begging for food at every stop. Before leaving his mother had filled a flour bag with Zwieback [a biscuit: zwie- two and backen to bake] and if she had not they would not have survived. On the train, every one "pooped" in the car, at one end.

http://www.bestbakingrecipe.com/wp-content/uploads/2012/03/IMG_0732.jpg

When they arrived in Germany, in the dark of night, no one had any idea they were coming [Lynda Krause remembers it being told that with "Willy" - Heinrich Wilhelm Krause Jr. (March 15, 1921 - January 15, 1980) - they went upstairs]


His father worked in a brass factory, making brass taps for sinks


He owned Jäger [Jaeger - A hunter or a rifleman in the old Austrian and German armies] booklets
CANADA (1928 - 1991)
The church put up the $500.00 required so that his parents could travel to Canada to stay with Jake Kornelsen, his mother's brother, in Wheatley, Ontario, who had been urging them to come. When they landed, his father wondered why they came since Germany was better. They would pay off this loan.


His father worked at Crewes, in Port Crewe, at $1.00 per day. He worked only three days a week in the winter.


His mother, then living in Point Pelee, and not a naturalized citizen, was so incensed when she [and presumably her naturalized husband by law - Order in Council was passed that defined enemy aliens as "all persons of German or Italian racial origin who have become naturalized British subjects since September 1, 1922 - though Rudy says he was not] were fingerprinted that she buried on the property the iron cross that his father was awarded when wounded on August 30, 1918 in South Russia.


His mother was naturalized in 1956
---

Return