ERIC KRAUSE
In business since 1996
- © Krause House Info-Research Solutions -
_____________________________________________________________________________________
KRAUSE FAMILY TREE

Return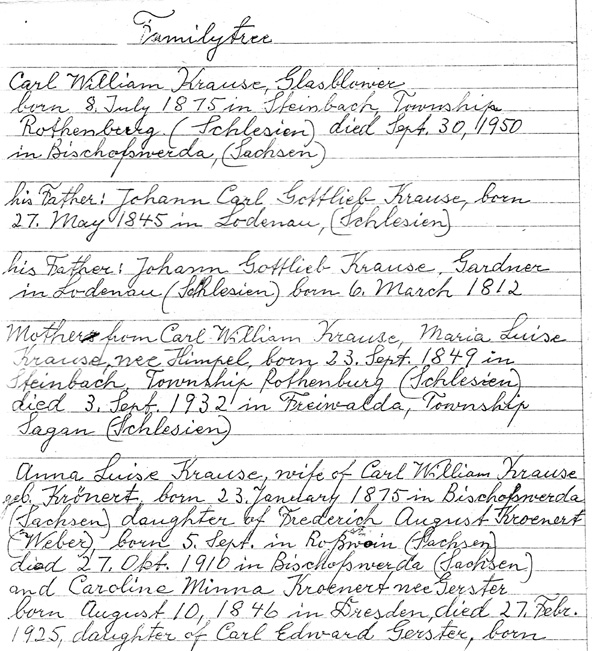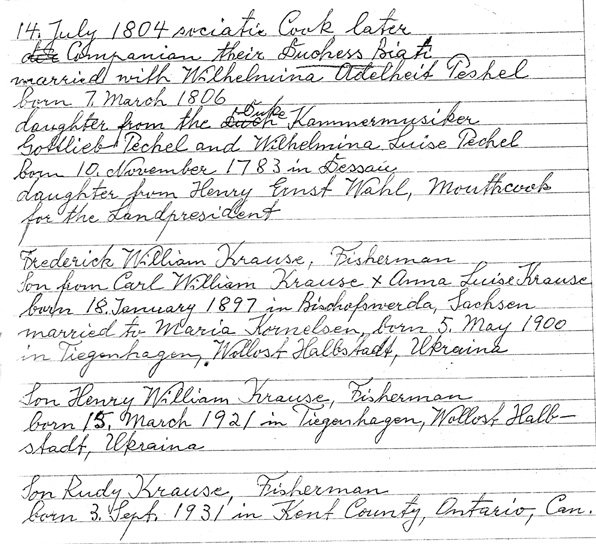 Family Tree
Carl William Krause, Glasblower born 8. July 1875 in Steinbach, Township Rothenberg (Schlesien) died Sept. 30, 1950 in Bischofswerda, (Sachsen)

his Father: Johann Carl Gottlieb Krause, born 27. May 1845 in Lodenau, (Schlesien)

his Father: Johann Gottlieb Krause, Gardner in Lodenau (Schlesien) born 6. March 1812

Mother from Carl William Krause, Maria Luise Krause, nee Himpel, born 23. Sept. 1849 in Steinbach, Township (Schlesien) died 3. Sept. 1932 in Freiwalda [Freiwaldau], Township Sagan (Schlesien)

Anna Luise Krause, wife of Carl William Krause geb. Krönert, born 23. January 1875 in Bishofswerda (Sachsen) daughter of Frederich August Kroenert (Weber [i.e. weaver]), born 5. Sept. in Roßwoin (Sachsen) died 27. Okt. 1910 in Bischofswerda (Sachsen) and Caroline Minna Kroenert nee Gerster born August 10, 1846 in Dresden, died 27. Febr. 1925, daughter of Carl Edward Gerster, born 14. July 1804 sociatic Cook later Companion their Duchess Biati married with Wilhelmina Adelheit Peshel born 7. March 1806 daughter from the Duke Kammermusiker Gotlieb Pechel and Wilhelmina Louise Pechel born 10. November 1783 in Dessau daughter from Henry Ernst Wahl, Mouthcook for the Landpresident

Frederick William Krause [Friedrich Wilhelm Krause], Fisherman Son from Carl William Krause x Anna Luise Krause born 18. January 1897 in Bischofswerda, Sachsen married to Maria Kornelsen, born 5. May 1900 in Tiegenhagen, Wollost Halbstadt, Ukraina

Son Henry William Krause, Fisherman born 15. March 1921 in Tiegenhagen, Wollost Halbstadt, Ukraina

Son Rudy Krause, Fisherman born 3. Sept 1931 in Kent County, Ontario, Can.
---
Ahnentafel
Vater: Carl Wilhelm Kraūse glasmachermeister geb. 8.7.1875 zū Steinbach - Kreis Rothenbūrg in Schlesien.

gestorben 30. Sept. 1950 zū Bischofswerda in Schlesien.

seine Vater: Johann Carl Gottlieb Kraūse geb. 27. Mai 1845 in Lodenaū - Schlesien.

dessen Vater: Johann Gottlieb Kraūse gärtner in Lodenaū geb. 6. März 1812.

Mūtter von unserem Vater:

Maria Luise Kraūse geb. Himpel geb. 23 Sept. 1849 in Steinbach Kreis Rothenbūrg gest. 3. Sept. 1932 in Freiwalda Kreis Sagan in Schlesien.

-------------------------------------------------------------------------------------------------------------------------------------------------------------------------------------

Mūtter: Anna Luise Kraūse geb. Krönert geb. 23. Jan. 1875 in Bischofswerda - Ja. Tochter des Friedrich Aūgūst Krönert tūchm acher [Tūchmacher] geb 5. Sept. in Rosswein 1838. gest 27. Okt. 1910 in Bischofswerda.

ūnd des Caroline Minna Krönert geb. Gerster. geb. d. 10 Aūgūst 1846 in Dresden, gest. 27. Feb. 1925 in Bischofswerda. Tochter des Karl Edūard Gerster geb. d 14. 7. 1804 gestorben 29. 6. 1860 herrschaftlicher Koch ūnd Haüsbesitzer in Dresden - später Gesellschafter des Gräfin Biati.

verheiratet mit Wilhelmina Adelheit geb. Peschel geb. d. 7. 3. 1806

Tochter des Neūfürstlichen Kammermūsiker Gottlieb Peschel ūnd Wilhelmina Luise Peschel geb. Wahl geb. 10 Nov. 1783 in Dessaū.

Tochter des Heinrich Ernst Wahl Mūndkoch bei den regier. Landesfürsten ūnd des Leopoldine Maria geb. Braūn.
---

Return