ERIC KRAUSE
In business since 1996
- © Krause House Info-Research Solutions -
_____________________________________________________________________________________

KRAUSE GENEALOGY
---
FRIEDRICH WILHELM KRAUSE PERSONAL CHRONOLOGY
---
FRIEDRICH WILHELM "WILLIE" KRAUSE
(January 18, 1897, Bischofswerda, Saxony, Germany - December 9, 1983, Leamington, Ontario, Canada)
Married
(May 16, 1920, Halbstadt, Molotschna)
MARIA [MARIECHEN] "MIETZ" KORNELSEN
(May 5, 1900, Tiegenhagen, Molotschna, South Russia - April 2, 1991, Leamington, Ontario, Canada)
Friedrich Wilhelm Krause Sr.
---
SOME HIGHLIGHTS
---
1897
JANUARY 18
BISCHOFSWERDA, SAXONY, GERMANY
Friedrich Wilhelm Krause, born January 18, 1897 in Bishchofswerda
Parents: Karl Wilhelm Krause and Louise Anna, born Krönert
---
1914
IN THE GERMANY ARMY PRIOR TO NOVEMBER 24, 1914
Königliches Sächsisches 16. Infanterie-Regiment Nr. 182
Before November 24, 1914 - Post December 4, 1914
---
1915 - 1917/1918
Königliches Sächsisches 1. Jäger-Bataillon Nr. 12
Between October 1, 1915 - c. December 21, 1917/February 11, 1918: Jäger
---
1917/1918 - 1919
Königliches Sächsisches 16. Infanterie-Regiment Nr. 182
c. December 21, 1917/February 11, 1918 - September 30, 1919: Soldat
---
1918
AUGUST 27, and OCTOBER 30
Iron Cross, Second Class (Eisernen Kreuzes 2, Klasse)
and Wounded Badge In Black (Verwundete Abzeichen in Schwarze)
---
1919
SOUTH RUSSIA
Königliches Sächsisches 16. Infanterie-Regiment Nr. 182
As of September 30, 1919: Gefreiter: Missing In Action
---
1920
MAY 16, 1920
SOUTH RUSSIA
---
1921
MARCH 15, 1921
SOUTH RUSSIA
---
1921
SHORTLY AFTER POST MARCH 15, 1921
SOUTH RUSSIA
The Krause Family travelled to Germany, the home of his father's people.
---
1921 - 1928
SHORTLY AFTER POST MARCH 15, 1921 - MARCH 13, 1928
GERMANY
The Krause Family resided in Bischofswerda, Saxony, Germany
---
1928
MARCH 25, 1928
CANADA
The Krause Family arrives in Canada
---
1931
SEPTEMBER 3, 1931
CANADA
---
1933
FEBRUARY 24
CANADA
FAMILY PASSPORT
PASSPORT OF THE GERMAN EMPIRE
----------------
DEUTSCHES REICH REISEPASS
GELTUNGSBEREICH DES PASSES in-und Ausland, Insbesondere Kanada und die Vereinigten Staaten von Amerika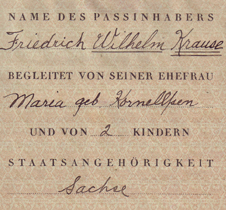 Friedrich Wilhelm Krause
STAATSANGEHORIGKEIT: Sachse
Unterschrift des Paßinhabers
Wilhelm Krause
und seiner Ehefrau
Maria Krause
es wird hiermit bescheinigt das der Inhaber die durch das obenstehende Lichtbild dargestellte Person is und die darunter befindliche Unterschrift-eigenhändig vollzogen hat.
Montreal, den 24 Februar 1933
(der Paß wird ungültig am 24. Febrüar 1938)
Beruf: Revolverbankdreher
Wohnort: Mirlin, Ontario
Fehlen der oberen 2 Glieder am linken zeigefinger
Kinder:
Krause Wilhelm, geb. 15.3.21, in Tiegenhagen
[Sohn: Wilhelm Krause ist am 15.3. 1921 geboren Montreal, den 18 Marz 1936]
Krause, Karl Rudy, geb. 3.9.31 in Tilbury East, Ont.
---
1936
MAY 4
CANADA
Awarded The Cross of Honour For Veterans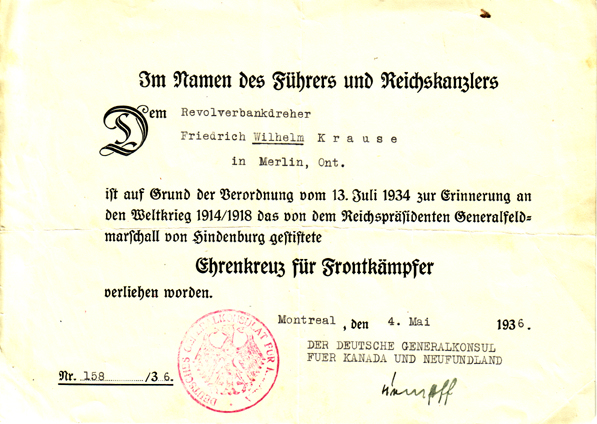 Im Namen des Führers und Reichskanzlers
Dem Revolverbankdreher
Friedrich Wilhelm Krause
in Merlin, Ont.
ist auf Grund der Verordnung vom 13. Juli 1934 zur Erinnerung an
den Weltkrieg 1914/1918 das von dem Reichspräsidenten Generalfeldmarschall von hindenburg gestiftete
Ehrenkreuz für Frontkämpfer
verliehen worden.
DER DEUTSCHE GENERALKONSUL FUER KANADA UND NEUFUNDLAND
Nr. 158 ......./36.
---
1938
MAY 25
CANADA
Certificate of Naturalization
Frederick William Krause - 44524, May 25, 1938
---
1981
JUNE 19 - JULY 4
CANADA
PASSPORT CK396593
Issued April 12, 1979 - Expiry April 12, 1984
Fredrick William Krause - F. William Krause
Travelled to East Germany to visit with family members

Passport stamped with Visa number 1/81/766

zur einreise und ... zugelassene (to enter and ... approved): 19.6.81

Aufenthaltsberechtigung für die Deutsche Demokratische Republik den Bezirk / Kreis .....gültig bis (Residence permit for the German Democratic Republic the district / county .....valid until): 04-07-81

Dresden Stamp: 04.07.81

gültig zur ausreise aus der Deutschen Demokratischen Republik bis 04 juli 1981 (valid to leave the German Democratic Republic until 04 July 1981

ausgestellt am (issued on): 01.07.81
---
1981
SEPTEMBER 28
CANADA
WILL
"THIS IS THE LAST WILL AND TESTAMENT of me,
FREDERICK WILLIAM KRAUSE , of the Township of Mersea, in the County of Essex, Fisherman ..."



Signatures On The Will
Fredrick William Krause
---
1983
CANADA
WINDSOR STAR OBITUARIES
http://www.windsorpubliclibrary.com/obits/results.php?lname=krause&fname=&maiden=&spouse=&m1=0&y1=0&m2=0&y2=0&lim=25&search=Search
---------------------------
F. WILLIAM KRAUSE
DECEMBER 9, 1983

W. KRAUSE dies at 86
Funeral services were conducted Monday afternoon for F. William Krause, of Point Pelee National Park, who died suddenly at his residence Friday. He was 86.
Born in Germany, Mr. Krause came to Canada in 1928.

Working on a farm for one year, he turned to commercial fishing and was employed at Crewe Brothers Fisheries, Port Alma, until 1938.

With help from his wife, Maria, and his oldest son, H. William Krause, he began what is now Krause Fisheries, joined by his younger son, Rudy Krause, in 1946.

Mr. Krause remained active on Lake Erie until 1953 when he retired from the water but remained active with all shore duties.

The firm was joined in 1972 by his grandson, Paul Krause.

Mr. Krause retired in 1980 but remained as an advisor until his death.

Surviving are his wife, Marie; a son, Rudy, of Mersea Township; a sister, Frieda, in Germany; six grandchildren and five great grand children.

A son, H. William Krause, died in 1980.

Rev. Peter Janzen officiated for the last rites at the Reid funeral home, Leamington, with interment in Evergreen Memorial cemetery.
---------------------------