ERIC KRAUSE
In business since 1996
- © Krause House Info-Research Solutions -
---
KORNELSEN GENEALOGY
---

KORNELSEN
MY GRANDMOTHER:
MARIA [MARIECHEN] "MIETZ" KORNELSEN
(May 5, 1900, Tiegenhagen, Molotschna, South Russia - April 2, 1991, Leamington, Ontario, Canada)

Back to Eric R. Krause Genealogy
---
DESCENDANTS
NOTE: IN MANY CASES, IMAGES OF ORIGINAL DOCUMENTS WERE NOT PUBLISHED AT HIGH RESOLUTION THOUGH SUCH ARE DIGITALLY AVAILABLE ARCHIVED OFF SITE IN A DIRECTORY NAMED "KrauseEric&LyndaArchives". THIS DIRECTORY ALSO CONTAINS MANY HISTORICAL AND FAMILY GENEALOGICAL IMAGES NOT PUBLISHED ON THIS SITE. AS WELL, MANY ORIGINAL PAPER RECORDS ARE ALSO ARCHIVED IN PHYSICAL ARCHIVAL BOXES.
---
ANCESTRAL GENEALOGICAL NOTES - KORNELSEN
Some Important Primary Sources
Genealogy of Heinrich Kornelsen, 1807-1975, compiled for Ernest J. Klassen by K. Peters, Winnipeg (Winnipeg, December 1, 1975)

Genealogy of Aron Martens, 1754-1977, compiled for Ernest J. Klassen by K. Peters, Winnipeg (Winnipeg, July 1, 1977)

Genealogy of Cornelius Willms, 1730-1972, compiled for Ernest J. Klassen by K. Peters, Winnipeg (Winnipeg, March 1, 1973)

Ernest J. Dick, Courage, Courage, The Lord Will Help, The Family History of Johann P. Dück and Descendants from Schönfeld, Southern Russia (Leamington, John H. Dick, 1990)

Annie Krause
============================
Some Notes
The Kornelsen name is not given in the Name Index to Die niederländisch-niederdeutschen Hintergründe der mennonitischen Ostwanderungen im 16., 18. und 19. Jahrhundert by Tim Janzen on http://www.mennonitehistory.org/projects/books/unruh/m.html .The index is based on B.H.Unruh's book "Die Niederlaendisch-Niederdeutschen Hintergruende der mennonitischen Ostwanderungen im 16. 18. und 19 Jahrhundert . Translated as "The Dutch-Lower [North] German Background of the Mennonite Eastward Migrations of the 16th, 18th and 19th Centuries" it provides information on Mennonite migrations from Prussia to South Russia.

Was Heinrich Kornelsen (June 15, 1807-May 30, 1857 who married Sarah Walde (August 1, 1826-September 13, 1897) and had a son Jacob H. Kornelsen (August 1, 1849-May 6, 1926) born in Pordenau, Molotschna, South RUSSIA, born in Danzig, Westpreußen?
Molotschna (Prischib) Group

Village Founded Religion From
Pordenau 1820 M Danzig, Westpreußen

http://www.grhs.org/chapters/gppr/colonies.html

In 1776, 20 families of the name Cornelsen (Kornelsen, Knels, Cornies, Cornelius, Cornelis, Corneliessen, Cornels, Knelsen, Korniesz) lived in West Prussia (without Danzig)...

http://www.gameo.org/encyclopedia/contents/C674ME.html
----------------------------------------
Helena Martins (June 15, 1851 - June 8, 1945), grandmother of Maria "Mietz" Kornelsen (May 5, 1900 - April 2, 1991), died in Leamington [Left Tiegenhagen on November 5, 1925 and arrived in St. John, NB, on December 6, 1925, and proceeded west by way of Winnipeg]

Parents of Helena Martens (June 15, 1851-June 8, 1945) (who married Jacob H. Kornelsen, August 1, 1849-May 6, 1926) were Jacob Martens (May 9, 1806-January 27, 1870) and Maria Willms (May 5, 1811-November 28, 1889)

Helene [Helena] Kornelsen (June 15, 1851 - June 8, 1945): mother of Sara (February 5, 1882 - c. October 12, 1979) Schellenberg and Helene [Helena] (October 1, 1888 - 1980) Penner [Gerhard Jacob Penner], died June 8 [1945] at 93 years; buried in Ruthven [ http://ekmha.ca/in_memoriam.htm - In Memoriam Mennonite deaths in Essex and Kent Counties 1925-1950. Basic information below from Mennonite Brethren and United Mennonite Churches] - [Helene [Helena] died in Leamington, 1980]

KORNELSEN, Helene 1851 - 1945 (age: 94)
http://geneofun.on.ca/cems//ONESS10720
| | | | | |
| --- | --- | --- | --- | --- |
| KORNELSEN, Helene | Ruthven United | Essex | Gosfield South | EX-SX-033R |
http://ocfa.islandnet.com/search.php - Ontario Cemetery Finding Aid
FULL RESOLUTION IMAGE AVAILABLE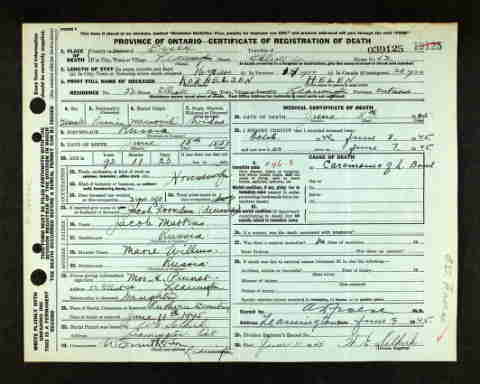 ----------------------------------------
Maria Voth (November 28, 1877 - April 12, 1904), mother of Maria "Mietz" Kornelsen (May 5, 1900 - April 2, 1991), was the first wife of Heinrich Kornelsen (April 17, 1876 - 1947), her father, miller by trade, and also jack of all trades with machinery

---
ADDITIONAL KORNELSEN GENEALOGICAL RESOURCES
KORNELSEN: IN SOUTH RUSSIA
----------------------------------------
KORNELSEN: SOUTH RUSSIA TO CANADA
----------------------------------------
KORNELSEN: IN CANADA
----------------------------------------
KORNELSEN: IN GERMANY
KORNELSEN: GENEALOGY
----------------------------------------
KORNELSEN: PHOTO ALBUMS
----------------------------------------
KORNELSEN: FURTHER RESEARCH