ERIC KRAUSE
In business since 1996
- © Krause House Info-Research Solutions -
_____________________________________________________________________________________
KORNELSEN GENEALOGY
_____________________________________________________________________________________

Return
KATHARINA (TINA) KORNELSEN AND JACOB JOHANN "J.J." THIESSEN
Katharina (Tina) Kornelsen (December 5, 1893 [November 23, 1893] -February 2, 1984, Saskatoon, sister of Heinrich Kornelsen ( April 17, 1876 - 1947), the father of Maria Mietz Kornelsen (May 5, 1900 - April 2, 1991), and Jacob Johann "J. J." Thiessen (August 31, 1893 in Klippenfeld, Molotschna Mennonite Settlement, South Russia- 25 August 25, 1977 in Saskatoon, Saskatchewan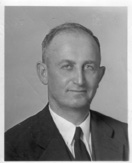 1941
---
Thiessen, Jacob Johann "J. J." (1893-1977)


J. J. and Katherine Thiessen, 50th Wedding
Anniversary.
Source: Mennonite Archives of Ontario

Jacob Johann "J. J." Thiessen was born 31 August 1893 in Klippenfeld, Molotschna Mennonite Settlement, South Russia, the third of nine children of Johann J. Thiessen (26 August 1864, Klippenfeld, Molotschna, South Russia - 31 May 1928, Klippenfeld, Molotschna, South Russia) and Margaretha (Neufeld) Thiessen (22 November 1869, Klippenfeld, Molotschna, South Russia - 2 June 1921, Klippenfeld, Molotschna, South Russia). Jacob's father Johann also had three children from a previous marriage. On 16 September 1917 Jacob married Katherine Kornelsen (23 November 1893, Tiegenhagen, Molotschna, South Russia - 2 February 1984, Saskatoon, Saskatchewan, Canada), daughter of Jacob H. Kornelsen (1849-1926) and Helena (Martens) Kornelsen (1851-1945). Jacob and Katherine shared 60 years of marriage and had five children: Jacob (died aged two), Hedwig, Katherine, Helena, and Walter. Jacob died 25 August 1977 in Saskatoon, Saskatchewan, where he was buried.
Jacob taught in the villages of Tiegenhagen and Fischau in the Molotschna Mennonite Settlement. During the emigration of 1923-25 he assisted three transports of Mennonite emigrants to leave for Canada. In October 1926, he and his family also left for Canada. In July 1930 he became a mission worker in Saskatoon, Saskatchewan. This led to the establishment of the Girls' Home in 1931, with the Thiessens as houseparents (1931-56), and to the organization of First Mennonite Church. J. J. Thiessen was ordained as minister (1932) and as bishop (elder, 1938) and served that congregation until his retirement in 1964.

Interest in and concern for refugees ran like a red cord through his life activities. He was secretary (1927-46) and chairperson (1946-64) of the Canadian Mennonite Board of Colonization (which became the Canadian Mennonite Relief and Immigration Council in 1959). When that organization merged with several other Mennonite agencies to form Mennonite Central Committee Canada he became a member of that board. From 1947 to 1964 he served on the executive committee of MCC (Akron, Pennsylvania), and in 1948 he visited refugee camps in Europe, seeking to open doors to bring displaced persons to Canada. In 1950 he traveled to South America to visit Mennonite communities there, encouraging, strengthening, preaching, and counseling wherever he went.

He was deeply involved in the work of the Conference of Mennonites in Canada, attending its sessions from 1927, and participating in various committees until 1943 when he was elected moderator of the conference, a position he held until 1959. In 1941 he was appointed to a committee to study the need for a theological training institute in Canada; he served as the chairperson of the committee and helped establish Canadian Mennonite Bible College in Winnipeg in 1947. He was the chairperson of the college's board of directors until 1966. Thiessen was also a member of the General Conference Mennonite Church (GCM) Board of Foreign Missions from 1947 until 1958, and of the editorial board for Der Bote from 1955 until 1977 (17 years as chairperson). In 1955 he received an honorary Doctorate of Divinity degree from Bethany Biblical Seminary, with which Mennonite Biblical Seminary (GCM) was associated.

Records indicate that he ordained 21 missionaries, 22 ministers, and 12 elders, officiated at 356 weddings and 290 funerals, and baptized more than 600 people. A man with a love for people, J. J. Thiessen helped to weld the General Conference Mennonite congregations in Canada into a strong, unified body, and laid a solid foundation of training for pastoral and lay leaders in Canadian churches.
---------------------------------
Thiessen, J. J. (Jacob John), 1922-1977 geschiedenisJacob Johann Thiessen (1893-1977) was born in Klippenfeld, Molotschna Colony, Russia to Johan J. and Margaretha (Neufeld) Thiessen. He attended the Gnadenfeld Zentralschule and later studied in Halbstadt to become a teacher. From 1915 to 1917 he served as a conscientious objector, first in a Russian forestry camp and later with a road-building crew. In 1924 he served as co-chairman of the All-Ukrainian Mennonite Conference held in Kalinowo. In 1926 he came to Canada with his family. In 1927 he began working as a Reiseschuld (travel debt) collector. J.J. and Katherine, his wife, became members of the Rosenorter Mennonite Church at Rosthern, Saskatchewan in 1928. In 1930 he accepted duties with the General Conference Mennonite Church Mission Board as a part-time minister to Mennonites living in Saskatoon. This became full-time the following year. The Thiessens also founded the Saskatoon Maedchenheim (girl's home), a place created to meet the social and religious needs of young Mennonite women coming to work in the city. Thiessen was ordained as a Mennonite minister by Bishop David Toews in 1932 and as bishop in 1938. J.J. died in 1977 and his funeral was held in the First Mennonite Church in Saskatoon. For at least two decades he was the most prominent leader of the Conference of Mennonites in Canada. He had broad church involvements within his own denomination and also in the context of inter-denominational ventures.
---------------------------------------
Jacob Johann Thiessen, Sask., Canada, b S. Russia 1893; s/o Joh. Theissen and Margaretha Neufeld-Thiessen; m. Katharina Kornelsen in Russia 1917.
Ch:

Hedie Evelyn 1920;

Katie Marie 1923;

Helene Margarete 1927;

Walter Arnold 1928.

Full schooling & occ. etc.
--------------------------------------------
Jacob Kornelius Wiens was born 8 Aug 1924 in Tiegerweide,Molotschna,S.Russia. He married Katherine Marie Thiessen 15 Jul 1953 in Saskatoon, Sask, Canada, daughter of Jacob J. (J.J.) Thiessen and Katharina Kornelsen. She was born 19 Feb 1923 in Tiegenhagen, Molotschna, S.Russia.
---------------------------------
ID: I42316
Name: Jacob J. (J.J.) Thiessen
Surname: Thiessen
Given Name: Jacob J. (J.J.)
Sex: M


Marriage 1 Katharina Kornelsen
Children
Katherine Marie Thiessen b: 19 Feb 1923 in Tiegenhagen,Molotschna,S.Russia
ID: I42317
Name: Katharina Kornelsen
Surname: Kornelsen
Given Name: Katharina
Sex: F


Marriage 1 Jacob J. (J.J.) Thiessen
Children
Katherine Marie Thiessen b: 19 Feb 1923 in Tiegenhagen,Molotschna,S.Russia

ID: I42315
Name: Katherine Marie Thiessen
Surname: Thiessen
Given Name: Katherine Marie
Sex: F
Birth: 19 Feb 1923 in Tiegenhagen, Molotschna, S. Russia
Father: Jacob J. (J.J.) Thiessen
Mother: Katharina Kornelsen

Marriage 1 Jacob Kornelius Wiens b: 8 Aug 1924 in Tiegerweide,Molotschna,S.Russia
Married: 15 Jul 1953 in Saskatoon,Sask,Canada
Children
Living Wiens
Living Wiens
Living Wiens
---------------------------------
Katharina Kornelsen (December 5, 1893, Tiegenhagen, Molotschna, South Russia - ) married, September 16, 1917, Tiegenhagen, by Reverend Gerhard Harder, Halbstadt, Jakob Thiessen (August 31, 1893, Klippenfeld, Molotschna, South Russia - ), son of Johann Thiessen and Margaretha nee Neufeld [Came to Canada]

Children:

Jacob (August, 1918, Muntau-July 9, 1921, Tiegenhagen)
Hedwig Eveline (October 17, 1920, Muntau-), married Victor J. Loewen [Hedwig: Came to Canada]
Kaethe Maria (February 19, 1923, Tiegenhagen-), married Jacob C. Wiens [Kaethe: Came to Canada]
Helene Margaretha (April 26, 1927, Rosthern, [Saskatchewan]-), married Mervin K. Derksen
Walter Arnold (December 24, 1928, Rosthern [Saskatchewan]-), married Edna Krueger


Genealogy of Heinrich Kornelsen, 1807-1975, compiled for Ernest J. Klassen by K. Peters, Winnipeg (Winnipeg, December 1, 1975)