ERIC KRAUSE
In business since 1996
- © Krause House Info-Research Solutions -
---
DÜCK GENEALOGY [DUECK]
---

DÜCK [DUECK]
MY GRANDMOTHER:
MARGARETHE [MARGARET, MARGARETHA] DÜCK [DUECK, DICK]
(April 6, 1897, Schönbrunn [Schönfeld], South Russia - May 10, 1986, Leamington, Ontario, Canada)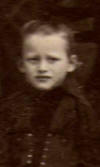 Back to Eric R. Krause Genealogy
---
NOTE: IN MANY CASES, IMAGES OF ORIGINAL DOCUMENTS WERE NOT PUBLISHED AT HIGH RESOLUTION THOUGH SUCH ARE DIGITALLY AVAILABLE ARCHIVED OFF SITE IN A DIRECTORY NAMED "KrauseEric&LyndaArchives". THIS DIRECTORY ALSO CONTAINS MANY HISTORICAL AND FAMILY GENEALOGICAL IMAGES NOT PUBLISHED ON THIS SITE. AS WELL, MANY ORIGINAL PAPER RECORDS ARE ALSO ARCHIVED IN PHYSICAL ARCHIVAL BOXES.
---
DÜCK [DUECK] LINEAGE
---
DÜCK [DUECK]
DESCENDANTS
The family name Dick, is of Dutch-Belgian origin, deriving from the word "dik" which referred to a ditch or a bank of earth thrown up while digging a ditch.


Johann P. Dück moved to the Schönfeld (beautiful field) settlement (established in 1868), north of the Molotschna settlement and east of the Chorititza colony, in 1885. His family was among the six families to purchase the 540 desiatina (c. 1600 acres) that constituted the village of

Schönbrun (beautiful spring).


The Dueck family goes back to 1660 from the book 'The Dueck Family Genealogy' by J.P. Dueck, 1979
---
ANCESTRAL GENEALOGICAL NOTES
DÜCK: IN SOUTH RUSSIA
DÜCK: SOUTH RUSSIA TO CANADA
DÜCK: IN CANADA
DÜCK: GENEALOGY
DÜCK: PHOTO ALBUM
DÜCK: FURTHER RESEARCH