ERIC KRAUSE
In business since 1996
- © Krause House Info-Research Solutions -
_____________________________________________________________________________________
ERIC KRAUSE GENEALOGY
_____________________________________________________________________________________
LYNDA'S CORNER
Lynda Jean Richards, b. Rimmer, m. Krause




GENEALOGY

PATERNAL SIDE
---
KNOWLES DESCENDENTS
PRE 1822
WILLIAM KNOWLES AND MARY KNOWLES
Unknown Knowles

Unknown Knowles

Unknown Knowles

Unknown Knowles

Unknown Knowles

James Knowles 1822 – 1904 [Ashton in Makerfield, Lancashire, England - Ashton in Makerfield, Lancashire, England]
---
1822
OCTOBER 11
WILLIAM KNOWLES AND BETTY KNOWLES
JAMES KNOWLES
Baptism: 3 Nov 1822 St Thomas, Ashton in Makerfield, Lancashire, England
James Knowles - 6th Child and 4th Son of William Knowles & Betty
Born: 11 Oct 1822
Abode: Ashton
Occupation: Wheelwright
Baptised by: Edmund Sibson Curate of Ashton
Register: Baptisms 1813 - 1827, Page 175, Entry 1399
Source: LDS Film 1885658
---
1848
JUNE 25
JAMES KNOWLES AND ANNE (ADAMSON) KNOWLES
Lancashire Marriage indexes for the years: 1848
| | | | | | | |
| --- | --- | --- | --- | --- | --- | --- |
| Surname | Forename(s) | Surname | Forename(s) | Church / Register Office | Registers At | Reference |
| KNOWLES | James | ADAMSON | Anne | St. Thomas,Ashton in Makerfield | Wigan & Leigh | C8/1/70 |
http://www.lancashirebmd.org.uk/
Marriage: 25 Jun 1848 St Thomas, Ashton in Makerfield, Lancashire, England
James Knowles - full age Locksmith Bachelor of Ashton Heath in this Parish
Anne Adamson - (X), full age Spinster of Heath Lane in this Parish
Groom's Father: William Knowles, Wheelwright
Bride's Father: Joseph Adamson, Hinge Maker
Witness: Joseph Oakden; John Green
Married by Banns by: Howard S. George Offg. Minr.
Register: Marriages 1845 - 1863, Page 35, Entry 70
Source: LDS Film 1885660

CHILDREN:


William Knowles 1849 –

Joseph Knowles 1850 – 1868

Mary Knowles 1852 – 1925

Martha Knowles 1854 – 1891

Anne Knowles 1857 – 1929

James Knowles 1857 –

John Knowles 1859 – 1862

Alice Knowles 1861 –

John Knowles 1863 –

Peter Knowles 1866 –

Thomas Knowles 1868 –
---
1849
APRIL 8 and MAY 13
JAMES KNOWLES AND ANNE (ADAMSON) KNOWLES
Lancashire Birth indexes for the years: 1849
| | | | | | |
| --- | --- | --- | --- | --- | --- |
| Surname | Forename(s) | Sub-District | Registers At | Mother's Maiden Nam | Reference |
| KNOWLES | William | Ashton | Wigan & Leigh | ADAMSON | ASHT/6/64 |
http://www.lancashirebmd.org.uk/

Baptisms: 13 May 1849 St Thomas, Ashton in Makerfield, Lancashire, England
William Knowles - 2 Child 1 Son of James Knowles & Anne
Born: 8 Apr 1849
Abode: Heath Lane in Ashton
Occupation: Locksmith
Baptised by: E Pigot Vicar
Register: Baptisms 1844 - 1861, Page 101, Entry 803
Source: LDS Film 1885658
---
1850
JAMES KNOWLES AND ANNE (ADAMSON) KNOWLES
Lancashire Birth indexes for the years: 1850
| | | | | | |
| --- | --- | --- | --- | --- | --- |
| Surname | Forename(s) | Sub-District | Registers At | Mother's Maiden Name | Reference |
| KNOWLES | Joseph | Ashton | Wigan & Leigh | ADAMSON | ASHT/6/453 |
http://www.lancashirebmd.org.uk/
---
1851
JAMES KNOWLES AND ANNE (ADAMSON) KNOWLES
CENSUS 1851
1851KnowlesJamesAnn.pdf - HO107 / 2201
http://www.thegenealogist.co.uk/index.php
Parish of Thomas Ashton in Makerfield
South Side of Heath Lane
James Knowles, Head, Married, 27, Lock Smith, Born Lancashire Ashton in Makerfield

Anne Knowles, Wife, Married, 25, Born Lancashire Ashton in Makerfield

William Knowles, Son, 1, Born Lancashire Aston in Makerfield

Joseph Knowles, Son, 3 Months, Born Lancashire Ashton in Makerfield
---
1861
JAMES KNOWLES AND ANNE (ADAMSON) KNOWLES
CENSUS 1861
1861KnowlesJamesAnn.pdf - RG9 / 2786
http://www.thegenealogist.co.uk/index.php
Parish of St. Thomas, Township of Ashton in Makerfield
Ashton Heath
James Knowles, Head, Married, 38, Journney and Locksmith, Born Lancashire Ashton in Makerfield

Anne Knowles, Wife, Married, 35, Born Lancashire Ashton in Makerfield

Elizabeth Knowles, Daughter, Unmarried, 13, Copreeler in a Cotton Mill, Born Lancashire Ashton in Makerfield

William Knowles, Son, 12, Locksmiths (Np), Born Lancashire Ashton in Makerfield

Joseph Knowles, Son, 10, Skip-carrier in a Cotton Mill, Born Lancashire Ashton in Makerfield

Mary Knowles, Daughter, 8, Born Lancashire Ashton in Makerfield

Martha Knowles, Daughter, 6, , Born Lancashire Ashton in Makerfield

James Knowles, Son, 4, , Born Lancashire Ashton in Makerfield

Anne Knowles, Daughter, 3, Born Lancashire Ashton in Makerfield

John Knowles, Son, 1, Born Lancashire Ashton in Makerfield
---
1861
SEPTEMBER 11
JAMES KNOWLES AND ANNE (ADAMSON) KNOWLES
ALICE KNOWLES
---
1862
MARCH 30
JAMES KNOWLES AND ANNE (ADAMSON) KNOWLES
ALICE KNOWLES
Baptism: 30 Mar 1862 St Thomas, Ashton in Makerfield, Lancashire, England
Alice Knowles - 9 Child 4 Daughter of James Knowles & Anne
Born: 11 Sep 1861
Abode: Ashton Heath in Ashton
Occupation: Joiner
Baptised by: C J S Walker
Register: Baptisms 1861 - 1873, Page 8, Entry 60
Source: LDS Film 1885659
---
1865

OCTOBER 22

JAMES KNOWLES AND ANNE (ADAMSON) KNOWLES

Marriage: 22 Oct 1865 St Thomas, Ashton in Makerfield, Lancashire, England
James Lowe - 19 Collier Bachelor of Downall Green in the parish of Holy Trinity
Elizabeth Knowles - (X), 18 Spinster of Lower Gennel in Ashton
Groom's Father: James Lowe, Blacksmith
Bride's Father: James Knowles, Joiner
Witness: John Ashley; Alice Ashley, (X)
Married by Banns by: G Thomas, incumbant of St. Philip, Leeds
Register: Marriages 1863 - 1882, Page 41, Entry 81
Source: FHL Film 1885661

Marriages at the Church of St Thomas in The Parish of Ashton in Makerfield Marriages recorded in the Register for the years 1863 - 1882

http://www.lan-opc.org.uk/Ashton-in-Makerfield/stthomas/marriages_1863-1882.html
---
1871
JAMES KNOWLES AND ANNE (ADAMSON) KNOWLES
CENSUS 1871
1871KnowlesJamesAnnAlice.pdf - RG10 / 3898
http://www.thegenealogist.co.uk/index.php
Township of Ashton in Makerfield, Village of Ashton, Ecclesiastical District of St. Thomas
School Lane
James Knowles, Head, Married, 48, Locksmith, Born Lancashire Ashton in Makerfield

Ann Knowles, Wife, Married, 45, Born Lancashire Ashton in Makerfield

Mary Knowles, Daughter, Unmarried, 18, Frametenter in Cotton Mill, Born Lancashire Ashton in Makerfield

Martha Knowles, Daughter, Unmarried, 16, Frametenter in Cotton Mill, Born Lancashire Ashton in Makerfield

James Knowles, Son, 14, Locksmith's Apprentice, Born Lancashire Ashton in Makerfield

Ann Knowles, Daughter, 13, Backtenter in in Cotton Mill, Born Lancashire Ashton in Makerfield

Alice Knowles, Daughter, 9, Scholar, Born Lancashire Ashton in Makerfield

John Knowles, Son, 8, Scholar, Born Lancashire Ashton in Makerfield

Peter Knowles, Son, 5, Scholar, Born Lancashire Ashton in Makerfield

Thomas Knowles, Son, 3, Scholar, Born Lancashire Ashton in Makerfield
---
1873
MARTHA KNOWLES (c. 1854 -) and JOHN ROSBOTTOM
Marriage: 13 Apr 1873 St Thomas, Ashton in Makerfield, Lancashire, England
John Rosbottom - 21, Collier, Bachelor, Town Green
Martha Knowles - (X), 19, Spinster, School Lane
Groom's Father: George Rosbottom, Collier
Bride's Father: James Knowles, Joiner
Witness: William Higginson; Mary Rosbottom, (X)
Married by Banns by: Henry Siddall
Register: Marriages 1863 - 1882, Page 146, Entry 291
Source: LDS Film 1885661
---
1881
JAMES KNOWLES AND ANNE (ADAMSON) KNOWLES
CENSUS 1881
1881KnowlesJamesLiverpoolRoadAlice.pdf - RG11 / 3785
http://www.thegenealogist.co.uk/index.php
Civil Parish [or Township] of Ashton, Town of Ashton, Urban Sanitary District of Ashton, Ecclesiastical Parish or District of St. Thomas
No. 11 Liverpool Road
James Knowles, Head, Married, 58, Sawyer, Born Lancashire Ashton in Makerfield

Ann Knowles, Wife, Married, 55, House Keeper, Born Lancashire Ashton in Makerfield

James Knowles, Son, Unmarried, 24, Locksmith, Born Lancashire Newton

Alice Knowles, Daughter, Unmarried, 19, Frametenter, (Cotton), Born Lancashire Ashton in Makerfield

John Knowles, Son, 17, Locksmith, Born Lancashire Ashton in Makerfield

Peter Knowles, Son, 15, Locksmith, Born Lancashire Ashton in Makerfield

Thomas Knowles, Son, 13, Scholar, Born Lancashire Ashton in Makerfield
---
1882
JAMES KNOWLES AND ANNE (ADAMSON) KNOWLES
ALICE KNOWLES
---
1885
JANUARY 17
MARTHA KNOWLES (c. 1854 -) and JOHN ROSBOTTOM (DECEASED)
JOHN ROSBOTTOM (DECEASED)
Burial: 17 Jan 1885 St Thomas, Ashton in Makerfield, Lancashire, England
John Rosbottom -
Age: 34 years
Abode: Town Green
Buried by: W J Melville
Register: Burials 1874 - 1888, Page 229, Entry 1831
Source: LDS Film 1885663
1885
AUGUST 30
MARTHA KNOWLES (c. 1854 -) and JOHN ROSBOTTOM (DECEASED)
JOHN ROSBOTTOM
Baptism: 30 Aug 1885 St Thomas, Ashton in Makerfield, Lancashire, England
John Rosbottom - [Child] of John Rosbottom, (deceased) & Martha
Born: 12 Aug 1885
Abode: Town Green Ashton
Baptised by: T. J. O'C Fenton
Register: Baptisms 1874 - 1887, Page 262, Entry 2092
Source: LDS British Film 1885659
---
1891
JAMES KNOWLES AND ANNE (ADAMSON) KNOWLES
CENSUS 1891
1891KnowlesJamesAnn.pdf - RG12 / 3068
http://www.thegenealogist.co.uk/index.php
Administrative County of Lancaster, Civil Parish of Ashton, Urban Sanitary District of Ashton, Town or Village or Hamlet of Ashton,
Parliamentary Borough or Division of Newton, Ecclesiastical Parish or District of St. Thomas
11 Liverpool Road
James Knowles, Head, Married, 68, Sawyer, Employed, Born Lancashire Ashton

Ann Knowles, Wife, Married, 65, Born Lancashire Ashton

William Knowles, Son, Married, 44, Coal Miner, Employed, Born Lancashire Ashton

James Knowles, Son, Single, 35, Locksmith, Employed, Born Lancashire Newton

John Knowles, Son, Single, 27, [Huile Locksmith?] Engineman [& ?], Employed, Born Lancashire Ashton

Peter Knowles, Son, Single, 25, Locksmith, Employed, Born Lancashire Ashton

Thomas Knowles, Son, Single, 23, [Coal?] Colliery Labourer, Employed, Born Lancashire Ashton

Mary Lowe, Grand Daughter, 8, Scholar, Cheshire Stockport
---
1894 - 1895
JAMES KNOWLES AND ANNE (ADAMSON) KNOWLES
All Lancashire, England, Electoral Registers, 1832-1935
---
1901
JAMES KNOWLES AND ANNE (ADAMSON) KNOWLES
CENSUS 1901
1901KnowlesJamesAnn.pdf - RG13 / 3571
http://www.thegenealogist.co.uk/index.php
Administrative County of Lancaster, Civil Parish Ashton in Makerfield part of, Ecclesiastical Parish part of St. Thomas, Urban District Ashton in Makerfield,
Ward Urban District part of Central, Newton Parliamentary Division of South West Lancaster
22 Liverpool Road
James Knowles, Head, Married, 78, Steam Sawyer [Ret sawyer] Retired, Born Lancashire Ashton in Makerfield

Ann Knowles, Wife, Married, 75, Born Lancashire Ashton in Makerfield

James Knowles, Son, Single, 44, Locksmith, Worker, Born Lancashire Ashton in Makerfield

John Knowles, Son, Single, 37, Steam Sawyer, Worker, Born Lancashire Ashton in Makerfield

Thomas Knowles, Son, Single, 33, Stationery Engine Stoker, Worker, Born Lancashire Ashton in Makerfield

Annie Rimmer, Grand Daughter, Single, 18, Born Lancashire Ashton in Makerfield [Daughter of John Rimmer and Alice Knowles]

Elizabeth Rimmer, Grand Daughter, Single, 16, Born Lancashire Ashton in Makerfield [Daughter of John Rimmer and Alice Knowles]

John Rosbottom, Grandson, Single, 16, Post Office Messenger [M?], Worker, Born Lancashire Ashton in Makerfield
---
1904
JAMES KNOWLES AND ANNE (ADAMSON) KNOWLES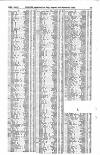 JAMES KNOWLES
| | |
| --- | --- |
| Name: | James Knowles |
| Estimated Birth Year: | abt 1823 |
| Date of Registration: | Jul-Aug-Sep 1904 |
| Age at Death: | 81 |
| Registration district: | Wigan |
| Inferred County: | Lancashire |
| Volume: | 8c |
| Page: | 110 |
James Knowles
B:11 Oct 1822 in Ashton in Makerfield, Lancashire, England
D:1904 in Ashton in Makerfield, Lancashire, England
England & Wales, FreeBMD Death Index: 1837-1915 - Source: Kate (Lowe) Latham, Brampton, Ontario on her "Kats Paternal Tree" on ancestry.ca - Death 1904 in Ashton in Makerfield, Lancashire, England
---
1905
JAMES KNOWLES AND ANNE (ADAMSON) KNOWLES
All Lancashire, England, Electoral Registers, 1832-1935
---
1907
JAMES KNOWLES AND ANNE (ADAMSON) KNOWLES
ANNE (ADAMSON) KNOWLES
| | |
| --- | --- |
| Name: | Ann Knowles |
| Estimated Birth Year: | abt 1826 |
| Date of Registration: | Jan-Feb-Mar 1907 |
| Age at Death: | 81 |
| Registration district: | Bury |
| Inferred County: | Lancashire |
| Volume: | 8c |
| Page: | 325 |
Ann Adamson
Birth 1826 in Ashton in Makerfield, Lancashire, England
Death Living
Death 1907 in Ashton in Makerfield, Lancashire, England
England & Wales, FreeBMD Death Index: 1837-1915 - Source: Kate (Lowe) Latham, Brampton, Ontario on her "Kats Paternal Tree" on ancestry.ca
---
1908 - 1910
JAMES KNOWLES AND ANNE (ADAMSON) KNOWLES
All Lancashire, England, Electoral Registers, 1832-1935
---
1910
JAMES KNOWLES AND ANNE (ADAMSON) KNOWLES
All Lancashire, England, Electoral Registers, 1832-1935
---
1911
JOHN KNOWLES
1911 CENSUS

Lancashire Ashton in Makerfield 03
Name: John Knowles
Age in 1911: 51
Estimated Birth Year: abt 1860
Relation to Head: Boarder
Gender: Male
Birth Place: Ashton in Makerfield, Lancashire, England
Civil Parish: Ashton in Makerfield
Search Photos: Search for 'Ashton in Makerfield' in the UK City, Town and Village Photos collection
County/Island: Lancashire
Country: England
Street address: 5 Lily Place Ashton In Makerfield Lancs
Marital Status: Single
Occupation: Collier Hewer
Registration district: Wigan
Registration District Number: 458
Sub-registration district: Ashton in Makerfield
ED, institution, or vessel: 3
Piece: 23090
Household Members:
Name Age
William Moses 41
Nancy Moses 38
Sarah Jane Moses 14
Elizabeth Alice Moses 12
Annie Moses 10
William Moses 8
Lilian Moses 6
Beatrice Moses 3
Ellen Moses 1
John Knowles 51
Edward Fitzpatrick 50
Jane Fitzpatrick 46
William Fitzpatrick 19
James Fitzpatrick 15
Hannah Fitzpatrick 21

Source Citation
Class: RG14; Piece: 23090

Source Information
Ancestry.com. 1911 England Census [database on-line]. Provo, UT, USA: Ancestry.com Operations, Inc., 2011.

Original data: Census Returns of England and Wales, 1911. Kew, Surrey, England: The National Archives of the UK (TNA), 1911.

------------------
THOMAS KNOWLES
1911 CENSUS

Lancashire Ashton in Makerfield 02
22 Liverpool Road
Name: Thomas Knowles
Age in 1911: 43
Estimated Birth Year: abt 1868
Relation to Head: Brother
Gender: Male
Birth Place: Ashton in Makerfield, Lancashire, England
Civil Parish: Ashton in Makerfield
Search Photos: Search for 'Ashton in Makerfield' in the UK City, Town and Village Photos collection
County/Island: Lancashire
Country: England
Street address: 22 Liverpool Rd Ashton
Marital Status: Single
Occupation: Engineer
Registration district: Wigan
Registration District Number: 458
Sub-registration district: Ashton in Makerfield
ED, institution, or vessel: 2
Piece: 23089
Household Members:
Name Age
James Knowles 53
Thomas Knowles 43
-------------
JAMES KNOWLES
1911 CENSUS

Lancashire Ashton in Makerfield 02
22 Liverpool Road
Name: James Knowles
Age in 1911: 53
Estimated Birth Year: abt 1858
Relation to Head: Head
Gender: Male
Birth Place: Ashton in Makerfield, Lancashire, England
Civil Parish: Ashton in Makerfield
Search Photos: Search for 'Ashton in Makerfield' in the UK City, Town and Village Photos collection
County/Island: Lancashire
Country: England
Street address: 22 Liverpool Rd Ashton
Marital Status: Single
Occupation: Locksmith
Registration district: Wigan
Registration District Number: 458
Sub-registration district: Ashton in Makerfield
ED, institution, or vessel: 2
Piece: 23089
Household Members:
Name Age
James Knowles 53
Thomas Knowles 43

ALSO:

http://www.genesreunited.co.uk/articles/world-records/full-list-of-united-kingdom-records/census-land-and-surveys/census/1911-census-for-england-and-wales
---
1939 REGISTER
THOMAS KNOWLES
CHECK THIS OUT
1939 Register Transcription (Preview)

Knowles Household Ashton-in-Makerfield U.D., Lancashire, England


First name(s) Last name(s) Birth year
Thomas Knowles 1868
Ethel Knowles is also on this record

Thomas Knowles is also on this record
---
ADDITIONAL KNOWLES GENEALOGICAL RESOURCES