ERIC KRAUSE
In business since 1996
- © Krause House Info-Research Solutions -
_____________________________________________________________________________________

BACKGROUND GENEALOGY
---
POINTS OF EMIGRATION FROM THE RUSSIAN EMPIRE
(A)
SOME ROUTES OUT OF SOUTH RUSSIA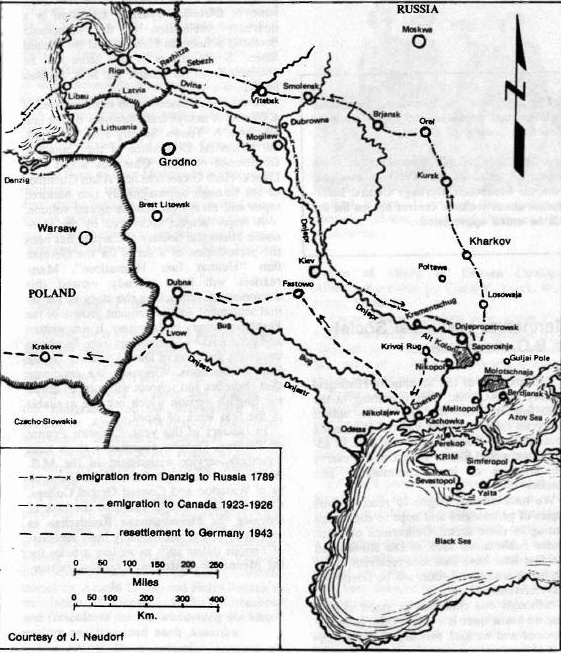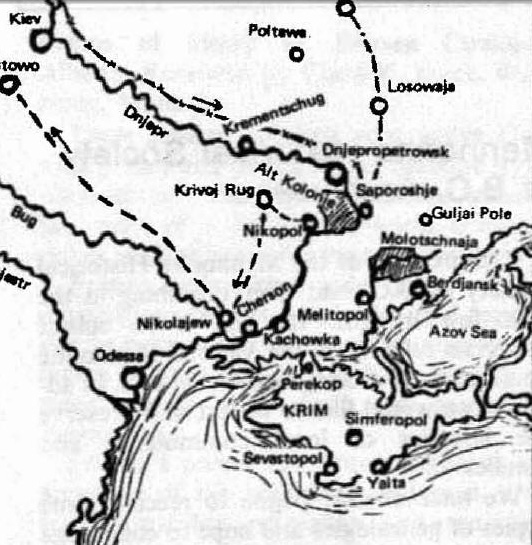 "About My Family, The Koslowskys, " By Agatha Ratzlaff, Mennonite Historian, Volume VII, Number 1 March, 1981 - http://www.mennonitehistorian.ca/7.1.MHMar81.pdf
(B)

RUSSIA TO GERMANY
LIBAU [Liepāja, Latvia]
LAND ROUTE
Kibarty, Russia / Eydtkuhnen, Germany (now Kybartai, Lithuania / Chernyshevskoye, Russia) – frontier on the Vilna to Konigsburg rail line

Tilsit, Germany (now Sovetsk, Russia)

Prostken, Germany (now Prostki, Poland)

---
(C)

POINTS OF EMIGRATION FROM THE RUSSIAN EMPIRE

1882-1917

Major land border crossings Russia to Austria-Hungary:

Radzivilov, Russia / Brody, Austria – frontier on the Dubno to Lemberg rail line

Podvolochisk – frontier on the Proskurov to Tarnopol rail line

Czernowitz, Austria (now Chernivtsi, Ukraine)


Major land border crossings Russia to Germany:

Kibarty, Russia / Eydtkuhnen, Germany (now Kybartai, Lithuania / Chernyshevskoye, Russia) – frontier on the Vilna to Konigsburg rail line

Tilsit, Germany (now Sovetsk, Russia)

Prostken, Germany (now Prostki, Poland)


Seaports:
1924
Lichtfelde; Kharkov; Kieve; Moscow; Red Gate, Estonia; Port of Riga; Southampton, England.

Lichtenau, Molotschna; Libau, Latvia; Kiel Canal; Antwerp, Belgium

Alexanderkrone, Ekaterinoslav; Rezekne (a rail junction) in Latvia; Port of Libau (Liepaja), Latvia; Southampton
1925
Lichtenau (Russian Swetlodolinsk); Alexandrowsk [Alexandrovsk]; Sineljnikowo; Losowaja; Charkow; Orel; Tula; Belgorod; Skuratowo; Kursk railway station in Moscow; departed from the Windawskij railway station (also called Pribaltijskij; Sebez; Letvian border station Zilupy; Riga; to the Riga Harbour by train; Danzig; Kiel; London; Southampton.
---
(D)
1923 - 1924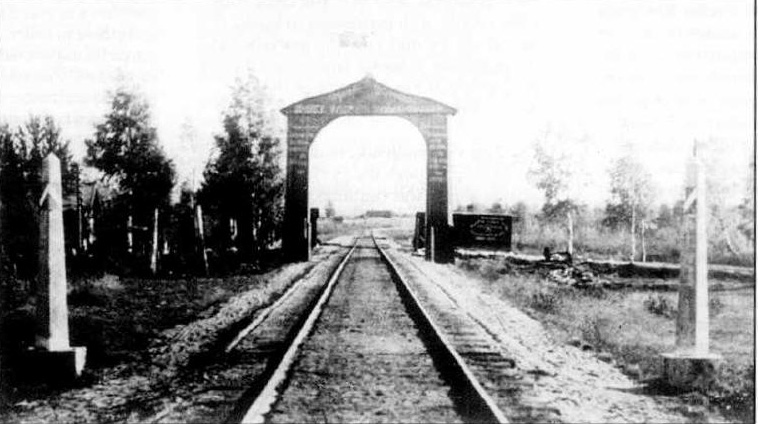 "Thru this gate we entered into the land of freedon 1924 Latvia, it was still free there."
Ontario Mennonite History, Volume XII, Number 2, September, 1994, "Russian Mennonite Exodus to Canada, 1924" by J.J . Thiessen and Herbert P. Enns (translator) - http://www.mhso.org/publications/Ontmennohistory12-2.pdf
Station Lichtenau (Molotschna Mennonite Settlement, Zaporizhia Oblast, Ukraine) To Station Sebesh (Border Station In Libau, Latvia)
Supplementary to telegram #22/70928 of May 28 [1924] in Lichtenau. ordering 50 railway cars to be at the disposal for 1,250 Mennonites. Departure of the Eschalon on June 23, as a military train, over Fjodorowka. Charkov, Kursk, Orjol, Brjansk, Smoljensk, Witjibsk, Polotz, Sebesh. Eschalon must arrive in Sebesh June 28, consistent with agreement and arrival of ship at Libau ...

The railway officials adhered to the instructions from Moscow. and the train travelled at speeds, as if possessed, without stopping. We had not expected such precise acceptance of instruction by the officials. Arriving in Alexandrowsk [Alexandrovsk] ... Stops were made only at large cities, such as Sinjelnjikowo, Losowaja, Charkow, Kursk, Orjol, etc. ... The Trip via Smoljensk, to the Border ... In Smoljensk I had to telegraph the Riga authorities of the arrival of the train, as well as impending departure for Riga ... ... Crossing the border, from Russia into Latvia, the train had to pass through a door, painted in red, and decorated on top with a star. star. At this gate/door border guards had treated the 1923 emigrants miserably ...

1924 ... They left from Alexandrowsk (now Saporoschje) [Alexandrovsk] Russia (a staging area for immigrants) ... Departed Riga (actually port at Libau, Latvia ...
---
RUSSIA
RAILWAYS SYSTEM - 1918

http://forum.axishistory.com/viewtopic.php?f=79&t=160648
RAILWAYS SYSTEM - 1918
GRAIN EXPORTING SYSTEM
https://fedora.e-book.fwf.ac.at/fedora/get/o:850/bdef:Content/get - the emergence of ukraine self-determination, occupation, and war in ukraine, 1917–1922, p. 257
---