ERIC KRAUSE
In business since 1996
- © Krause House Info-Research Solutions -
_____________________________________________________________________________________
MATHIES GENEALOGY
_____________________________________________________________________________________
ABRAM J. MATHIES
(February 14, 1893, Schönbrunn [Schönfeld], South Russia - June 21, 1974, Leamington, Ontario, Canada)
and
MARGARETHA [MARGARET, MARGARETHE] DÜCK
(April 6, 1897, Schönbrunn [Schönfeld], South Russia - May 10, 1986, Leamington, Ontario, Canada)
---
MATHIES RUSSIA TO CANADA

Return
1924
ABRAM J. MATHIES
MATHIES LEAVE FOR CANADA
[Extract: ] We stayed there [Alexanderkrone, Ekaterinoslav, Russia] until 1924.

Thoughts of the "auswanderung" emigration started. I always thought all of America had palm trees which I finally got to see for the first time in 1974 on a trip to California with my daughter Margaret. We started on our trip to Canada on the 21st of June, 1924. It was early morning, Tante Pankraz. with whom we lived, had breakfast ready for us. We were allowed a food basket (25xl5xl2 inches) in which we packed roasted buns (Zwiebacks'), sacharin, watermelon syrop cookies, tea pot, cooked milk, roasted and milled wheat (this was our coffee). Then we had a wooden box we had made where had pillows, blankets and a few clothes. Glass dishes were packed in between. We took a ladder wagon filled with straw, usually used for grain, to the train station called Lichtfelde. There were 24 people, widower Berg with 6 children (school-age) Wilhelm Penners with 3 children (school-age) Mr. & Mrs. Friesen, John Mathies family with 2 children and on our passport were Widow Maria Janzen (Abrams sister) and daughter Helen, Abram and Margaret Mathies And daughters Margaret 3-years old, Annie 1 1/2 years old and my brother Herman Dick 17 years old. Herman was on our passport but with a note that he pay off his own trip. The cost for a grown up was $125.00 and half price for young children.

We rode the train 1200 miles north through Kharkov, Kieve, Moscow for three days and left Russia at the Red Gate, Estonia to the Port of Riga, a fishing port. With 2 small steamers we crossed the Baltic Sea, through the narrows of Denmark, crossed the North Sea, English Channel to Southampton, England. Here we had to pass medicals and boarded the CPR ship Menedosa [Minnedosa] for our trip across the Atlantic to Canada. We landed at Quebec, transferred to a train and the first people got off in Waterloo. Next day some went to Vineland area and some to Manitoba ...

They arrived in Canada July 18, 1924 ...

While they were in England their clothes were fumigated and they were checked for lice etc. Some people stayed in Southhampton, England for as long as three years.
------------------------------------------
There were 24 people:

(7) Widower Berg with 6 children (school-age)

(5) Wilhelm Penners with 3 children (school-age)

(2) Mr. & Mrs. Friesen

(3) John Mathies family with 2 children

(2) Widow Maria Janzen (Abrams sister) and daughter Helen

(4) Abram and Margaret Mathies And daughters Margaret 3-years old; Annie 1 1/2 years old [Mathies abram Joh.; Margaretha, Margaretha, Anna]

(1) Herman Dick (brother) 17 years old. [Dück Herrmiann Joh.]
------------------------------------------
"This is from my parent's documents [LOUISE (MATHIES] ROSS NOTES]

Travelling with a large group, they departed from Alexanderkrone, Ekaterinoslav, Russia on June 23, 1924. By train they travelled north and arrived in Rezekne (a rail junction) in Latvia on June 30. Latvia was a country by the Baltic Sea. They departed Rezekne (probably by train) on July 2 and arrived at the port of Libau (Liepaja), Latvia on July 3. They departed from Libau on July 3 by Steamer MARGLEN on the Baltic Sea. This is not on the record, however, they probably steamed through the Kiel Canal in northern Germany into the North Sea. They arrived in Southampton, England on July 10. They departed on July 10 on the MINNEDOSA and landed in Quebec, Canada on July 17, 1924. I kind of question the Southampton arrival date of July 10 being the same as their departure date to Canada. It may have been a slip of the pen. They had to pass a health inspection in Southampton before leaving. Some of the group were held back and not allowed to continue the trip at that time. It must have been quite an adventure with two little children. Regards, L. Ross [Louise Ross]"
------------------------------------------
JUNE 23, 1924
LICHTENAU STATION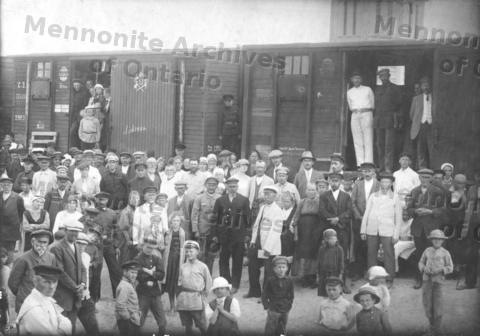 Note on back of photograph:
"In Lichtenau auf dem Banhof U.S.S.R. 23 June 1924 als wir nach Canada fuhren. 47 Wagen 1400 Menschen ... The train had 47 cars and held 1,400 people ..."
https://archives.mhsc.ca/lichtenau-train-station
------------------------------------------
Mathies, Abram Joh.
Mathies, Margaretha
Mathies, Margaretha
Mathies, Anna
Dück, Herrmann, Joh.
Attached are Mom and Dad's colonization papers.

Trip on the Minnedosa was 10 July to 17 July, 1924 ... are those the dates you referenced?

The following is what I have about the trip.

#901 ...

The papers are in German so I will interpret.

The first photo notes who came into Canada .. namely Dad, Mother, sisters Margaret and Anna (your Mom) brother-in-law Herman Dueck.

Family numbers 398/517

The second photo ...

Last residence .. Alexanderkrone, Ekaterinaslav
Trip left from Lichtenau, Russia 23 June, Rezekne, Latvia arrived 30 June, from Rezekne departed on 2 July
In Libau arrived 3 July, from Libau departed 3 July,
Steamer Marglen,
In Southhampton, England arrived on 10 July, Southhampton
Departed on 10 July, Steamer Minnedosa
In Quebec, Canada, landed 17 July, 1924

First stop in Canada, Waterloo, Ontario

Cousin Helen Johnson wrote in her book and other records, like below, say that the Marglen landed at Antwerp where they boarded the Minnedosa, then to Southhampton.

Check out this book ...

'Events and People ...' by Helmut Huebert. page 167 to 171 ... it seems to be the same trip. Page 185 has a description of the two ships.

http://books.google.com/books?pg=PA169&lpg=PP1&vq=page+
165&dq=Minedosa+cpr+1924&sig=ACfU3U1kixwZDZzQ5Hd6QlU0v29e7rf2bg&id=BNEh8xwSOEkC#PPP1,M1

If that doesn't open ... try this one ... http://tinyurl.com/7br7nl

I wish I knew how to copy that chapter ... must buy the book.
Dr. Helmut Huebert has published a book entitled Events and People: Events In Russian Mennonite History and the People That Made them Happen. It contains biographies of various Mennonite leaders such as Deputy Jakob Bartsch, Aron Sawatzky, and Jakob Reimer. It also contains maps and interesting events such as floods and the Purge. This 258 pp. book, with index, can be bought from The Centre for M.B. Studies for $25.00.

------------------------------------------

TSL] Re: Ukraine to Canada via train and two ships, MARGLEN and MINNEDOSA
af877@freenet.carleton.ca (Harry Dodsworth) on 03/16/2005


"Louise Ross" <lross@mnsi.net > posted some information about the transport of Mennonites to Canada in 1924.

George Musk mentions this in his book Canadian Pacific [ships]. "In the mid-1920s more than 100,000 Mennonites in Russia were reported to be desirous of emigrating to North America. When, in 1922, the Canadian Government removed its restriction on emigration, the Mennonites already in Canada and the United States raised funds for the transportation and settlement of their nationals from Russia. Canadian Pacific made a special through rate of $140 from a Baltic port to Saskatoon. In 1923 the Bruton [*] made three trips from Libau, Latvia, bringing several thousands of these people to Southampton. A special quarantine camp was organised at Atlantic Park, Eastleigh, now Southampton airport. In 1924 the Marglen made two trips from Libau to Antwerp, where there was a similar quarantine camp. After a period of quarantine the Mennonites sailed to Montreal and travelled to Saskatchewan by rail. The CPR provided credit of more than $1 3/4 million for some 21,000 Mennonites, every cent being repaid."

From this it would seem that the 1923 emigrants transhipped at Southampton while the 1924 group transhipped at Antwerp, which is slightly different from Louise's account.

[1] The Bruton was the former Allan liner Sicilian which bore the name of Bruton for a few months in 1923.
---
Harry Dodsworth Ottawa Ontario Canada af877@freenet.carleton.ca

[http://www.oulton.com/cwa/newsships.nsf/45cc5cb7c20526ef85256529004f20f0/4a0a499c49eeeff085256fc60073d578!OpenDocument ]

George Musk, Canadian Pacific: The Story of the Famous Shipping Line (Newton Abbot, UK: David & Charles, 1981).
---
MATHIES RUSSIAN/ENGLISH IMMIGRATION PAPERS
Travel Papers
(One Side of the Travel Document)

(The Other Side of the Travel Document)

(One side of the Medical Certificate)

(The other side of the Medical Certificate)

[Hand-Pencil] #230872

[Typed] May 22, 1924
No 398
[Hand-Ink] /2261

[Hand-Ink] 35213

[Hand-Ink] 398/261

[Stamps]

30 June 1924 - lebraucis Latvija

Civil Inspection Port Libau - July 3/24

3 July 1924

Canadian Immigration ...
Riga - 3 July 1924

[Russian portion not reproduced here]

Medical Certificate

This is to certify that I have medically examined
the bearer of this Identification Card and find him/her
in good health

Forwarding authorized

Medical Officer


_______ 1924

[Stamp]
Canadian Pacific
4 - Jun 1924
Dr. [W ? ....]

[Stamp]
[Ca]nadian Pacific
4 - Jun 1924
passed
[?] J. J. Humel

["The day of departure for the first group of emigrants from the Molotschna Colony bound for Canada was set for June 17, 1924. The medical commission, which was to determine the health of the emigrants, had arrived in Halbstadt, so people streamed there to be examined ... Departure would be delayed one week ... Then suddenly the order came. Sunday [June 22] at noon, all emigrants must be at the train station in Lichtenau ...The train was actually to leave on Monday, June 23 ...". Helmut Hueber, Events and people: Events in Russian Mennonite history and the people that made them happen (Winnipeg, Springfield Publishers, 1999), pp. 167-168.

[Russian portions not reproduced here]

Consecutive No 398 IDENTIFICATION CARD.
The bearer of this Matis Abram Johann,
age 29 years sex male
is a Mennonite emigrating
to Canada. On original list: 2, Family No [blank],
Personal No, 2261 ... Conductor echelon No. 1
---
MATHIES ARRIVE IN CANADA
Ship Name:
MINNEDOSA
Official Number:
142717
Master's name:
H Sibbons
Date of departure:
10 July 1924
Port of departure:
Southampton
Steamship line:
Canadian Pacific
Where bound:
Montreal, Canada
Where bound route:
Quebec, Montreal
Square feet:
Registered tonage:
14000
This passenger list consists of 6 pages
S. S. MINNEDOSA - Sailed July 9, 1924; Arrived July 18, 1924 (Immigration Stamp)
Form 30A, 1919-1924 (Ocean Arrivals)
Abram J Mattis - T-15115, 3575, 3572
Highlights:
The Booking Agent was Canadian Pacific Railway Riga; His ticket, issued in Libau, was by Special Contact; Passport issued by Central Adm of Dutch Descendants in Ukraine; Passport Designate a National or Citizen of Ukraine; Inspected by Immigration on July 23, 1924; Admitted Quebec
Arrived 3rd Class on the S.S. Minnedosa which Sailed July 9, 1924; Age 29; Born in the Ukraine, A Farmer; Margaret Sr.? his wife; Russian Citizenship; German Race; Mennonite; Mennonite Church of Canada Paid His Passage; Has $50.00 in his Possession; Destined for Rosthern, Saskatchewan, A Mennonite settlement; Signed A Mathies
(Naturalized 9/1/1931)
http://www.collectionscanada.gc.ca/microform-digitization/006003-119.01-e.php?q2=5&q3=669&sqn=3575&tt=4972&PHPSESSID=v31donqf0350p2fskofqdledd2
http://www.collectionscanada.gc.ca/microform-digitization/006003-119.01-e.php?q3=669&sqn=3572&tt=4972&q2=5&PHPSESSID=v31donqf0350p2fskofqdledd2
------------------------------------------
Margaret Mattis - T-15115, 3849, 3850
Highlights:
Age 25; Signed Margareta Mathies
http://www.collectionscanada.gc.ca/microform-digitization/006003-119.01-e.php?q2=5&q3=669&sqn=3849&tt=4972&PHPSESSID=v31donqf0350p2fskofqdledd2
http://www.collectionscanada.gc.ca/microform-digitization/006003-119.01-e.php?q2=5&q3=669&sqn=3850&tt=4972&PHPSESSID=v31donqf0350p2fskofqdledd2
------------------------------------------
Margaret Mattis - T-15115, 3847, 3848
Highlights:
Age 1
Signed Für [for] Margareta A Mathies
http://www.collectionscanada.gc.ca/microform-digitization/006003-119.01-e.php?PHPSESSID=v31donqf0350p2fskofqdledd2&sqn=3847&q2=5&q3=669&tt=4972
http://www.collectionscanada.gc.ca/microform-digitization/006003-119.01-e.php?q2=5&q3=669&sqn=3848&tt=4972&PHPSESSID=v31donqf0350p2fskofqdledd2
------------------------------------------
Anna Mattis - T-15115, 3617, 3618
Highlights:
Age 3 Months
Signed Für [for] Anna A Mathies
http://www.collectionscanada.gc.ca/microform-digitization/006003-119.01-e.php?q2=5&q3=669&sqn=3617&tt=4972&PHPSESSID=v31donqf0350p2fskofqdledd2
http://www.collectionscanada.gc.ca/microform-digitization/006003-119.01-e.php?q2=5&q3=669&sqn=3618&tt=4972&PHPSESSID=v31donqf0350p2fskofqdledd2
------------------------------------------
Herm J. Dick - T-15009, 2713. 2714
Form 30A, Ocean Arrivals, 1919-1924
Highlights:
Age 16; Signed Hermann Dück
Naturalization: 16-1-30
http://www.collectionscanada.gc.ca/microform-digitization/006003-119.01-e.php?q2=5&q3=564&sqn=2714&tt=4989&PHPSESSID=v31donqf0350p2fskofqdledd2
http://www.collectionscanada.gc.ca/microform-digitization/006003-119.01-e.php?q2=5&q3=564&sqn=2713&tt=4989&PHPSESSID=v31donqf0350p2fskofqdledd2
---
MATHIES REGISTER IN CANADA
CMBC Registration Form
- Front

Back


[Hand Written on Printed Form]

Form ....

Canadian Mennonite Board of Colonization

[Family List] [Whether passage was by contract or not] ja [yes]

[List number] [First, Father's and Family Names] [When born] [Where born]

2. Mathies abram Joh. 1893 Russland, Ekat
" Margaretha 1897 ----- " ------
" Margaretha 1921 ----- " ------
" Anna 1923 ----- " ------

Slimager

Dück Herrmiann Joh. 1906

[Family Number] 398/517 S 59 c D 59

2201 - 2268

[Hand Written on Printed Form]

[Last residence in Russia] Alexanderkrone, Ekaterinaslav
[Departed from] Lichtenau [Russia, on] 23 June [in Rezekne,
Latvia arrived on] 30 June [departed from Rezekne on] 2 July
[Arrived in Libau] on 3 July [departed from Libau on] 3 July
[Steamship] Marglen
[In] Southhampton [England arrived on] 10 July [from] Southhampton
[departed on] 10 July [Steamship] Minnedosa
[in] Quebec [Canada, landed on] 17 July, 1924
[First residence in Canada] Waterloo, Ontario
[Kin in Canada or United States] keine [none]
List of those detained and associated with this family [blank[

List number First, Father's and Family Names When Born Where detained Reason for Detention

[blank]
Guide: Translated CMBC Registration Forms
http://www.mennonitehistory.org/projects/cmboc/images/blanka.gif
http://www.mennonitehistory.org/projects/cmboc/images/blankb.gif
[ The registrations forms initially consisted of two-sided 5.5 x 8 ½ inch newsprint sheets that were pre-printed and completed by hand. ... The front of each CMBC record card ... lists the immigrating family with dates and places of birth. On the left ... [could be] notes added as to what happened to each person, whom they married, etc. as this was the basis for a financial repayment record for 'credit passengers.' ... The numbers at the bottom were the family number [Example: 398] and a folio number for financial tracking [example: cD 59] .... The reverse side of the CMBC card indicated the dates of travel, the route taken, then destination in Canada and the naming of a relative in North America. (presumably a sponsor) ... http://www.mhsbc.com/news/v11n01/v11n01p10.htm ]
---
MATHIES IN WATERLOO
Solomon R. Leis
[Solomon R. Leis was born on 2 June 1876 at Wellesley Twp., ON, CA.
He was the son of Joseph K. Leis and Catherine L. Roth.
Solomon R. Leis died on 13 August 1964 at Waterloo County, ON, CA, at age 88.
http://www.njshantz.ca/MyProject/p896.htm;
http://www.ournetwork.net/FamilyConnections/individual.php?pid=I32100&GEDCOM=ancestors.ged ]
Submitted by Louise (Mathies) Ross
I just noticed the number 398 is on the Russian travel document, the back of the Medical Certificate, and the CMBC card 398/517. The Colonization Board also added the number 901 I believe for the travel debt repayment. NEW!!! I never knew that Mom and Dad were headed to a Mennonite Settlement in Rosthern, Saskatchewan!! I remember them saying that when the train stopped at Waterloo, those that had made arrangements to be picked up got off the train. Mom & Dad were standing on the platform when a man shouted 'We'll take that family' and pointed to them. It was Mr. Solomon R. Leis, an Amish man. I've attached a picture of the Amish couple and a write-up of his death where Dad has written, 'Sie nahmen uns auf in 1924' .. 'They took us in in 1924.'
Submitted by Louise (Mathies) Ross - Sun, 19 Jun 2011 23:19:31
NOTE LOUISE'S RE NEW!!!
[By 1924, the Kanadier [1870s Mennonites, or Kanadier] had exhausted their financial ability to aid the new immigrants and invited the Old Mennonites of Ontario to begin assuming some of the responsibility for the continuing arrival of Rußländer [1920s Mennonites, or Rußländer] immigrants. So, in 1924, Old Mennonites in the Waterloo region opened up their homes to the Russländer ... Ontario Mennonite History, Volume XIV, Number 1, March, 1996, "Reinterpreting The Old Mennonite/Rußländer Encounter in 1924" by Krista Taves" - http://www.mhso.org/publications/Ontmennohistory14-1.pdf See also: "Introduction To 1924 Ontario Mennonites First Contact With Mennonite Refugees From Russia," by Lorna L. Bergey and Linda Huebert Hecht, Ontario Mennonite History, Volume XVIII, Number 1, June, 2000 - http://www.mhso.org/publications/Ontmennohistory18-1.pdf ]
---
OTHERS ARRIVING WITH THE MATHIES
Henry C. Taves: born in Tiegenhagen, Russia, 1916 ... In June of 1924, we crossed the Atlantic on the SS Minnedosa and docked in Quebec on July 17-18. The following day we arrived in Kitchener ...[ http://ekmha.ca/henry_c%20%20taves.htm ]
------------------------------------------
------------------------------------------
In July 1924, a trainload of 1,340 immigrants escaping upheaval in Russia arrived in Waterloo and walked from the train station to be parcelled out to their waiting hosts ... [ J. Winfield Fretz, The Waterloo Mennonites: A Community in Paradox (Wilfrid Laurier University Press, 1989), p. 32.
1924 (Summary)

Gathered at railway station in Lichtenau (Lichtenau area of Molotschna) on June 23

Train passed the Russian border into Latvia on June 29-30

Train traveled to Tezekne [Ryejitsa], Latvia on June 30

Train arrived at port city of Libau [Liepaja or Liepāja] on July 3

Ship Marglen left Libau on July 3

Marglen reached Kaiser Wilhelm [Kiel] Canal on July 5

Marglen arrived at Antwerp on July 7

Minnedosa left Antwerp on July 9

Minnedosa arrived in Southhampton on the night of June 9-10 [July 9-10]

Minnedosa left Southhampton on July 10

Minnedosa arrived at Quebec on July 17

CPR Train arrived at Waterloo on July 19
Some of the people on the this Minnedosa:

Minister Jacob P. Freisen

Minister Jacob P. Wiens

Minister Peter F. Goertzen

Elder Heinrich Martens

Gerhard J. Enns

Helmut Huebert, Events and People: Events in Russian Mennonite History and the People that made them happen (Kindred Productions, 1999) -
http://books.google.ca/books?id=BNEh8xwSOEkC&pg=PR3&lpg=PR3&dq=Events+and+People:+Events+in+Russian+Mennonite+History+
and+the+People+that+made+them+happen&source=bl&ots=ky47zk_VIA&sig=
cJE74cTm67x5lJYTxImKOxszvZI&hl=en&ei=x2U0TpLpIeHq0gHBt83qCw&sa=
X&oi=book_result&ct=result&resnum=1&ved=0CBkQ6AEwAA#v=onepage&q&f=false
------------------------------------------
On Jun. 24,1924 they [JAKOB KOOP family] left Lichtenau, Molotschna and travelled by train to Libau, Latvia. Over a thousand people were on that train of 50 freight cars and it was crowded with people and baggage. The train trip took almost 9 days. The cars were drafty but the weather was mostly pleasant. They had a chance to see much of Russia they had never seen. The only food they had for those days was what they had brought with them. Whenever the train stopped for a while they would get out and make a fire and boil some water to make tea or prips. They were relieved when the train crossed the border and they were on Latvian soil. At Libau they boarded a small ship called the Maclean, which took them through the Kiel Canal to Antwerp, Belgium. Before docking they had to bathe with a disinfectant; all hair was shorn off men, children and even some women. Their clothes were washed in a special solution. Mother was proud of the fact that they found no lice on her family and her hair was not shorn. In Antwerp they were again given a thorough health inspection and about 60 people were detained but they passed. On Ju1. 8, 1924 they boarded the ocean liner S.S. Minnedosa and left Antwerp. The ocean voyage lasted 9 days and according to Dad it was a pleasant and mostly calm voyage. Many were seasick in spite of this, but our family was only a little queasy the first two days and after that were fine, even Mother, who was two months pregnant. They were crowded in the lowest hold of the ship. There were no individual rooms, only four large rooms. During the day they spent a lot of time on deck. The food was good but different from what they were used to. On Jul. 17, 1924 they saw the skyline of Quebec City, but they were stopped and about 50 people were removed to be quaranteed on an island until their health problems cleared up. By the time the ship docked it was late and they had to remain on the ship till morning.
Next morning they disembarked and they were taken to a large immigration hall, where they were met by a reception committee from the Mennonite Colonization Board, who assigned them to their destinations. Some had individual relative sponsors, but the majority were assigned to Rosthern, Sask. and to Kitchener, Ont. Our family went to Kitchener that same day and arrived there at 3:00 P.M. Mother says she was exhausted from the excitement, the uncertainity, and the ordeal in the noisy immigration hall. The train ride had been comfortable; everyone had a seat and train stewards frequently came around with food and drinks. But in Kitchener they had to face another ordeal. They were met by a large crowd of Old Order and Pennsylvannia Dutch Mennonites, who had received lists of the immigrants weeks earlier. On these lists were the names of the families, their ages, number of children and the father's occupation in Russia. Many had chosen a family and had sent in the name of the family of their choice. These families had received the names of their sponsors in Quebec. Others had agreed that they were willing to take a family but would make their choice when the 'Russlanders' arrived. Our family had no sponsor. The families with pre-arranged sponsors left and thinned the ranks. Those who had been farmers in Russia were soon chosen. Dad felt very humiliated when farmers would stop and question him and then move on. In Russia he had always been a teacher and had never worked on a farm. Finally only a few widows with children and our family was left. The local church leader was encouraging, promising a place would be found. Late in the evening a dairy farmer, Arthur Pannabecker, drove into the station and agreed to take our family ...
Helen Koop Johnson, Tapestry of Ancestral Footprints (1995), pp. 155-156
------------------------------------------
It begins on July 17, 1924, with the arrival at Quebec City of about one thousand Russian Mennonite refugees under the leadership of Herman C. Enns. They had crossed the Atlantic Ocean on the C.P.R. steamer "Minnedosa," and most of them had come from the Molotschna settlement . After the completion of the immigration formalities, including the signing of promissory notes for repayment of the travel loans arranged with the C.P .R. by David Toews, the chairman of the Mennonite Board of Colonization, the immigrants travelled westward into Ontario. In Toronto, a number of them left the main body, some going to Vineland and a few to Markham. Most of the rest went on to Waterloo, where they were well received by the (Old) Mennonites and the Amish, among whom they were billetted and with whom many remained until the spring of 1925 . During their stay, however, some of the immigrants made plans for moving on. A number had already travelled to Manitoba; for instance, Nicolai N. Driedger, who was to become so important to the development of the Leamington United Mennonite Church. His family was among these first arrivals, but they left for Newton Siding in December, 1924 . They returned east in November, 1927, settling on Pelee Island .

In the fall of 1924, a committee of immigrants and local Mennonites was established in Waterloo to find ways of resettling the newcomers in other parts of the province . When news of job opportunities in Essex County reached them, the committee dispatched four delegates - Herman C. Enns, Jacob Barkowsky Sr ., Noah Schneider, and another man whose name has not come down to us - to the area in November 1924 to explore the possibilities. These four returned with a positive report, like that of Caleb and Joshua of old, who said: "The land, which we passed through to spy it out, is an exceedingly good land" (Numbers 14 : 7b) ...
------------------------------------------
It was on the 17th of July, 1924, when we first set foot on Canadian soil . Although we had entered the harbour of Quebec City the night before, we were told to remain on board our ship "Minnedosa," and sleep the night in our cabins .

Next morning, early, we left the ship and were ushered into a huge immigration hall . The 1200 immigrants who gathered there created an impression of utter confusion as papers and passports of each immigrant were processed.

From Quebec two trains were to take us to Waterloo, Ontario. It took some time before the trains were ready for us and we were given instructions to board the train . Each train was made up of ordinary passenger cars with wooden seats and no upholstery, with overhead sleeping facilities . Although these were no luxurious passenger cars, nevertheless they were much more comfortable than the freight cars which we had occupied when we departed from Russia.

In the huge waiting room in Quebec, a number of men mingled among the immigrants, searching out certain families, who would go to Vineland and work there. One of these men was identified as a Mr. Fretz from Vineland . Persons/families which he had chosen were identified by a green ribbon which was pinned on the immigrant's suitcoat . This selected group, destined for Vineland, were ushered into special passenger cars, and when the train arrived in Toronto, these cars were uncoupled and attached to another train bound for Vineland . These immigrants worked all summer long in the orchards of Vineland, picking strawberries, later cherries, peaches, plums, pears and other fruit . This Vineland group may have numbered about 200, and the rest of us were perhaps somewhat envious, since they were going to a designated location, and the promise of a job. The rest of us continued our journey, with a seemingly uncertain future . Ontario, Kitchener, Waterloo, for us they were strange names and expressions, and the people who receive us were also strange . On the map we had been able to identify the area as being located near the Great Lakes, but that was all . Just before I left Russia one of my teachers asked me, "Do you know where you are going?" "Well," I replied, "I was going to Canada, and once we got to Canada I was going to Ontario," but that was all I knew. The teacher (Mr. Wiens) went to a large map of North America and pointed to a dot on the map where Kitchener-Waterloo was located and said, "That is where you are going."

As soon as we entered the large immigration hall in Quebec City we were offered treats to eat, and it was there that for the first time in my life I had a taste of bologna, and I was not impressed . On the train we received sandwiches, sausages, etc . It was enough to satisfy our hunger. In fact I had little hunger because of the uncertain future . The night on the train with its hard sleeping facilities did not give the refreshing sleep one expected . My courage for a bright future in Canada on that first day was seriously eroded. The area through which our train passed, consisted mainly of bush, lakes and rocks, hardly ever did we get a glimpse of a nice farm with level land .

As immigrants, we had received permission to emigrate to Canada on condition that we would settled on farms . Canada, we were informed, did not need industrial workers, Canada needed farmers, that was our future . Was it any wonder, after traveling a whole day and seeing nothing but wilderness, rock and lakes, that some of the immigrants became a bit squeamish about their future, particularly those who had worked the rich soil of the Steppes of the Ukraine?

Even the next day the scenery from the railway window did not seem to improve greatly. Although here and there we did pass through cleared land and farm homes. And thus we arrived in the afternoon in Toronto, where we said good-bye to our friends who were traveling to Vineland, while our train hastened to its destination - Waterloo. As we came closer to Waterloo the faces of the immigrants seemed to brighten, for the train passed through hilly land with lovely fields of various crops and in between there were stands of bush. The average farm homes and barns seemed to indicate comfort and prosperity for its people. One thing which soon caught my eye, and which seemed to be present at every farm we passed, was a grey tower located beside the barn . Later I learned they were silos, and of their purpose on the farm.

The train entered a city, we were told it was the city of Kitchener. Switches were changed and our train passed across King Street of Waterloo to Erb Street . The brakes screeched and our train came to a stop . We had arrived at our destination, after a trip which had lasted 25 days . Of what was to take place in the next little while, we had not been prepared for; in fact I had not been able to picture for myself how and what our arrival would be like . When I, with my bag in hand, and my two sisters left the train an unforgettable scene unfolded before me. Along Erb Street, from where we had left the train, to the Erb Street Mennonite Church, on both sides of the sidewalk, throngs of people from the Twin Cities stood pressed together looking over the new arrivals as they passed by. From all over, Mennonites and non-Mennonites, had come to Waterloo to witness the arrival of the "Russian Mennonites." Newspaper articles and announcements from the pulpits of the churches had alerted the people of the immigrants' arrival on Saturday, July 19, 1924, on at least one train, perhaps more. This spectacle no one wanted to miss, and it had brought the people out in droves.

When I saw that mass of people and the many cars on the street, I wanted to hide . But there was no escape, and so we, my two sisters and I, made our way to the sidewalk for the walk up to Erb Street . The scene reminded me of running the gauntlet, the chain of immigrants burdened with heavy luggage and children around them, or in their arms, marching along the sidewalk to the church, proceeding slowly and with much effort . Some carried their babies in self-made and primitive cribs, which they had made before leaving Russia . The procession must have been a sorrowful sight to the bystanders, for what they saw was a tired and poor group of people with the clothes they wore having experienced civil war, revolution and a long journey.

With bowed head 1 walked the long way to the church, as I felt peoples' stares directed at me, and often I sensed scornful glances directed in our direction. Everything in life has an ending, and so too this spectacle ended, as we arrived at the Erb Street Mennonite Church .

The church yard was filled with people, mostly immigrants, but also Mennonite farmers. The yard resembled a nest of ants . We were ushered into the horsesheds, which at the time were set along the boundary line of the church property . In these sheds planks had been placed so we Could sit on them. Then the ladies came and offered us sandwiches, coffee and cake . It was much appreciated by the immigrants, for it brought the weary travelers and hosts closer together, as well as refreshing the spirits. I can testify to the fact that the Mennonites in Ontario did a lot for the immigrants who arrived here poor and without any means of support. A committee looked after the placement of the arrivals, all of whom were assigned to farms. It is doubtful that anyone was placed in the city . Any farmer who was prepared to accept a family/person, went inside the church where he was given the name of a family, or person, which appeared on the list. For some farmers this presented a sacrifice to accept a complete family, often with a number of small children . Although a set time of how long the immigrants were to stay with their hosts was not clear, some remained over the winter months .

The placement of the immigrants seemed to run smoothly, but before they left the church yard, our belongings which we had brought, but were too heavy to carry, were brought to the church yard in large wagons and unloaded. All went there and searched for what belonged to him. Once everything was found, the host loaded family and belongings onto his wagon and away they went to the farm at Elmira, St . Jacobs, New Hamburg and goodness knows where.

I noticed wagon after wagon leave the church yard, and I stood there and still had no place to go. Two well-dressed gentlemen came and spoke to me in German, they looked me over from top to bottom, and finally one said, "Wart mal hier, ich hol din einen Kittel ." [ "Wait here, I'll get you a jacket."] I didn't know what the word "Kittel" meant, only later I discovered that it referred to a jacket . After a little while one of the gentlemen returned with a jacket and vest - the trousers very likely had been worn out and discarded. He told me to put them on, which I did, and they fitted quite well . I was dressed in a shirt which was not tucked into the trousers, but worn over top and held in place by a belt . This was the Russian custom. Some time later I put my hand into the jacket's pocket and I pulled out a small object wrapped in paper. I examined it and smelled it, it smelled like peppermint candy, but it was not candy, at least in Russia I had never seen such candy. Later I discovered that it was a piece of gum, which you put in your mouth and chew, but you don't swallow it . Pretty soon I saw some of these "chewing" people and was amazed at how long they could chew on that little piece of gum. I put my piece in my mouth, but after only a short while all the taste was gone and I spit out the sticky object . This was my first encounter with the American chewing gum phenomenon. In Russia we had never seen or heard of it.

Time passed. Since our arrival several hours had gone by. It must have been after 6 o'clock, when a small, but strong looking man loitered by giving this immigrant a searching eye. His big hands were buried deep in his pockets as his searching eyes passed over me. The slaves in the southern United States slave market couldn't have had any better feelings as I did then, as this man examined me from head to foot . Finally, he approached me, and without introducing himself or anything, he asked, "Kanscht die Geil treibe?" ["Can you drive a team of horses?"] It sounded strange to me, because we called "Geil" "Pferde", but I calculated quickly and concluded that the name "Geil" must be the plural of "Gaul." "O yes," I assured him, "I have worked in the past with horses ." On our estate in Russia we had over 100 horses of which a large number were purebred horses . Every year we would sell at least a dozen or so of these select horses to the Russia cavalry . When I was 10 years old my father bought me a pony, and all day I would either ride my pony or hitch him to a wagon and drive around. Therefore I could emphatically state that "I could drive horses."

But the next question from him was more difficult to answer, "Kanscht auch a Kuh melke?" ["Can you milk cows?"] O dear, during the last year at the agricultural school our class had received theoretical instruction on milking a cow. The teacher had explained and demonstrated how to milk, but none of us had ever milked a cow, and in addition , I left the school in May of 1924. My experience on milking, at best, would be of little value to the farmer, but I assured him I was convinced I could learn quickly. Apparently I had passed the test, for the farmer mumbled something, which meant I was to follow him . He took me to another farmer, who sat in a Ford car (1920), and said something in English to him. Later I discovered that the man in the car was a brother to the farmer who had interviewed me, that they lived in the vicinity of Kitchener, and that they were neighbours .

Irwin greeted me very friendly and said he would take me in his car to his brother's place . When we finally got into the car, ready to leave, it was already dark and we turned from Erb Street onto King Street and drove through Waterloo, Kitchener, out of Kitchener in the direction of Preston . I marveled at all the lights on King Street and the beautifully lit stores . In the last six years we had not seen anything like this, our electricity system, which we had on our estate, we had already lost in 1919, and since then it was impossible to buy kerosene for our coal-oil lamps. The only oil we still had was sunflower oil, and even that was hard to get . We would pour a little bit of that oil into a saucer, place a strip of flannel on one end of it into the oil and light it, this had been the only source of light for the last several years - a very meager source of light, indeed. As I now drove along King Street with its many lights I was reminded of those spindly oil lamps - what a difference . I was also reminded of the time, in 1910, when our new large house was built in Halbstadt and the electrical system was built right into it, and how bright it was when the lights were turned on. Then the revolution came with its horrors, and it was in February, 1919, that the murderous bands ascended onto Halbstadt, and we fled from our house that night . In our haste we packed some things together and fled . All the lights had been turned on, and when we were all seated in the wagon my sister got up, went back into the house and turned all the lights off and locked the door. That was the last time we had electricity in Halbstadt . The station was also destroyed by the bandits .

And now I was again driving through electrically lit streets and enjoying its brilliance . But then the lights stopped, we were outside the city limits and we continued to drive in a south-easterly direction . We crossed a long bridge, and soon after we reached our destination . The car left the road and entered a dark lane, into an equally dark yard, and I could only distinguish the outline of a two-storey house and a large barn . A barking dog greeted us, but soon calmed down when he recognized familiar voices, only he studied me a bit more cautiously . During the drive the farmer had not spoken much, he had not asked how the journey had gone, or what were my first impressions of Canada. I had the impression these people were quite dull, and showed little interest in the welfare of others . When I remarked about the many cars on the road, and that he too as a farmer was driving a pretty good car, he countered with, "Wart juscht, es nimmt net lang and du faerscht auch so a car." [ "Just have a little patience and in a little while you too will be driving such a car."] That remark seemed overstated to me, 1, a poor immigrant with a travel debt of $130.00, without proper clothes, or goods of any kind, and to drive my own car? Yes, there had been a time in 1913 when a big "Opel" car came onto our estate "Seljanoje." The salesman had taken the trouble of driving 50 miles to our estate with the intention of selling the car to Dad. I remember as a 9-year-old the bargaining that took place and dad bought this "wonder" for $5,000.00 . For a year and- a-half we were able to enjoy this car, until World War I broke out, and the government came and confiscated the car for war purposes, and that was the end of our "Opel ." Since that time I had not driven in a car, from 1914 - 1924 there were no cars in our region . And now, I should become the owner of a car, seemed unbelievable to me. Well, in truth, it took all of 27 years, until 1951, before I bought a new Dodge car . Family circumstances and the depression years did not permit me to buy a car earlier ...
------------------------------------------
We landed in Quebec on July 16, 1924 and travelled by train to Kitchener, arriving at the Erb Street Mennonite Church on a Saturday late in the afternoon. Most of the immigrants had already been given the name of their host on the train from Quebec. But since there were more immigrants than expected, not all families knew where they would find shelter. We were one such family .
I remember we sat in one of the horse and- buggy stalls and watched one family after another follow their hosts to their buggy or car. I sensed the uneasiness in my parents as the evening came upon us and we were still sitting there. I snuggled close to my father and wondered, "Will there be no place for us?"

We had seen an elderly man walking by a number of times and eyeing us . We wondered, "Will he take us along'?" But no, he disappeared . Later he came back. He walked by once more, then he turned around and came towards us and asked, "You are still waiting? Have you no place to go?" Father said, "No." Then he said . "Cell koomt mil mia" ("You come with me").

This kind elderly man was Aaron C. Bowman of Mannheim . We came to the car and found another couple sitting in the car already. On the way to his farm Bowman was very concerned about what his wife would say that he was bringing six people instead of the two they had made preparations for. He mentioned that his wife had been especially busy that week also preparing for a big family reunion that was to take place on their farm the next day. He must have been very concerned and voiced it aloud a number of times. 1 was not quite five years old at the time but remember it vividly. I held on tight to my father's arm ...
------------------------------------------
But on July 19th, 825 people stepped off the train down at the corner of Caroline Street and Erb St. Waterloo. All were in need of accommodation.

They walked to the Erb St. Mennonite Church where their prospective hosts awaited them. To the credit of the Waterloo area Mennonites it was reported that everyone was billeted by midnight . Accommodation was stretched to the limit. As an example, in the rural Blenheim Mennonite congregation of 15 households, eleven households provided billets to Russian Mennonite refugee families, some for a few weeks, others up to a year ...
------------------------------------------

After seven years of war my father Henry P. Hiebert married my Mother Suzanne Dueck in Alexanderkrone, Molutschna South Russia, now Ukraine ... As village secretary Dad had to put together a list of people wanting to emigrate, for the men that worked there, so he put himself and his wife onto that list ...

The cattle boxcars of the train in which they rode had first to be cleaned. There were no toilet facilities . The men rode separate from the women and children in another car. The boat trip took about a month and my mother and father were both troubled with seasickness. Thank goodness for a cousin Mary (Dyck) Friesen who helped by taking care of Agnes who, with her little tin cup went about begging for milk!

Leaving with the first group by train from their village and on the first ship crossing the ocean, then onto a train from Montreal to Waterloo, they arrived just past the station at Erb St ., West on July 19th, 1924. On that first Canadian cross country trip they were intrigued and surprised at the landscape and what they saw of the new world, like a man milking a cow, unheard of in the old country, that was only a woman's domain!

In the horse shed at the rear of the Erb Street Mennonite Church names were called of families, but not the Hieberts. Who would want a couple with a toddler and a baby? Finally near the end their name rang out; "Henry and Susan with two children ." Indeed Moses Baer from New Dundee had been instructed by his two teenaged daughters to bring back a family with babies! So he went about asking "Who is Henry with two children?" And while they were sitting there with their little belongings they came and presented themselves as Moses and Adeline Baer ...A year later they moved to Essex County, about a mile from the Jack Miner's farm. It was at this time that dad's brother in Kitchener arranged for a job in the Rubber Machinery Shop of The Dominion Tire Company (now Uniroyal) as a machinist, a job he held for over 30 years and had stabilizing effect on family life ...

The Hiebert and Dyck Families. Back row: Susan Hiebert and Susan Dyck. Second Row: Henry Hiebert and Jacob Dick. Front Row: Agnes Hiebert, Henry Hiebert Jr., Elizabeth Hiebert and Frieda Dick ...
------------------------------------------
"It was a hot day, we had arrived at Erb and Caroline street and walked to the church . We assembled near the horse sheds where attempts were made to make us as comfortable as possible. Clothes had been gathered and those who needed some were invited into the church. The young people didn't dare go into the church .
Another committee had made sandwiches which were served to us, We had never seen sandwiches before and thought, they were quite something.

Near midnight we still had not been placed in a home, We thought nobody wanted our family of five . Since I have heard this feeling from three different people. My mother said we were the last to leave the church, the Neufeld girls thought they were the last to leave the yard and another family had the same feeling. All were very lonesome and quite relieved when finally someone came and took them ...

When we left the church yard Saturday night it seemed to us we had driven a great distance into the country before arriving at our host's farm [Mr. and Mrs. Bishop Jonas Snider] ...
The majority of today's Ontario Mennonite Brethren locate their origins in the 1924 emigration from the Soviet Union. Most of these M.B . immigrants landed in Waterloo, Ontario. The Erb Street Mennonite Church became the reception area. On arrival they were received by Mennonite farmers of the Waterloo area, and distributed throughout the county and beyond. The original plan had been for these people to travel to Western Canada where they were to start homesteading. But drought and a generally unfavorable agricultural climate in 1924 made it impossible for Western farmers to accommodate the quota of immigrants allotted to them for that year . An "SOS" was sent by Elder David Toews, chairman of the Canadian Mennonite Board of Colonization to its member in Ontario, Bishop S. F. Coffman in Vineland. Toews asked him to accept the refugees the West was unable to cope with . This cry for help did not go unheeded. Charitably and generously the Swiss Mennonites of Ontario responded. Concerning this operation the Kitchener Daily Record reported :
Mennonites Find Homes For Many Russian Immigrants - During the past three weeks Waterloo County has absorbed 1082 Russian Mennonites, the first party arriving Saturday, July 19 and consisting of 875, while a little later a party of 63 came. It was expected that many of these two contingents would go out west this fall and remain there, but the failure of the crop in the Mennonite sections there has caused a change in plans and they will remain in this county.

When the final tally of immigrants for 1924 was completed, a total of 1340 had found homes in Ontario, thanks to the hospitality of their Swiss brothers and sisters. Except for a handful, these people all arrived in the town of Waterloo, from whence they were distributed among the Mennonite farmers of the county and further afield ...

The immigrants were scattered from Kitchener and environs to Vineland and Beamsville ...
---
MATHIES IN CANADA
BROTHERS AND SISTERS OF ABRAM J. MATHIERS
1924
MARIA MATHIES

b. February 21, 1888, Russia; d. July 18, 1957, Leamington, ON Canada5; m. PETER JANZEN; b. Abt. 1885, Russia; d. Abt. 1921.
Sister of Abram J. Mathies
Canadian Mennonite Board of Colonization
MINNEDOSSA, JULY 10 - JULY 17, 1924


Janzen, Maria - 21-2-1888
Janzen, Helena - 24-6-1921
http://www.mennonitechurch.ca/programs/archives/holdings/organizations/CMBoC_Forms/0900s/cmboc0900a.jpg
http://www.mennonitechurch.ca/programs/archives/holdings/organizations/CMBoC_Forms/0900s/cmboc0900b.jpg
1924
JOHANN JOHANN MATHIES

b. June 05, 1890, Russia; d. October 11, 1970, Vineland, Ontario, Canada; m. MARGARETHA FRIESEN.
Brother of Abram J. Mathies
Canadian Mennonite Board of Colonization
MINNEDOSSA, JULY 10 - JULY 17, 1924


Mathies, Johann Joh. - 1890
Mathies Margaretha - 1899
Mathies, Anna - 1919
Mathies, Johann - 1921
http://www.mennonitechurch.ca/programs/archives/holdings/organizations/CMBoC_Forms/0800s/cmboc0899a.jpg
http://www.mennonitechurch.ca/programs/archives/holdings/organizations/CMBoC_Forms/0800s/cmboc0899b.jpg
1925
DAVID J. MATHIES
DAVID J. MATHIES, b. March 08, 1884, Schönbrunn, Schönfeld Colony, Ukraine; d. October 09, 1949, St. Catharines, ON Canada; m. (1) HELENA BALZER, ??; b. ??; d. August 19, 1918, Roppowo, Russia; m. (2) AGNES KOOP, Abt. 1919; b. Abt. 1894, Ukraine; d. December 02, 1976, Vineland, ON Canada.
Brother of Abram J. Mathies
EMPRESS OF FRANCE
October 31, 1925-November 7, 1925
Title: Passenger Lists: Quebec City (1925 - 1935)
Microform: T-14720, 502
S.S. Empress of France, sailing from Southampton, October 31, 1925; Arriving Quebec, November 7, 1925
http://www.collectionscanada.gc.ca/microform-digitization/006003-119.01-e.php?q2=12&q3=871&sqn=502&tt=628&PHPSESSID=e6j2tkajtphttqcjud1j4om624
DAVID MATHIES [Uncle of Annie Krause]
Canadian Mennonite Board of Colonization
Mathies entered on this document at Matties, David Jah from Alexanderkrone
Canadian Mennonite Board of Colonization

EMPRESS OF FRANCE - OCTOBER 31 - NOVEMBER 7, 1925


Johann, 1912, 5/XI
Gerhard, 1910, 5/II
Erika Mathies - 1920, 13/XI
http://www.mennonitechurch.ca/programs/archives/holdings/organizations/CMBoC_Forms/2000s/cmboc2051a.jpg
http://www.mennonitechurch.ca/programs/archives/holdings/organizations/CMBoC_Forms/2000s/cmboc2051b.jpg
Date of Arrival: 1925/11/07 (YYYY/MM/DD)

Ship: EMPRESS OF FRANCE, Canadian Pacific

Reference: RG76 - IMMIGRATION, series C-1-a

Source: FINDI76-646748
AGANETA MATHIES [Aunt of Annie Krause]
WIFE
Date of Arrival: 1925/11/07 (YYYY/MM/DD)

Port of Arrival: QuebecShip:

EMPRESS OF FRANCE, Canadian Pacific

Reference: RG76 - IMMIGRATION, series C-1-a

Source: FINDI76-646747
JOHANN MATHIES [1st Cousin of Annie Krause]
SON
Date of Arrival: 1925/11/07 (YYYY/MM/DD)

Ship: EMPRESS OF FRANCE, Canadian Pacific

Reference: RG76 - IMMIGRATION, series C-1-a

Source: FINDI76-646752
GERHARD MATHIES [1st Cousin of Annie Krause]
SON
Date of Arrival: 1925/11/07 (YYYY/MM/DD)

Ship: EMPRESS OF FRANCE, Canadian Pacific

Reference: RG76 - IMMIGRATION, series C-1-a

Source: FINDI76-646750
ERICA MATHIES [1st Cousin of Annie Krause]
Date of Arrival: 1925/11/07 (YYYY/MM/DD)

Ship: EMPRESS OF FRANCE, Canadian Pacific

Reference: RG76 - IMMIGRATION, series C-1-a
---
---