ERIC KRAUSE
In business since 1996
- © Krause House Info-Research Solutions -
_____________________________________________________________________________________
MATHIES GENEALOGY
_____________________________________________________________________________________
JOHN J. MATHIES
(Johnny Mathies, Johann Mathies)
(July 22, 1921, Russia, Tiege, South Russia - December 5, 2001,
[December 7, 2001], Vineland Cemetery, Vineland, Ontario, Canada)
Married
(May 12, 1945, Leamington, Ontario]
HELEN [HELENA] SCHELLENBERG
(March 7, 1920, Tiegenhagen, South Russia -)
MY SECOND COUSIN ON THE MATHIES SIDE MARRIED
MY THIRD COUSIN ON THE SCHELLENBERG SIDE
Marriage Details: WillmsCorneliusGenealogy-KatiePeters.pdf
[Note: As of March 6, 2017, Helen was living in the United Mennonite Home in Vineland]
Johnny MATHIES was the son of John MATHIES Sr. (June 05, 1890-October 11, 1970), brother of Abram. J. MATHIES (February 14, 1893 - June 21, 1974), father of Annie (MATHIES) KRAUSE (February 25, 1923 - June 2, 1998) who married Heinrich Wilhelm KRAUSE ( March 15, 1921 - January 15, 1980)


[Helena] Helen Schellenberg (March 7, 1920, Tiegenhagen -) daughter of Gerhard Jacob SCHELLENBERG (August 26, 1871-June 29, 1962) married Sarah KORNELSEN (February 5, 1882-c. October 12, 1979) on November 12, 1916. Sarah KORNELSEN was the sister of Heinrich KORNELSEN (April 17, 1876 - 1947), the father of Maria Mietz KORNELSEN (May 5, 1900 - April 2, 1991) who married Friedrich Wilhelm KRAUSE (January 18, 1897 - December 9, 1983)
----------------------------------------------------
MY SECOND COUSIN ON THE MATHIES SIDE
JOHN J. MATHIES
(Johnny Mathies)
(July 22, 1921, Russia - December 5, 2001,
[December 7, 2001], Vineland Cemetery, Vineland, Ontario, Canada)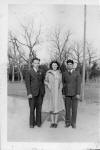 Mr. Brown,
Annie Mathies,
Johnny Mathies (Kitchener cousin)
2012
MAY 30
RUTH (MATHIES) DWYER AND SANDRA MATHIES (My Third Cousins, Once Removed)
Ruth Dwyer and her sister Sandra Mathies drove down of from out East on behalf of their mother Helen (Schellenberg) Mathies who is in a retirement home in Vineland. Their father Johnny Mathies was our first cousin.
2015
NOVEMBER 6
RUTH (MATHIES) DWYER AND SANDRA MATHIES (My Third Cousins, Once Removed)

On 06/11/2015 11:07 AM, Louise Ross wrote:

Hi ..

Ruth Dwyer wrote this on facebook today.

"My dear Dan left us last night...He had a long and wonderful life. We loved his cleverness and his humour, it was mildly subversive and I was always in awe...
He was kind and good
We'll miss him terribly"

She posted this photo of son Michael and Dan.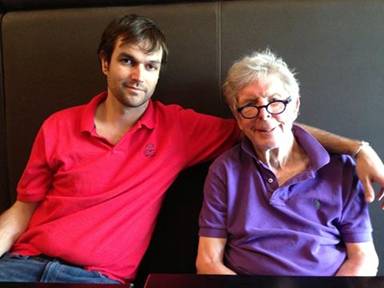 -------------------------------------------
MY THIRD COUSIN ON THE SCHELLENBERG SIDE
HELEN SCHELLENBERG (March 7, 1920, Tiegenhagen -)
Gerhard Jacob Schellenberg was born on 26 Aug 1871, in Tiegenhagen, Molotschna, South Russia. He died on 29 Jun 1962 in Leamington. - AND - Sarah KORNELSEN was born on 5 Feb 1882 in Tiegenhagen, Molotschna, South Russia. They married on 12 Nov 1916 and she died c. October 12, 1979. [KORNELSEN-KRAUSE CONNECTION - Sarah KORNELSEN was the sister of Heinrich KORNELSEN ( April 17, 1876 - 1947), the father of Maria Mietz KORNELSEN (May 5, 1900 - April 2, 1991) who married Friedrich Wilhelm KRAUSE (January 18, 1897 - December 9, 1983)
Jacob Gerhard Schellenberg (May 24, 1923, Tiegenhagen-April 2, 2010,Winnipeg) who married Elaine Mennell fifty years ago on Valentine's day, 1959. [SCHELLENBERG - KRAUSE CONNECTION]
[Helena] Helen Schellenberg (March 7, 1920, Tiegenhagen -) who married John J. MATHIES (Johnny Mathies) (July 22, 1921, Russia - December 5, 2001, [December 7, 2001], Vineland Cemetery, Vineland, Ontario, Canada) . [SCHELLENBERG - MATHIES CONNECTION - Johnny MATHIES was the son of John MATHIES Sr., brother of Abram. J. MATHIES (February 14, 1893 - June 21, 1974), father of Annie (MATHIES) KRAUSE (February 25, 1923 - June 2, 1998 who married Heinrich Wilhelm KRAUSE ( March 15, 1921 - January 15, 1980)]
SCHELLENBERG DESCENDATS

CONFUSION HERE: EITHER

Aaron Gerhard Schellenberg (1772, Prussia-July 18, 1841) married (1) Katharina Braun (March 18, 1769, Grubenkaedigungskampe, West, Prussia-November 3, 1829,Tiegenhagen, Molotschna South, Russia)

(2) Katharina J Niebuhr (1770-1842) (3) Elizabeth (1774-1807) (4) Helena Neubaur (1769-1842) [Reimer]

OR

Jacob Gerhard Schellenberg (1772, Tiegenhof, Prussia-July 18, 1841, Tiegenhagen, Molotschna South, Russia) married Katharina Braun (March 18, 1769, Grubenkaedigungskampe, West, Prussia-November 3, 1829,Tiegenhagen, Molotschna South, Russia)

[Reimer]

Agatha Schellenberg (1778-1858) [Reimer]

David Gerhard Schellenberg (1780-1853) [Reimer]

--------------------------------
CONFUSION HERE: EITHER:

Aaron Gerhard Schellenberg (1772, Prussia-July 18, 1841, Russia) married (1) Katharina Braun (March 18, 1769, Grubenkaedigungskampe, West, Prussia-November 3, 1829,Tiegenhagen, Molotschna South, Russia)

OR

Jacob Gerhard Schellenberg (1772, Tiegenhof, Prussia-July 18, 1841, Tiegenhagen, Molotschna South, Russia) married Katharina Braun (March 18, 1769, Grubenkaedigungskampe, West, Prussia-November 3, 1829,Tiegenhagen, Molotschna South, Russia)

Jacob Jacob Schellenberg (September 22, 1799, Tiegenhof, Kr Marienburg West, Prussia-August 4, 1871, Tiegenhagen, Molotschna, Russia. ) married Anna Willms (May 6, 1809, Tiegenhof, Gr Werder, Prussia-August 2, 1871, Tiegenhagen, Molotschna, Russia.)
Jacob Schellenberg (1830, Schoenau, Molotschna South, Russia - November 17, 1901, Tiegenhagen, Molotschna, Russia) married Maria J Barkman (June 30, 1833, Tiege, Gr Werder, Prussia-August 22, 1920, Tiegenhagen, Molotschna, Russia)
Gerhard Schellenberg (1831-1891)
Anna Schellenberg (1833-1882)
Maria Schellenberg (1840-1901)
Karena Schellenberg (1846-Unknown)
Justina Schellenberg (1849-1908)
Margaretha Schellenberg (1853-Unknown)
-------------------------------------------
Jacob Schellenberg (1830, Schoenau, Molotschna South, Russia - November 17, 1901, Tiegenhagen, Molotschna, Russia) married Maria J Barkman (June 30, 1833, Tiege, Gr Werder, Prussia-August 22, 1920, Tiegenhagen, Molotschna, Russia)
Anna J Schellenberg (1861-1950)

Jacob Jacob Schellenberg (1857-1858)

Margaretha J Schellenberg (1859-1930)

Maria J Schellenberg (1867-1869)

Johann Jacob Schellenberg (1870-1870)

Gerhard Jacob Schellenberg (August 26, 1871, Tiegenhagen, Molotschna South, Russia - June 29, 1962, Leamington, Ontario, Canada) married (1) Katharina A Friesen (February 9, 1878, Schoenau, Molotschna South, Russia-October 11, 1914, Leamington, Ontario, Canada) (2) Sara J. Kornelsen (February 5, 1882, Tiegenhagen, Molotschna South, Russia-c. October 12, 1979) November 12, 1916.

Agnes G Schellenberg (1913-1914)

Helen Schellenberg (March 7, 1920, Tiegenhagen -) married John J Mathies [Johnny Mathies] (July 22, 1921, Russia - December 5, 2001, [December 7, 2001], Vineland Cemetery, Vineland, Ontario, Canada)

Margaret Ruth Anne Mathies [Ruthy Mathies] married Dwyer

Sandra Jane Mathies [Sandy Mathies]

Jacob Gerhard Schellenberg (May 24, 1923, Tiegenhagen, Molotschna - April 2, 2010, Winnipeg) married Elaine Mennell Valentine's day, 1959

Gerry Schellenberg (1960-) (twin)

Lynn Schellengerg (1960-) (twin) (Eric)

Marjorie Schellenberg (1962-)

David Schellenberg (1966-1995)
http://www.ancestry.co.uk/genealogy/records/
http://www.ancestry.co.uk/genealogy/records/tobias-schellenberg_14271367
Krause House Records
LINKS