_____________________________________________________________________________________
_____________________________________________________________________________________
CLARA (MOOS) KORNELSEN
(December 14, 1904, [Neu]Nassau, Molotschna, Russia - July 4, 1987, Wheatley, Ontario)
and
JACOB H KORNELSEN
(March 14, 1899, Tiegenhagen, Molotschna - April 10, 1948, Leamington, Ontario)
---
1959
CLARA (MOOS) KORNELSEN
Wedding of Interest - Miss Lena Kornelsen, daughter of Mrs. Clara Kornelsen of Leamington, and James Edward Rutherford, son of Mr. and Mrs. John Rutherford, of Blenheim, were married Saturday in the Mennonite Brethren Church, Leamington, in a ceremony performed by Rev. Derksen, They will reside in Leamington.

http://ink.ourontario.ca/browse/lp -The Leamington Post. June 25, 1959 - Page: 5
1987
CLARA (MOOS) KORNELSEN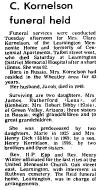 Clara Kornelson
http://ink.ourontario.ca/browse/lp -The Leamington Post. July 8, 1987 - pg. 3
------------------
2008
CLARA (MOOS) KORNELSEN
Lene (Lee) Rutherford passed away on Saturday March 29, 2008 at the Chatham-Kent Health Alliance. She was born in Wheatley 80 years ago to her late parents Jacob and Clara Kornelsen. Lee met her future husband Jim Rutherford one day at an Essex County vs. Blenheim Badminton League game. Lee and Jim would have celebrated 49 years of marriage this June. Together they raised their daughter Jane, Mrs. Dennis Jenner and enjoyed their grandchildren Brandon and Ian Jenner. Lee was an avid golfer, she enjoyed reading, knitting and curling at the Golden Acres Curling Club which Jim's parents co-founded. Lee is survived by her sister Elsie, Mrs. Bob Bibby of Surprise, Arizona, by her brother in law Henry Dick of Leamington and by several nieces and nephews. She is predeceased by her sister Hilda.
http://www.blenheimcommunityfuneralhome.com/past2.htm
---
AUGUST MOOS AND CHRISTINE MARIA NEFF
PARENTS
Birth: 25 December 1871, Altnassau, Molotschna, Russia
Baptism:
Death: 8 January 1945
Parents: Katharina MOOS

Marriage: 1895, Christine Maria NEFF (Birth: 29 June 1871, Dinkel, Samara, Russia; Death: 12 February 1946)

Children:

28 February 1896: Katharina MOOS
28 October 1898: Ida MOOS
11 May 1900: Emma MOOS
26 June 1902: Anna MOOS
14. December 1904: Klara MOOS
2 September 1906: Karl MOOS
1908: Johann MOOS
9 October 1909: Johann MOOS
28 September 1911: Frieda MOOS
28 November 1913: Selma MOOS

Deserted on 14 Sep 1943 Altnassau and settled on 16 Feb 1944 next to Goslin, Kr obornik (Wartheland); on April 1945 they was expelled to Zelinograd in Kazakhstan

Sources
Title Meister - Backnang
Description 1716 - today
http://gedbas.genealogy.net/person/show/1124076508
---------------------------
KATARINA MOOS
PARENT
Parents: Karl MOOS [Moos can be traced back to: 22. January 1750 Holzhausen, Nassau, Germany]

and Ernestine WOLF [Wolf can be traced back to 1822, Russia]

Birth: 19 March 1848, Altnassau, Molotschna, Russia

Children: 25 December 1871 - August MOOS
---------------------------
Henry Neff Karlovic 1902 birth , whether the village Fridengeym , whether Dinkel .
His parents Charles H. Neff 1880 g.r s. and Paulina ( maiden name and patronymic do not know) 1882 p . comes from the village Dinkel .
------
My grandmother Neff (Wolfe) Catherine Genrihovna 1905 g.r.s. Dinkel ,
Her parents Henry Woolf Fridrihovich born 1878 Dinkel C. Wolfe (also maiden name and patronymic do not know) , born in 1879s Jost
---
Hello Eric,

I ran across your page at http://www.krausehouse.ca/krause/KornelsenJacob.htm while searching for a line of my cousins that went to Canada.

Klara/Clara (Moos) Kornelsen, born 14 Dec 1904 in Alt Nassau, was a 3rd cousin of my grandfather Heinrich/Henry. Her mother was Christina Neff, born 21 or 22 Jun 1871 in Dinkel (Tarlykovka), Kukkus, Samara, Russia. This family appears to have wound up moving through the Caucasus area and wound up in the area of Alt Nassau.

Klara/Clara and her husband Jacob/Jake Heinrich Kornelsen came to Canada with a daughter, Maria/Marie. Your page on travel to Canada does not include Maria/Marie, but there is a record for her just as for her parents. I think this is the reason why you note that there is an "error" involving this young girl.

There are a couple of things on your page that I'm confused by. One is the daughter Helen. Her obituary gives her name as Lene (Lee). Is "Lene" simply a nickname for Helen that she used?

Also, there is a daughter Ilsa married to a Gerhard Baerg, but the obituary of Klara/Clara calls this daughter Elsie, wife of Robert Bibby. Did she marry twice?

I've been doing genealogy as a hobby for about 15 years, and I try to trace down all of my lines and find the cousins. As Klara/Clara was a third cousin to my grandfather, her kids would have been fourth cousins to my mother, and her grandkids fifth cousins to me. I would greatly appreciate your putting me in touch with descendants of these folks.

Thanks and regards,

Jack Saunders
Calabasas, CA, USA

March 12, 2014 3:10 AM
Klara/Clara (Moos) Kornelsen
J D Saunders


[Dear Eric]
Nice to hear from you. I think the confusion is the German and English. We always called the girls Lene and Elsie. Lene was pronounced "Leenah". In German they would be "laynah" and "Ilsa" if the grownups were talking German. "Laynah" would be translated as Helen.


I presume that the girls didn't want German names and so went by the English translations. What was on their birth certificates, I wouldn't know.


As you know my name is spelled Margreta, but I was always called Margaret or Marga if someone was speaking German. I spelled my name the English way until University when a professor suggested the name on my degree should match my birth certificate. There was a stigma attached to being German.


Lene went by "Leenah" in her early working days. (I met her ex-boss several years later). That might have been shortened to Lee later.


Elsie (Ilsa) was married to George Baerg and they divorced. I have no knowledge of who she married later. It was the topic of much gossip in Leamington at the time. Elsie had two daughters, I think, but I don't remember their names. Elsie moved away and I never heard where.


Hilda's daughter Janet married "Red" Robinson, I think his proper name was John and when my mother was still alive they lived in the Leamington area. Janet made some draperies for my mother in the late 1980's.


I presume that you have a copy of the Kornelsen family tree prepared in memory of Micha Willms. I would think the proper names are in there. Mine is at home and we're in Arizona right now. I'm tempted to look up Elsie, we're quite close to Surprise. Do you have any more information on her?


Hope this helps.


Margreta

March 13, 2014 11:44 AM
Re: From Eric Krause - Kornelsen Query
Margreta Gronski
I guess the reason I could answer your questions was that my parents often visited Hilda and Elsie, they were Dad's nieces. When we would visit Aunt Clara, Lena would often be there. I got dragged along because I was too young to stay home ...
Friday, March 14, 2014 12:39 PM
Re: From Eric Krause - Kornelsen Query
Margreta Gronski
---