1923/1924 to the Present


NSARM, Clara Dennis, 1939, 1981-541 #269 (Cape Breton)


NSARM, Clara Dennis, 1939, 1981-541 #281 (Cape Breton)


NSARM, Clara Dennis, 1939, 1981-541 #280 (Cape Breton)
Links
English Harbour Heritage Society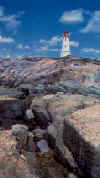 Ships sailing into Louisbourg harbour are greeted by the beam of Canada's oldest light station. Opposite the lighthouse in the southwest arm of the harbour is the august and imposing Fortress of Louisbourg, with its cannons pointed across the harbour. The town and docks lie in the most protected part of the harbour in the northeast arm.
All 4 of Louisbourg's lighthouses were constructed on the same rocky outcrop on the point at the eastern side of the entrance to Louisbourg Harbour. The lighthouse constructed in 1923/24 is still standing and operational. At its base are the stabilized foundation ruins of the 18th-century and 19th-century lighthouses.
There has been concern in the community about the future of the lighthouse. As a result, local citizens Iris Stevens, Gerry Gartland and Jean Bagnell and others formed the Louisbourg Lighthouse Society. Their objective is to help protect and present this significant part of Louisbourg's history.


NSARM, DOT, 11973-56 vol. 1 / 182 - Cropped - Louisbourg fog alarm buildings from lantern deck
1734-1758 Lighthouse



------------
1842 - 1923 Lighthouse