ERIC KRAUSE
In business since 1996
- © Krause House Info-Research Solutions -
_____________________________________________________________________________________
KORNELSEN GENEALOGY
_____________________________________________________________________________________

Return
---
Lichtenau, July 13, 1924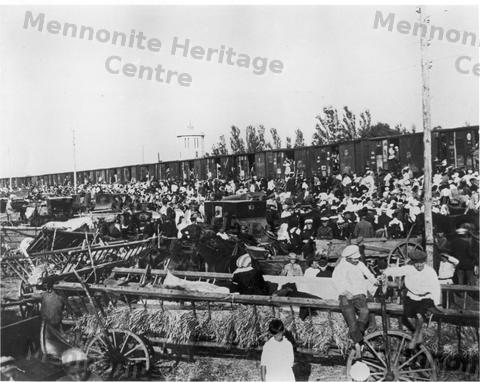 Reference code
CA MHC 044-309.0
Title
Departure day at Lichtenau train station (13 July 1924)
Date(s)
13 July 1924 (Creation)
Repository: Centre for Mennonite Brethren Studies, Winnipeg
This photo shows departure day scene at the Lichtenau train staion. The train is in the background against the horizon; a crowd has gathered to bid the emigrants farewell; an empty wagons is seen in the foreground with several boys sitting on the wagon side rail. This photo is a slightly different photo than the one published in Gerhard Lohenz's Heritage Remembered ( HR 261).
https://archives.mhsc.ca/mennonite-emigrants-loading-at-lichtenau-molotschna
-------
Lichtenau, July 1924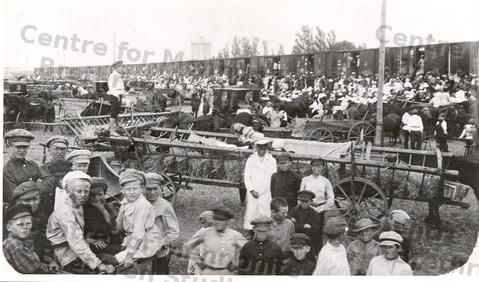 Reference code: CA CMBS NP012-01-41
Title: Departure of train in Lichtenau 1924
Date(s)
July 1924 (Creation)
Repository: Centre for Mennonite Brethren Studies, Winnipeg
This photo show the crowd gathered at the Lichtenau train station in Molotschna Colony in early July 1924 as many boarding the train, starting their emigration from Russia. Boys sit on ladder wagons with the train and box cars in the background.
https://archives.mhsc.ca/departure-of-train-in-lichtenau-1924
-------
Lichtenau, July 1924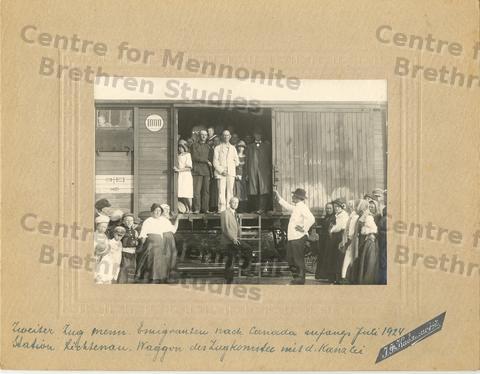 Reference code
CA CMBS NP080-01-3
Title
Mennonite Immigrants boarding a train in Lichtenau, Molotschna
Date(s)
July 1924 (Creation)
Repository: Centre for Mennonite Brethren Studies, Winnipeg
This photo is of Mennonite boarding the train at Lichtenau, Molotschna in July 1924 to immigrate to Canada. People are standing in the box car and around the door on the ground posing for a photo. In the box car far right is Benjamin B. Janz (BB Janz). This was the 2nd train departing in early July 1924
https://archives.mhsc.ca/mennonite-immigrants-boarding-train-in-lichtenau-molotschna-in-july-1924
-------
Lichtenau, July 1924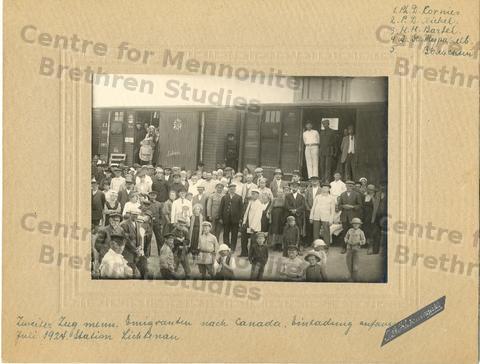 CA CMBS NP080-01-2
Title
Mennonite Immigrants boarding train at the Lichtenau Station, Molotschna
Date(s)
July 1924 (Creation)
Repository: Centre for Mennonite Brethren Studies, Winnipeg
This was the 2nd train of emigrants that departed in early July 1924 from the Lichtenau train station. The names Philip D. Cornies, P.D. Nickel, H. H. Bartel plus 2 more in Russian script are written on the top corner of this item.

NOTE: Another version of the same photo says: "Note on back of photograph: "In Lichtenau auf dem Banhof U.S.S.R. 23 June 1924 als wir nach Canada fuhren. 47 Wagen 1400 Menschen." Train station at Lichtenau on June 23, 1924 when the Peter J. and Elizabeth Tiessen family left for Canada. The train had 47 cars and held 1,400 people. David Kruger has been identified as the older man in a cap standing on the far left of the photograph, partly out of frame" "Reference code CA MAO Hist.Mss.1.291/12-13 Title Lichtenau train station Date(s) 1924-06-23 (Creation) - [https://archives.mhsc.ca/lichtenau-train-station ]
https://archives.mhsc.ca/mennonite-immigrants-boarding-train-
at-lichtenau-station-molotschna-july-1924-ph-d-cornie
-------
Lichtenau, Unknown Month, 1924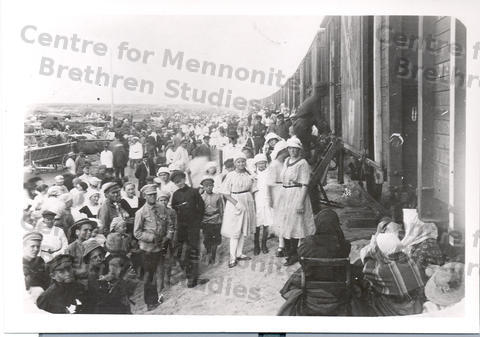 Reference code
CA CMBS NP012-01-40
Title
Departure of train in Lichtenau
Date(s)
1924 (Creation)

Repository: Centre for Mennonite Brethren Studies, Winnipeg
https://archives.mhsc.ca/departure-of-train-in-lichtenau
-------
Lichtenau, Unknown Month, 1924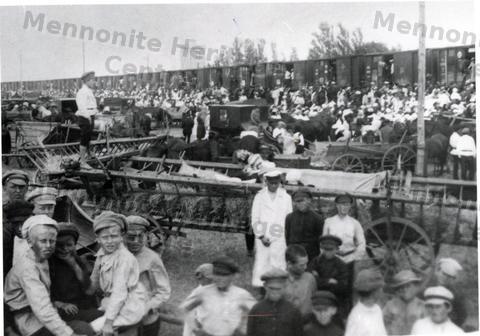 Reference code
CA MHC 044-309.0 b
Title
Emigrating to Canada
Date(s)
1924 (Creation)
Repository: Centre for Mennonite Brethren Studies, Winnipeg
This photo shows a departure day scene at the Lichtenau train staion. The train is in the background against the horizon; a crowd has gathered to bid the emigrants farewell; empty wagons are seen more in the foreground is a group of boys, several sitting on the wagon side rail, but the wagon they are on cannot be seen. [HR 261]