ERIC KRAUSE
In business since 1996
- © Krause House Info-Research Solutions -
62 Woodill Street, Sydney, NS,
Canada, B1P 4N9
krausehouse@krausehouse.ca

ERIC KRAUSE REPORTS
MY HISTORICAL REPORTS
PUBLISHED ON THE INTERNET
---
CROMARTY TENNIS CLUB - FOUNDED 1902

Cromarty Tennis Club, 65 Cromarty Street, Sydney, Nova Scotia, Canada
(Image postmarked September 25, 1908)
---
RETIRE…S AND FRIENDS GALLERY 2013
OUTDOOR TENNIS
Please click on an image to see a larger version
---
JANUARY TENNIS
JANUARY 4

Court Three (far court) today cleared, rolled, and ready for play
JANUARY 5

Players flee the courts after playing for a bit
JANUARY 6

Players return for a full 1 1/2 hour session
JANUARY 7

Court 3 cleared once again and ready for play following overnight snow fall
JANUARY 8

Court 3 Observed from the entrance gate waiting for players to arrive
JANUARY 9

Foreground: Court 4 cleared of most snow, rest now having melted under the sun, and partially rolled.
Distance: Players on Court 3, rolled and totally dry.
Some of the players using Court 3
JANUARY 12
Preparing Courts 3 and 4 for tomorrow under a full sun and -0 Celsius temperature following a snow/rain/freeze event
JANUARY 13
Courts 3 and 4 in play with 14 players, some in short sleeves.
Court 2 was partially cleared prior to the arrival of 2 additional players not with the retiree group.
JANUARY 14

Another banner day!
JANUARY 15

Courts 2 and 3 and 4 in play today with Court 1 in reserve
JANUARY 16
Another good crowd
JANUARY 17

Cromarty Tennis Club members Donnie Bonnell, left, and Eric Krause clear snow from the courts in Sydney on Thursday.
Some diehard Cromarty members play tennis through the entire winter, as long as weather permits a safe surface to play on.
[Steve Wadden - Cape Breton Post]
Cape Breton Post, Friday, January 18, 2013, A3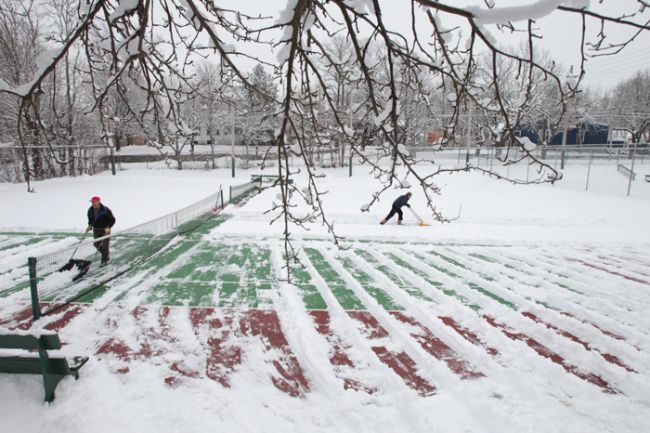 In order to play a game of tennis Donnie Bonnell, left, and Eric Krause,
both members of Cromarty Tennis Club, cleared snow from the courts in Sydney on Jan. 17.
Cape Breton Post, December 31, 2013
Last night's snow has been removed, courts 3 and 4 rolled,
and the games, unfortunately now under a wet sky, have resumed for yet another day
JANUARY 20

We have moved up to Court 2 after clearing it of snow
and rolling it as dry as possible
JANUARY 21

Foreground: Courts 3 and 4, flooded, then frozen, and now a large pond
In the Distance: Players on a higher elevation and better drained Court 2

Players on Court 2, today rolled again,
now dry with ice remaining only in the far right hand corner
and on some of the white lines

Looking warm Al on a very cold day. Love your hat
JANUARY 23
Court 2 cleared of snow and ready for play on a day that is:
-13 degrees Celsius; Wind chill -26 Celsius; Wind: W 35 gust 50 km/h

"Cooler" heads prevailed - We went to Tim's for hot coffee and tea
JANUARY 24
Can you believe it? Conditions worst than even on January 23!
Court 2 cleared of snow (again) and ready for play with ground snow blowing on and off the court, on a day that is:
-16 degrees Celsius; Wind chill -27 Celsius; W 24 gust 35 km/h
Kevin (CCITC executive) and Eric (CCITC executive) take to the courts and then flee to Tim's to
nail down some details of the Cromarty Community Indoor Tennis Centre's
proposed outdoor
CCITC National "Living Healthy" 55+ Team Tennis "Doubles" Tournament
Labour Day Weekend, 2013 (Saturday - Monday: August 31 - September 2)
Sydney, Cape Breton Island, Nova Scotia, Canada (another site)
JANUARY 25
Finally, back on the courts today - Court 2 with some swirling snow
-13 degrees Celsius when we arrived, W 37 gust 46 km/h Wind Chill: -25
But worst? Our team lost 7 - 5 before we headed off to Tim's
JANUARY 26

A dog day -8 degrees Celsius, with no wind and a full sun.
A full 2-hour session today! 7 players on Court 2 rotating 3 in, 3 out.
JANUARY 27

Another 2-hour session on Court 2.
Court 1 now prepared, snow removed, and ready for a hopeful sun melt of the ice that had built up beneath.
JANUARY 28

Court 1 (foreground) prepared a bit more for forecasted rain, higher temps, and some sun in the coming days.
Court 2 (rear) waiting for the leaf blower "specialist" to start the now flooded machine, and blow off the snow on the court.

Court 2 play - 11 players arrived today over the course of the 2-hour session.
Some left to allow others to play; Some played after the initial, and here the observed group had left for Tim's.
JANUARY 29
Eight players arrived today for Team Tennis play of 4 and 4 on Court 2.
Flurries next chased us off to Tim's, and, later, the court, now squeegeed off,
has been prepared for a possible big melt tomorrow afternoon and the day following.
Fingers crossed. We haven't had such an extended cold snap for the last 10 years!
JANUARY 30

Got the matches completed on Court 2 before the sleet arrived.
JANUARY 31

Heat and rain did its work. More rain and drizzle today and tonight, then cold again.
Rolling in time after we play today before the freeze will be the key to getting the courts ready for play for tomorrow.
Courts 1 and 2 in play today with 7 players; Courts 3 and 4 clear of snow.
Very high winds, damp air, and rain soon to follow.
---
FEBRUARY TENNIS
FEBRUARY 1

Courts 1 and 2 rolled late last night. Hoping for this morning's ice sheen to melt away in some sun.

All courts rolled beginning noon, and 12 players take to Courts 1, 2, and 3 (foreground), with 4 in reserve.
FEBRUARY 2

14 Players today in falling - 5 (start) to -8 (end) degrees C temp.
The two singles players on Court 1 (foreground) have left for the day.
FEBRUARY 5
A 2-day snow/rain/freezing rain/snow event has left the courts with a sheet of ice.
Reflective snow removed off Court 2 and hopefully the sun (temps will be cold, wind will be up) will start a melt.
---
APRIL TENNIS
APRIL 3
| | | | | | |
| --- | --- | --- | --- | --- | --- |
| | | | | | |
| Court 2 - Far left | Court 2 | Courts 3 and 4 | Courts 4 and 3 | Court 1 | Court 1 |
Finally, after a brutal February and March snowy/icy winter we are back!
Court 2 in play today, and Court 3 probably ready for tomorrow.
Last pictures for a bit as I am off tomorrow to Ontario, racquet packed.
---
SEPTEMBER TENNIS AND SOCIAL GATHERING AT SAMMY CARTER'S PLACE
SEPTEMBER 12
---