ERIC KRAUSE
In business since 1996
- © Krause House Info-Research Solutions
---
ERIC KRAUSE REPORTS
MY HISTORICAL REPORTS
PUBLISHED ON THE INTERNET
---
HISTORY OF TENNIS AT LOUISBOURG
By
© Eric Krause, Krause House Info-Research Solutions
Rough Draft Research Notes on the history
of the Cromarty Tennis Club, Sydney, Cape Breton, Nova Scotia
(and on other Cape Breton Tennis Clubs as they may be encountered in my research)

18th Century
____________________________________
During the 1760's the British garrison at Louisbourg constructed a large fives alley in Block 20 of the town. Block 20 is located behind the Old Museum house. Fives or hand tennis is known as "jeu de paume" in French. In fives, a ball is struck by the hand against the front wall of a three-sided court. Games using hand, ball and wall were varied and without set rules or carefully defined areas until late in the 19th century. They were played in the tennis courts from medieval times to at least the end of the 18th century. (Rackets could also be used in this game and the game was played with rackets in Louisbourg. Captain William Owen of the Royal Navy was injured playing fives by a racket at the Louisbourg court in 1767. )
There are a number of references to fives being played in Louisbourg. The fives court in Louisbourg was paid by subscription among the officers of the garrison. For the location of the fives alley in Louisbourg, see George Sproule, " A plan of Louisbourg survey'd and Drawn for His Excellency Major General Thomas Gage, William L. Clements Library, University of Michigan. The fives alley in Louisbourg was a large structure. For a view of the fives court at fort Lawrence near Beausejour in 1755, see Webster, ed., "The Building of Fort Lawrence in Chignecto," Historic Studies, no. 13 (Saint John: the New Brunswick Museum, 1941), plate IV.
[Source: Contributed by Ken Donovan, Historian, Fortress of Louisbourg]
________________________________
According to D. C Harvey, referring to the Narrative of Captain William Owen:
The party landed in Louisbourg on June 1, 1767, and dined with Captain Holland, then employed on the survey of the island. The next day they spent fishing, caught a number of fine trout on a rivulet flowing into North East Harbor and dined on board the Mermaid, with the principal officers and gentlemen of Louisbourg. On the third, they dined on shore with Major Milward and other officers of the 59th Regiment, and had a game of fives ...
Source: D. C. Harvey, Description of Cape Breton Island and Other Documents (Halifax, 1935), p. 25.
[Contributed by Eric Krause, Historian/Historical Records Supervisor (retired), Fortress of Louisbourg]
-----------------------------------------------------------------------------------------
WAS THE GAME OF "FIVES" AT LOUISBOURG THE FIRST "TENNIS" PLAYED IN "CANADA"
Fives was no doubt a 3-walled hand/racquet-ball game played in Louisbourg against a front wall in a five alley also known as a ball alley. Here, in this game for example, "We went to ball alley to play at fives" [Jesse William Weik, The real Lincoln: a portrait (Houghton Mifflin, 1922), p. 265].
In 1922, we see an interesting description of a new ball alley then under construction which perhaps explains a similar dilemma at Louisbourg where after its occupation in 1758 an interest in "the game of fives" had arisen:
Because of building difficulties, and more especially costs, old ruins were of considerable interest ...

Once the location was agreed, no time was lost in getting work underway. The long bank leading to the top of the Kiln in the Quarry had to be hacked away, and the chairman, Pakie O'Brien, marked the commencement of the work by digging the first sod. There was a tremendous response from all the local families; horses and carts were readily available to shift stones, sand etc. and all the young men of the area gave freely of their labour to excavate, level and develop the site. Plans were prepared to build a 60'x30' alley and by the end of the first year (1923) a front wall 30' wide and 20' high, with a floor area 30' long were completed ...

In the following year (1924) a small portion of a left-hand side wall measuring approximately 10' x15' was built in mass concrete by Pat Kealy and Matty O'Keeffe, with local help. In 1926 a dancing platform which had been used for a couple of years at the Cross of Killarney became available and John Holohan, realising its potential as makeshift sidewalls, lost no time in doing a deal. The panels of the platform were transported from Killarney by Johnny Farrell on a cart belonging to the Fitzgeralds and were erected by voluntary labour ...

It is interesting to note that at this time there could be an 'over'ball as well as a 'short' ball, the 'over' line being at the end of the side wall 60' from the front wall. A skilled tosser could require his opponent to hit the ball from 70 - 75' in order to reach the front wall.

[Jim Power, Kilfane Ball Alley quoted in http://homepage.eircom.net/~duchas/steeples/SteepleVol1/ballalley.htm ]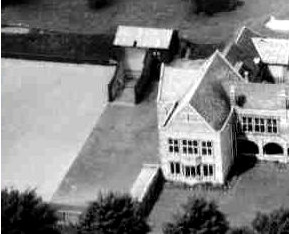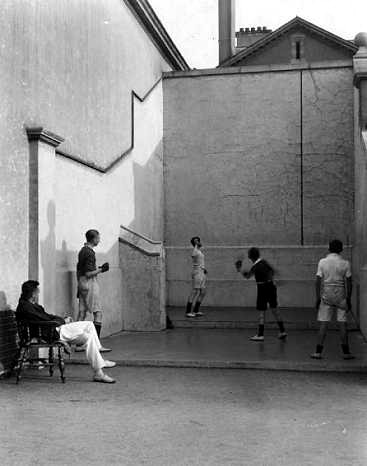 http://www.etonfives.co.uk/pictures/schools/lgs.html and http://www.etonfives.co.uk/pictures/schools/millhill.html
From the two Louisbourg images below, it can be determined that the "Five Alley" at Louisbourg was located in Block 20, lot A, where "&." designated its existence. To the east of the "&," jutting off what must have been the requisite vertical wall there stood the narrowed main entrance of an apparent fives court.
North, Rue d'Orleans
80 pieds long
West,
Rue de L'Etang

78 pieds long

East,
Rue Dauphine

Year 1767

Extract from
Louisbourg Town Plan
1767-1a

Year 1767

Extract from
Louisbourg Town Plan
1767-1

Year 1734

Extract from
Louisbourg Town Plan
1734-1
South, Rue de France
& =

© Parks Canada / Parcs Canada - Fortress of Louisbourg
To the west, in the alley, stood a large open area, and then further west, fronting the street known as Rue de l"Etang, was a dark feature of unknown function. Though building-like, this was not a building given that clearly identified by other designators were all of the structures either standing or in ruins on this lot. Indeed, this feature was illustrated without any designation at all. In addition, a plan from the following year (Town Plan 1768-1), that illustrated only standing buildings showed nothing at all where the five alley and its unknown western feature were indicated just one year earlier.
North, Rue d'Orleans
West, Rue de L'Etang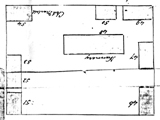 East, Rue Dauphine
South, Rue de France
Year 1768
Extract from Louisbourg Town Plan 1768-1
Where, to the east, the five alley narrowed like the neck of a bottle, in 1767 it hooked up with the end wall of the former large residence (nunnery) of the the Sisters of Congregation (on Lot E). The designator for this structure indicated that it was in ruins. Here a ruin was defined as "totally irrepairable but yet the Materials will be of use to the Settlers who may have them".
While ruined buildings on plan 1767 did not customarily reappear on the plan 1768 plan, in this instance the nunnery did. More so, in 1772, a remaining portion of the nunnery was still standing - and then owned by Lawrence Kavanagh - and was described as of a [wooden] frame construction.
Lot A measured 78 pieds (83.148 feet) along Rue De L'Etang and 80 pieds (85.28 feet) along Rue D'Orleans (one pied=1.066 feet). Here then the five alley appears to occupy approximately one-half of the width of the property or 39 pieds (41.57 feet) in its western portion. Given that the width of the unknown feature appears to be about as wide as the width of an average building, which was also about one-quarter (c. 20 pieds - 21.32 feet) of the depth of the lot, then the five alley back wall itself stood another 60 pieds (63.96 feet) to the east.
As you can see, this is NOT a tennis court with a net which is the basis of the tennis we play today, even if this game had tennis in its name. Also, don't be mislead by the statement that the "five alley" in Louisbourg was a large structure" since this assertion is an interpretation of what is illustrated on a plan only. In fact, there is absolutely no evidence that the feature identified as a "five alley" was indeed a "structure" at all.

Also, what what is identified as "jeu de paume" in France was indeed a game played in the 17th century with a net but it was most often played indoors (though outside as well). Thus, to call the game played on the "five alley" at Louisbourg a "jeu de paume" is perhaps a misnomer.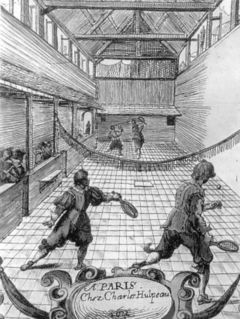 [Source: http://en.wikipedia.org/wiki/Real_tennis ]
If this is tennis at Louisbourg, then squash is tennis as well!! According to Wikipedia: "Squash tennis is an American variant of squash racquets, but played with a ball and racquets that are closer to the equipment used for lawn tennis, and with somewhat different rules."
Finally, in the late 1850's the game of Real Tennis" or "Royal Tennis" played indoors on a floor of flagstone with tennis balls made of cloth which would rebound off stone or brick walls, was finally taken outdoors using a vulcanized (process was invented in 1850 by Charles Goodyear) rubber ball that would bounce on grass (i.e. the game of lawn tennis).
In Canada, by all accounts, the first public Lawn Tennis courts (oldest in Canada) were established in the Halifax Public Gardens in 1876.
[Contributed by Eric Krause, Historian/Historical Records Supervisor (retired), Fortress of Louisbourg]
-----------------------------------
20th Century
I found a plan reference in one of Henry Bradford's reports to a tennis court. My reference was old Jim Pope who is now dead. I did find out that there was a Lawn Tennis Club in Louisbourg circa 1916.
Possible Tennis Court Location on the Marconi Property
[Source: Contributed by Bill O'Shea, Head of Research, Fortress of Louisbourg]
[Editor's 2009 Note:
"The main receiving aerial wire at Louisbourg was about one kilometer long and was supported by six tubular steel towers that were about 100 metres (330 feet) high. It was oriented in a roughly east-west direction, with the aerial wire extending westward." ...

"The aerial towers dominated the landscape and informed the viewer that this was a major radio station. ... The largest building was the three-storey "hotel," which had such amenities as a tennis court on the front lawn and a billiard room. The main operations building, the "receiver house," was a simple, one storey structure about 24 metres long (approx. 79 feet). ... This was a twenty-four hour operation, and there were three shifts a day of engineers, wireless operators, and landline operators." ...

"During World War I (1914-1918), the station was considered to be an important military target, and was guarded by the 94th Highlanders. Presumably the authorities feared sabotage or a commando attack from the sea. The staff of twenty-five now included censors. An album of photographs of the station contains the note that the censor ordered the negatives to be destroyed." ...

"The closing of the Louisbourg station was hastened by a fire that destroyed the receiver building in 1927. The residential buildings were dismantled and used for houses."

--Henry M. Bradford, A Short History of the Marconi Trans-Atlantic Receiving Station at Louisbourg, 1913-1926
------------------------
SEE ALSO:
Cromarty Tennis Club: My Cromarty Tennis Club History Notes