ERIC KRAUSE
In business since 1996
- © Krause House Info-Research Solutions -
---
CROMARTY COMMUNITY INDOOR TENNIS CENTRE
Society Founded 2006






---
PROPOSED BUILDING AND TENNIS COURT - AT THE SYDNEY AIRPORT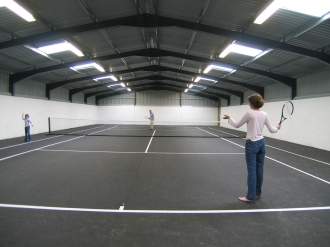 (Closely resembles the proposed facility)
"We Are Shovel Ready and Eager To Build"
A public facility within easy school bus distance from every educational institution, close to
all urban and rural communities by automobile, and adjacent to a scheduled public bus service
with CCITC plans for a future stop directly at the facility.
Some Distance Examples:
15 Kilometers (9.3 Miles) from the Cromarty Tennis Club
18 Kilometers (11.2 Miles) from the Sydney River Tennis Club
10 Kilometers (6.2 Miles) from the Glace Bay Tennis Club
13 kilometers (8.1 Miles) from the New Waterford Tennis Club
35 kilometers (21.7 Miles) from the North Sydney Tennis Club
(The CCITC envisions an identical public hub facility one day on the north side)
------------------
Click Here For Two Sydney Airport Aerials Showing Where The Facility Will Be Built
Click Here For The Detailed Pre-Construction Report
Updated April 1, 2009
---
The prime goal of the CCITC is to ensure the successful construction and the on-going operation of an indoor public tennis facility, while meeting all of the charitable and ancillary activities as described in the seven objects of the Society. For a $600,000 capital investment, the minimum amount necessary to achieve the prime goal, the facility would take a certain basic, cost-effective, form. Naturally, a greater investment would produce additional enhancements, such as a larger building, extra tennis courts, full running track, year-round air-conditioning, etc.
The proposed building, located at the Sydney Airport Authority (with nearby sewer and water for our site readily available), will serve up the standard four walls, a white ceiling, indirect court "green" lighting, a superior insulated "green" envelope, an economical "green" heating system, basic washroom facilities (appendage), and a first class alternate-style cushioned tennis court as follows:
(1) A "pre-engineered rigid framed" steel building set upon concrete frost wall with interior/exterior spot footings and possibly concrete piers

(2) 80' wide x 140' long, with c. 26' high side walls and c. 39' to a central ridge, with a 5:12 roof pitch

(3) Hot mix asphalt course (flooring) layer (beneath the tennis court and running track)

(4) One, state of the art, cushioned, doubles court measuring overall 60' x 120' centred upon a cushioned area measuring 80' x 140'

- Note: A maximum of six progressive children's (ages 5-7, 7-9 and 8-9 year olds) practice courts will be set upon the standard-sized cushioned doubles court as required
- Note: A cushioned walking track will circle the interior perimeter
- Note: Spectator arena seating available around the interior perimeter for viewing events

(5) Superior "green" insulation (walls R20, ceiling R40) with either indirect ventilation through ceiling-mounted exhaust fans or natural infiltration

(6) "Green" infrared high-intensity radiant ceramic ["light"] heating system: (For example, a propane gas-fired high-intensity infrared radiant ceramic ["light"] heating system, maintaining a 55 F degrees [12.7 degrees C] inside winter temperature

(7) Indirect "green" T5 fluorescent blue light technology (for example, Courtlite)

(8) A basic washroom amenity (appendage) upon a salb

(9) An automatic active fire suppression system

(10) Wheelchair accessibility

(Based on information that we provided)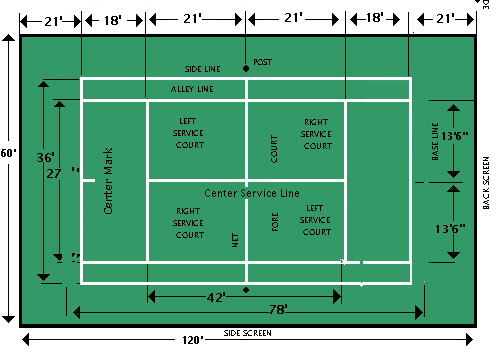 http://www.novasports.com/tencrt.htm
Several examples of possible state-of-the-art cushioned surfaces
(produced from environmentally friendly products)
NOVA SPORTS: http://www.novasports.com/products_NOVACUSHION.htm /
and
PLEXIPAVE: http://www.plexipave.com/systems/tennis/plexicushion/plexicushion.html


http://www.accuratetennis.com/services/construction/cushion.html
A shock absorbing feature that provides players with a firm playing surface, that reduces the risk of pulling muscles or twisting ankles,
that is less traumatic on joints than traditional surfaces, and that is a superior health alternative for participants of all ages.
__________________________________
For greater details regarding this structure, go to the pre-construction report at:
CCITC2009PreConstructionReport.htm
(By Eric Krause, Krause House Info-Research Solutions)
Revised February 20 2009

---