ERIC KRAUSE
In business since 1996
- © Krause House Info-Research Solutions -
---
CROMARTY COMMUNITY INDOOR TENNIS CENTRE
Society Founded 2006






---
CAPE BRETON POST. JANUARY 20, 2009
Indoor tennis group 'shovel ready'
Finding the money the next big hurdle

BY GREG MACVICAR
CAPE BRETON POST

SYDNEY - Playing on a cushioned court in a bright, spacious and warm building is the dream of local tennis enthusiasts who previously got their winter tennis fix by clearing snow from an outdoor court and playing in temperatures that dipped below 10 degrees Celsius.
"We played January, February, March," said Eric Krause, chairman of the Cromarty Community Indoor Tennis Centre, a Sydney-based charitable organization formed in 2006 with the ultimate goal of erecting a building devoted to year-round indoor tennis. "We played every day outdoors. But I decided it was too much work for all of us."
The CCITC got a big boost in December when the Sydney Airport Authority offered the group a 25-year lease on a plot of land near the airport for the centre, with access to sewer and water.
"We're 'shovel ready' like everybody says you have to be," said Krause. "We just don't have the money yet."
The building the group has in mind is a pre-engineered steel structure, 140 feet long, 80 feet wide, with walls 26 feet high and a maximum height of 39 feet at the central ridge, featuring one cushioned doubles court, 60 feet wide and 120 feet long, a number of children's courts and washrooms.
Krause estimates the minimum cost of the building at $400,000, with an engineered slab, insulation and cushioned court expected to be the priciest items on the centre's materials list.
The proposed cushioned floor will consist of several layers of rubber topped by an acrylic playing surface.
"That means it's good for young legs and old legs;' said Krause, a 66-year-old retired Fortress of Louisbourg historian and archivist, who's been playing tennis since he was 10 years old. "You don't get these knee injuries. It's a completely different game."
The CCITC, which is a tax-exempt Sydney-based charitable organization and registered with the Canada Revenue Agency, recently kicked off a charity donation drive.
"When it comes to the naming the facility itself, we're looking for a donor," said Krause. "If we get a major donor, we're more than happy to put their name on it."
He said a realistic scenario would see one third of the centre's cost being covered by donations, one third from the Nova Scotia Department of Health Promotion and Protection, and one third in government infrastructure grants.
The health promotion department requires a group to have two-thirds of its funding in place by February of any given year before the department turns over its one-third and that money has to be spent within one year, so unless the CCITC gets a big infusion of cash in the next couple of weeks, the earliest they'll have 'shovels in the ground' is late-winter or early-spring 2010.
The group envisions a public facility available on a first-come, first-served basis, providing tennis lessons to students as a part of their school curriculum and offering training courses for tennis coaches, officials and instructors. The organization also plans to provide tennis programs for elderly players and disabled players.
To make a donation to the CCITC, visit www.cromartytennis.ca/ccitc and click on the link to CanadaHelps.org. Income tax receipts will be issued immediately.
__________________
gmacvicar@cbpost.com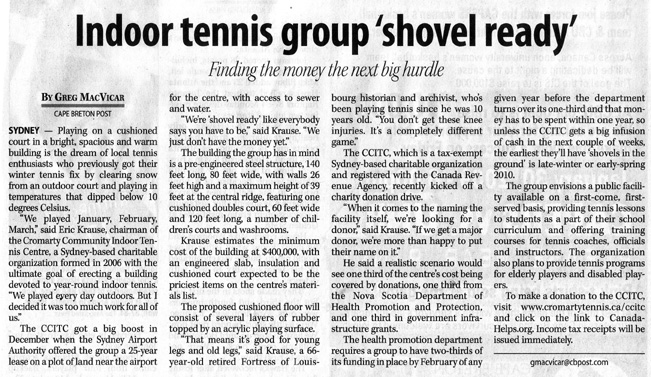 Cape Breton Post, January 20, 2009