ERIC KRAUSE
In business since 1996
- © Krause House Info-Research Solutions -
_____________________________________________________________________________________

BACKGROUND GENEALOGY
---
PORT CREWE
Crewe Brothers Fishery (1904-1957)

http://ink.ourontario.ca/browse/lp -The Leamington Post. September 3, 1991 - pg. 41
In 1904, four brothers, A.E. Crewe [Alex Crewe father of Frank Crewe who was extremely active in the fishery as early as 1922], D.L. Crewe, W.R. Crewe and S. M. Crewe, purchased the Tom Mills fishery and began operating pound nets off lot 199 in Romney Township. In 1907 they acquired the John Carr fishery, and fished off lots 170 to 179. Two years later, they purchased the John Steward fishery thereby including lots 161 to 169. Then, on the boundary between lots 169 and 170, they built a substantial dock ...
Their 150-foot dock was located at the bottom of the seventy-eight foot bank. Tracks were installed, enabling railway-like cars t6o carry equipment, fish and even passengers up and down the bank ...

[There was constructed] a barn ... a blacksmith shop ... a ... twine shed ... in 1918 a large ice-house ...

Crewe fisheries were busy manufacturing their own [cotton twine] nets and supplying them to other fisheries as well ...

[Karen Adamson (editor), Open Boats - A Historical Sketch of Commercial Fishing in Wheatley - Ontario (Published after 1979), pp. 8-9]
A.E. Crewe and his 3 brothers settled at Port Crewe in 1909. They initially bought entire apple orchards, hiring large groups of men to do the picking and then shipping the product to R.J. Graham at Belleville. By 1910-12 they were shipping fish by boats which came from Sandusky, Cleveland and Lorain. In 1922, Frank Crewe imported the first twine-making machine ever bought into Canada. The firm owned it own gas well, returned to its landowners by the Union Gas Company, which supplied free gas for the firm and its employees (Lauritson 1952: 314). The built heritage in the community reflects its early 20th Century provenance (see Plate 5).

http://www.krugerenergychatham.com/upload/docs/AppM_Heritage_Impact_Assessment.pdf
1920
William A Kennedy (Author), Daily catch record of Crewe Brothers Fishery, Lake Erie, 1904 to 1956, Manuscript report series, (Fisheries Research Board of Canada, 1961

The author desires to express his appreciation of the assistance given by many fishermen, in particular by Mr. A. E. Crewe, who kindly provided accommodation for the carrying out of the work during the summer of 1920, freely placed all the material of his catches for examination, and gave assistance in many ways. Other gentlemen who facilitated the work in supplying material and in other ways were: Messrs. Charles Ross, Roy Ross, Wilson S. McKillop, A. B. Hoover, C. W. Barwell, R. Kolbe, and W. D. Bates.

Accordingly for each fish examined the necessary measurements were made for the calculation of the above proportions. In addition the girth and the weight were determined and scales removed for age estimation. From June 14 to August 24, 1920, the ciscoes taken in twenty pound nets at the Crewe Bros. Fishery near Merlin were examined daily.
Biological Board of Canada; Canada. Marine Biological Station , Contributions to Canadian biology (Toronto, Biological Board of Canada: 1901) pp. 75-76. http://www.archive.org/stream/contributionstoc1921biol/contributionstoc1921biol_djvu.txt
1937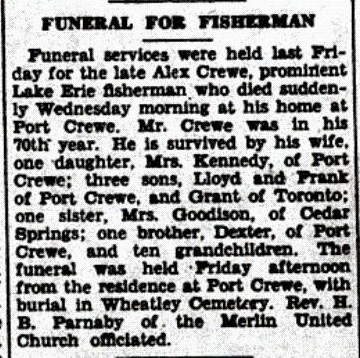 http://ink.ourontario.ca/browse/lp -The Leamington Post. July 15, 1937 - Page: 7