ERIC KRAUSE
In business since 1996
- © Krause House Info-Research Solutions -
_____________________________________________________________________________________

BACKGROUND GENEALOGY
---

Third of the Atlantic "Monts".
http://members.tripod.com/~merchantships/cplist/haresmontclare.jpg

http://members.aceweb.com/ronsmith/liverpool/montclare.htm
The Montclare and the Bison off the Liverpool Landing Stage (Third Picture)
Built 1921. Fairfield S.B. & E. Co., Govan
http://www.merseysideviews.com/Merchant%20Vessels/Canadian%20Pacific/index.htm
In 1921 and 1922, the CPR built the sister ships MONTCALM and MONTCLARE for service from Liverpool to Canada
http://www.shippingtimes.co.uk/art3_john_brown.htm
Article: Great Liners: MONTCLARE
--------------------------------------------------------------------------------
Of 10,400 gross tons, she was a steel shelter deck passenger liner built on Clydebank to the order of Canadian Pacific Steamships by John Brown and Co. Ltd. Launched on December 18, 1921 it was the intention of her owners to call her METAPEDIA but she went down the ways as the MONTCLARE.
At the launch of her sister, the MONTROSE, it was said that the three ships comprising the class would each cost £1,500,000 but it afterwards became known that the MONTCLARE had in fact cost £1,800,000.
The ship was driven by double-reduction geared turbines coupled to two shafts producing a speed in service of 16 knots. Steam was provided by 10 boilers all burning oil fuel. The main turbines were of Brown-Curtis design but in 1929 she was sent to Belfast where her machinery was replaced by a single-reduction set built and fitted by
Harland and Wolff.
The trio were not outstanding by any calculation. They were designed exclusively for the new tourist traffic and as such they fulfilled their demands adequately.
Tall widely spaced elliptical funnels gave the ships a balanced appearance and did much to compensate for the ugly sets of davits by which, in theory at least, it was possible to launch all her 24 boats in two minutes.
Each ship had a slightly raked stem, cruiser stern and a neat island bridge completely plated in round the front. The low compact superstructure and ample freeboard were adequate protection against the Atlantic winter on the Canadian route.
Accommodation for passengers - all amidships - was roomy and comfortable. The MONTCLARE herself could carry 554 cabin-class on B and C decks with state-rooms arranged for two or four passengers and fitted out in solid style. In all third-class passengers totalled 1,252, quite distinct in those days from the cabin-class. They were berthed in 2, 4 and 6-berth rooms.
On August 18, 1922 the MONTCLARE, commanded by Capt. R. G. Latta, who had been with the company since October 1907, left Liverpool for Canada on her maiden voyage.
During 1924 the ship came into prominence when two christenings took place on board when she was Liverpool-bound from Montreal. In November of the same year the MONTCLARE became the first ship fitted with radio equipment capable of relaying music to all parts of the ship. Two years later, in November 1926, she made a fast passage between Montreal and Liverpool which, if not a record, was a notable achievement. She made the crossing in 6 days 17 hrs. 40 min., under the command of Capt. G. S. Webster, R.D., R.N.R.
http://www.clydesite.co.uk/articles/MONTCLARE.asp
---
MONTCLARE 1922
The MONTCLARE was built by John Brown & Co.Ltd, Glasgow in 1922 for Canadian Pacific Steamships Ltd. She was a 16,314 gross ton vessel, length 549.5ft x beam 70.2ft, two funnels, two masts, twin screw and a speed of 16 knots. There was accommodation for 542-cabin class and 1,268-3rd class passengers. She was laid down as the METAPEDIA but launched on 18th Dec.1921 as the MONTCLARE. On 18th Aug.1922 she left Liverpool on her maiden voyage to Quebec and Montreal. In 1928, her accommodation was altered to cabin, tourist and 3rd class and her engines rebuilt in 1929.
http://www.theshipslist.com/ships/descriptions/ShipsMM.html
Three cabin-class ships were built for North Atlantic service, in 1921, the Montcalm and in 1922, Montrose and Montclare. They accommodated 554 cabin passengers in two and four-berth state rooms, and 1,250 third-class passengers in two, four and six-berth state rooms. In later years this was changed to 520 in cabin, 278 in tourist class and 850 in third class. In addition, the Empress of Britain was refitted as a cabin class ship and renamed in April 1924 as the Montroyal. The Montrose was originally intended to be named Montmorency for the famous falls in Quebec, while the Montclare was to be named Matapedia for the New Brunswick river of the same name...
http://www.trainweb.org/oldtimetrains/CPR/ships/atlantic.htm
---
MONTCLARE 1928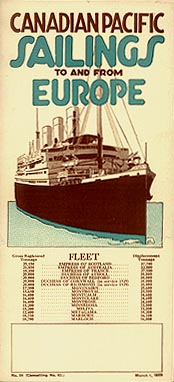 Sailings February-November 1928 (issued March 1, 1928) for:
Empress of Scotland, Empress of Australia, Empress of France, Montrose, Montclare, Montnairn, Montroyal. Montcalm, Duchess of Atholl, Duchess of Bedford, Metagama, Marloch, Melita, Marburn, Minnedosa
Ports of call:
Montreal, Quebec, Saint John, Belfast, Greenock, Glasgow, Liverpool, Cobh, Cherbourg, Southampton, Antwerp, Hamburg
http://www.timetableimages.com/maritime/images/cp.htm
-----------------------
Sail Date
Sail Port
Arrival Date
Arr Port
Vessel
Party
LAC REEL
16/03/1928

KRAUSE
VOYAGE

Liverpool
25/03/1928
Saint John
Montclare
Salvation Army
T-14851
http://www.bifhsgo.ca/home_children_voyages_1927-1938.htm - LAC=Library of Canada Reel
British Isles Family History Society of Greater Ottawa
----------------------------------
---
MONTCLARE DETAILS RE KRAUSE VOYAGE
Ship Name:
MONTCLARE
Official Number:
145964
Master's name:

Capt Griffiths

Date of departure:
14 March 1928
Port of departure:
Liverpool
Steamship line:
Canadian Pacific
Where bound:
Saint John NB, Canada
Where bound route:
Saint John Nb
Square feet:
25926
Registered tonage:
9723
This passenger list consists of 25 pages
-------------------
Ship Name:
MONTCLARE
Official Number:
145964
Master's name:
Capt J N Griffiths
Date of departure:
17 March 1928
Port of departure:
Liverpool
Steamship line:
Canadian Pacific
Where bound:
Saint John NB, Canada
Where bound route:
Saint John Nb
Square feet:
25929
Registered tonage:
9724
This passenger list consists of 9 pages
-------------------
Ship Name:
MONTCLARE
Official Number:
145964
Master's name:
J N Griffith
Date of departure:
20 March 1928
Port of departure:
Belfast
Steamship line:
Canadian Pacific
Where bound:
Saint John NB, Canada
Where bound route:
Saint John Nb
Square feet:
25926
Registered tonage:
9723
This passenger list consists of 7 pages
---

Return