McCarty, Margaret
Cape Breton Island Signing Witness (1787)
McKerby
1790 Sparrow/DesBarres Court Case; No 26, Edgeware Road
McKinnon, H [D or perhaps even W]
Registrar (1799)
McKinnon, William
Of Carolina, Born in Scotland; Cape Breton Loyalist; Esquire, Land Grants Secretary and Registrar; Secretary and Register of Deeds; Secretary Register and Clerk of the Council (1792-1793)
McMonasle, Hugh
Of New Brunswick, County of Westmoreland, Estates of Petticoudiac and Memramcook,
Medcalf, Thomas
Medcalf held a Sparrow promissory note obtained by Robert Heywood
Millett, William Jr.
Of Halifax (1782); Auctioneer, Merchant
Monk, George Henry
Attorney-at-law (

1788 (Halifax),

1792)
Moody, James
Merchant; Witness for John Hockenhull
Moody, J. W.
.
Morden College
England, County of Kent, England, Blackheath; Morden College was built in 1695 for Sir John Morden to accommodate pensioners: "poor, honest, sober and discreet merchants who shall have lost their estates by accidents and perils of the seas, or by any other accidents, ways, or means, in their honest endeavour to get their living by way of merchandising"; Believed to have been built a on maze (ancient sacred site); 19 St Germans Place, Blackheath, London, SE3 0PW
"These with the poor Merchants are to have a Common Table in the Hall, to eat and drink together at Meals; And each have their convenient Chambers and Apartments, with Cellars.
The exact Number of such as are to be admitted there, is not appointed; but to be more, and augmented according as the Estate will bear, and the necessary Expences allow of. But it is thought the Number may at least amount to Forty Persons; there being Harbour for that Number. The Number of such as are to be admitted.
The Pension allowed to each Person admitted there, is 20l. per Ann. for their Commons, Firing and other Necessaries. Each to wear Gowns in the College with the Badge of the Founder, and to be 50 Years of Age at least. " http://www.hrionline.ac.uk/strype/TransformServlet?page=book1_219

Morris, Charles, Esquire
Of Halifax; Registrar of wills and probate (1792-1798); Surrogate General of the Probate Court (1798-1802)
Mugrave, W.
England; Auditor
Nancy
Sloop; Foreign Built, American vessel, Sold at the island of St. Peters (
St.-Pierre
)
Newman, Timothy
Of Halifax; Trader
Nepean, Evan, Esquire
London; Under-Secretary, Home Office (1782 to 1795).
Neptunia
Of London
Nicole
Old Bond Street

Dorset, Johnson, Wilkinson & Berners
Parliament Street Coffee House

Samuel Sparrow versus JFW DesBarres held here in 1790s. [A masonic lodge, founded 1757 as the Parliament Street Coffee House Lodge. It adopted the name Castle Lodge in 1773 and was subsequently renamed Shakespear Lodge?]
Parsons, L.
England; Surrogate
Peabody
Printer (1790)
Peckham [Peckham, Camberwell, Surrey]


Part of Surrey - Lambeth, Camberwell and Clapham
http://www.vauxhallandkennington.
org.uk/images/1811.jpg
http://archivemaps.com/mapco/
cross/cross21.htm - 1820 and
http://archivemaps.com/mapco/
cross/cross22.htm - 1820

http://www.rootsweb.ancestry.
com/~engsurry/maps/s3a9.jpg - 1768
England, Surrey: "Peckham, on the Surrey side, between two and three miles SE. from London-bridge, lies for the most part rather low, but on gravelly soil. The large open common of Peckham Rye, and is neighbour, Goose-green, are on higher ground; the ascent continuing to Nunhead and Honor Oak, which latter stands about on a level with the Crystal Palace. Houses are to be had in the lower part of Peckham at a rent as low as £30 a year, but they are of course small. As the ground rises in situation the rents rise with it; and though they never attain the standard of such situations as Sydenham, Richmond, &c., they are considerably beyond what would be required for houses of the same class at a similar distance on the northern side of town. Taken altogether, however, the Peckham district may be considered, as in proportion to its advantages, one of the cheapest in London. NEAREST Railway Stations, Peckham Rye and Queen's-road, Peckham; Omnibus Route, Peckham-road." [Victorian London - Directories - Dickens's Dictionary of London, by Charles Dickens, Jr., 1879: Go to Source ]
In the 1790s and early 1800s, Peckham was a fairly small village within the much larger parish of St. Giles [the patron saint of cripples], Camberwell [well of the crooked or cripples]
In other words, Peckham was a hamlet of the parish of St Giles, Camberwell.
http://homepages.gold.ac.uk/genuki/SRY/Camberwell/WholeGaz1868.html "An 1868 Gazetteer description of the following places in CAMBERWELL : ..."PECKHAM, a hamlet and suburban district in the parish of Camberwell, E. division of the hundred of Brixton, county Surrey, 3½ miles S. by E. of St. Paul's, London. Until a few years ago it was an inconsiderable village, forming one principal street, but has recently become a suburb of London, containing 28,135 inhabitants, besides 8,154 within the ecclesiastical district of St. Mary Magdalene ...
Perry, Henry Widmore
Cape Breton Island Loyalist; Commissaire of Stores; Private Secretary to Desbarres (June 24, 1784-October 12, 1787); Examiner of the Public Accounts
Peters Bay
St Peter's Bay
Peters, Dr
Note from Sparrow to Dr. Peters
Peticodiac Estate
New Brunswick; J. F. W. Desbarres Estate
Pictoo
Pictou
Piers and Hill
Halifax Auctioneers (1782)
Pitt, William, Honourable
England;

Prime Minister of Great Britain (19 December 1783 – 14 March 1801); Chancellor of the Exchequer (December 19, 1783 – March 14, 1801);

Chancellor and Under Treasurer of the Exchequer (- 1794 -); First Lord Commissioner of the Treasury (- 1794 -)
Poesch, Louis
Halifax [Merchant](1782)
Porridge, Mr.
1790 Sparrow/DesBarres Court Case
Pott, P. J. L.
England; Notary Public
[Proad?], John
Witness for John Hockenhull
Randall, William, Esquire [Possible Variation Rundal]
Of Morden College, County of Kent, England; Nova Scotia Landowner, [Note: William Rundal, North Suburbs, in 1752]
Rialto
Of London; Ship at Halifax (1781) With Goods for Sparrow as well as for John And Edward Kerby
Roberts, William, Esquire
London, Charleton Street,
Marylebone; DesBarres Personal [Financial] Agent
Robertson, Neil, Esquire
.
Rodgers, George, Esquire
Cape Breton Island Surveyor (1785-); Superintendent of the Public Works at Sydney (May 1786); Secretary to DesBarres (July 12, 1786-June, 1787); Member of the Executive Council of Cape Breton Island
Roe, Richard
Halifax Supreme Court (Eastern Term - 1785)
Rogers, William
Of Halifax; Gentleman Probate Suretier of Sparrow (1815)
Rundle, John
He occupied a Halifax house owned by Sparrow in 1783; Merchant (1784); Occupies (1784) Store on Hollis Street, Lately Occupied (1784) by Sparrow; Cape Breton Island Property Owner; Coroner (- 1794); Coroner (1791); The parishioners of St. George's Church, Sydney, met on October 2nd, 1786, at 12 o'clock. The appointed Church Wardens chose, among others, Mr. Rundle as a Vestry Man for the year [The Cape Breton Historical Society - Some Papers and Records of the Society 1928 to 1932, No 1, 1932,"The First Seventy Years of St. Georges", p. 12]
Russell, Thomas
Surrey; Sparrow Acquaintance
Saint Bride
London Parish (Fleet Street); There is a Medieval Chapel at Saint Bride's Church which is the journalists church. As it was the hub of the publishing industry, generations of British writers from Shakespeare to Dickens knew it intimately. [ http://www.hiddenlondon.com/stbrides.htm ]
St. George's
Grenada
St Giles [Saint Gilles, Saint Giles, St. Gilles] [Camberwell (Parish of St Giles), Surrey, London]
Surrey Prish (Camberwell);
Parish of St. Giles [the patron saint of cripples], Camberwell. [Parish of Saint Gilles, Camberwell in the County of Surrey] The main burial grounds in use in Camberwell in the early years were the parish churchyards of St Giles and St George as well as the burial ground at Dulwich.
St.-Pierre
See Island of St. Peters
Salter, William
Halifax Signing Witness
Shadds Place
See Shards Place
Shards Place or Shard's Place

This plan shows land in Peckham owned by Charles Shard in 1830. His land is shown coloured green.
http://www.ideal-homes.org.uk/
southwark/main/images-peckham.htm
A small terrace of houses off Meeting House Lane, near the centre of Peckham, Surrey. Shard was the name of a landowning family in the district.
In the Surrey Collection in the Lambeth Archives Library there is a map of the Estate of William Shard in 1775. The Shards were Peckham landowners, and this map shows all the small strip fields which William Shard held in Peckham North field. - http://ads.ahds.ac.uk/catalogue/adsdata/arch-457-1/dissemination/pdf/vol07/vol07_09/07_09_229_231.pdf
Sherlock, George William, Esquire
Halifax County Justice of the Peace; Merchant (1792, 1793)
Sheriff of Cumberland
[

Charles H. Chandler was sheriff of Cumberland for 38 years and was succeeded in turn by his son Joshua who held it for 28 years

- one of these?]
Slater, Lydia
Nova Scotia Co-Landowner (with William Slater); Estranged wife of William Slater
Slater, William
Halifax Merchant; Nova Scotia Landowner; Signing Witness
Smith, John
Esquire, Sydney Merchant; Cape Breton Island Landowner; Provost Marshall (1791-1792)
Snow Hill
London (1790); Warehouse belonging to Mssr Cork & [Co Sears] in 1790; Snow Hill
South Lambert [South Lambeth]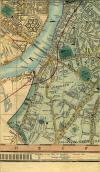 http://archivemaps.com/mapco/
cross/cross19.htm - 1820

http://www.rootsweb.ancestry.
com/~engsurry/maps/s3a8.jpg - 1768
England, County of Surrey
South Carolina
By the 1750s, rice and indigo had made the planters and merchants of the South Carolina lowcountry the wealthiest men in what would become the United States. Government encouragement of white Protestant settlement in townships in the interior and migration from Pennsylvania, Virginia, and North Carolina were to give the upcountry a different character: smaller farms and a larger percentage of German, Scots-Irish, and Welsh settlers. By 1790, this part of the state temporarily gave the total population a white majority, but the spread of cotton plantations soon again made African American slaves the majority
... South Carolina became the eighth state to ratify the United States Constitution in 1788, and in 1790 moved its seat of government from Charleston to the new city of Columbia in the state's midlands.
[http://www.state.sc.us/scdah/history.htm ]
Sparrow, Samuel, Esquire
Of South Lambert [Lambeth], County of Surrey, England; Late of Shadds Place, Peckham, Parish of St. Giles (Camberwell), County of Surrey; Halifax Merchant (c. 1774-); Sometime Holder of Power of Attorney; Agent for DesBarres; Sydney Merchant; Member of the Executive Council of Cape Breton Island; Cape Breton Island Justice of the Peace; On the ship Industry; Of South Carolina, Late of Charleston (d. c. 1799)
Sparrow, Sarah
Wife of Samuel Sparrow (m. ?- d. c. 1799; Wife (m. 1803-d. c. 1815) of John Acres.
Sp
iller, R, Esquire
DesBarres bill held on Spiller
Stairs, John
Of Halifax; Merchant:

Stairs s

ued Francis Green in 1787 for allowing a man Stairs had confined to debt to escape in 1786 and won; bankrupt c. 1789; Debtors prison;

Masonic friends bailed him out of prison;

Departed for Philadelphia

1793
Stansbury, Elizabeth
Sister of Samuel Sparrow
Steele
.
St
erns
Assistant to
George Henry
Monk (1788)
Stephens
.
Stephens,

Philip, Esqr.
Sir Philip Stephens (1723-1809) was Secretary to the Admiralty for 32 years from 1763 to 1795. He was a Lord Commissioner of the Admiralty from 1795 to 1806.
Stout, Richard, Esquire
Of Halifax; Of a Loyalist family; Of Cape Breton (c. 1788); Cape Breton Merchant; Partner and local Cape Breton agent in the Firm, Tremain, Stout and White (- 1790 -); Member of the Executive Council; Surrogate General; Assistant Secretary and Clerk of the Council; Deputy Provost Marshall; Provost Marshall; Deputy Secretary
Stuart, J
Witness (1798)
Supreme Court of Halifax
The Supreme Court of Halifax was established in 1754 (Jonathan Belcher the first Chief Justice) and it initially heard cases only in Halifax. The court house stood at Northup's Corner, northeast corner of Buckingham and Argyle Streets. In 1774, a circuit for the Court, to Horton, Amherst and Lunenburg, was established.
Surrey


Part of Surrey - Lambeth, Camberwell and Clapham
England; County; Located South of London - The county of Surrey included the present-day London boroughs of Lambeth, Southwark and Wandsworth until 1889.
Swallow
Schooner (1785)
Swayne [Benjamin Swain? Loyalist]
[Carpenter]
Sweet, Richard, Esquire
Cape Breton Island Surveyor (1785-); Member of the Executive Council of Cape Breton Island
Sydney
The Metropolis of Sydney (Work began November 19, 1784);
Located on the South West Arm of Sydney Harbor, it was founded by United Empire Loyalists in 1785. Originally known as Spanish Bay, Joseph Frederick Wallet Des Barres, lieutenant-governor of the colony of Cape Breton, renamed it Sydney in honour of the Hon. Thomas Townshend, first Viscount Sydney.
Sydney
Schooner (1785); John Wilson Master
Sydney - [Bladein?]
.
Sydney - Amelia Street
North End
Sydney - Charlotte Street
.
Sydney - Esplanade
.
Sydney, Lord; also
Thomas Townsend
Home Secretary
(1784)
Sydney - North Charlotte Street
.
Sydney - South Charlotte Street
.
Sydney River - South West Branch of Sydney River
One of the two branches of the River where there was settlement, just beyond the Town of Sydney
Sydney River - North West Branch of Sydney River
One of the two branches of the River where there was settlement, just beyond the Town of Sydney
S
wallow
S
chooner
Taitt, David, Esquire
Of West Florida and Carolina; Cape Breton Island Loyalist; Provost Marshall (1784-); Surveyor (1785-1787); Cape Breton Island Signing Witness (1787)
Taylor, Mr.
Assisted DesBarres at his 1790 England court case
Todrid, Jn [Joduit, John]
.
Townsend, Gregory
Halifax; Commissary of Stores and Provisions for Cape Breton Island
Townshend, John Thomas
England; Lord Commissioner of the Treasury (-1794-)
Tremain [Tremaine]& Co.
Firm, Tremain, Stout and White ( - 1790 -); Jonathan Tremain; loyalist; of Halifax (1786); Halifax merchant
Twaddle, John
Yoeman; Witness for John Hockenhull; Labourer (1793)
Uncle, Thomas
Esquire; Loyalist; Collector of His Majesty's Customs at Sydney
Underwood, William
Halifax Signing Witness; Illiterate
Uniacke, Richard John jr.
Of Nova Scotia; Lawyer; Born (1753) at Castletown, County Cork, Ireland, of landed gentry; Arrived in Nova Scotia via Philadelphia (1774); Returned to Ireland (1777) to complete his law studies; Settled in Halifax (1781); Appointed solicitor general for the province (1781); Elected to the Nova Scotia House of Assembly (1783); Advocate general of the Vice-Admiralty Court (1784); Became Speaker of the House of Assembly (1789); Halifax Attorney for John George and Andrew Cumming (1797); Appeared for Mary Cannon (1787); Attorney General (1797-1830)
Venture, Mr.
.
Wakeham, Thomas Junior
Mariner of St. John's Newfoundland (1788, 1791)
Wa
pping
John Marius Wilson

,

Imperial Gazetteer of England and Wales

,

1870-72

:

WAPPING, a parish in Stepney district, Middlesex; on the Thames, at the London docks, 2 miles ESE of St. Paul's, London. It forms a low strip along the river's bank; was overflowed or marshy till the time of Elizabeth; was then reclaimed, embanked, and converted into meadow and building site; had only one street in the time of Charles II.; was the scene of Judge Jeffries' capture in a sailor's disguise in 1688; formed part of Whitechapel parish till about 1695; became all occupied with streets or with appurtenances of London harbour; is now occupied, over considerable space, by part of the London docks; suffered demolition of many houses for dock extension prior to 1861

.

See British-History's Map - # 24 - St. John Wapping

WAPPING, St. John, Church Street [1617, out of Stepney 1694] gutted in WW2, tower remains, small church built in ruins, parish united to St. Peter, London Docks.
Wells, Jn
Engraver (1790)
W
endham
.
Whiston, Robert
Whiston Wharf (1781); Randall claimed (1782) it was granted to Whiston in error and it belonged to him
White, Joseph
Of Ketch Harbour, County of Halifax (1785); Fisherman; Supplier of fish to Sparrow October 5, 1784-August 12, 1786
Wigglesworth, John, Esquire
Of England; Inspector General
Wilkinson, Samuel
.
Wilkinson, John
Banker
Wilkinson, John
[Is John W. Wilkinson?]
From London; Milliner and Mantua Maker (1785)
Wilkinson, W. John [Is John Wilkinson?]
Cape Breton Island Supplier; Sparrow Agent

/Clerk

(1785);

Super Cargo;

Distressed Lame Man Receiving Welfare (1796)
Wilkinson, John [Is John Wilkinson?]
Desbarres would appoint a John Wilkinson to his Council.
Williams , Mrs
Had lodged and boarded at Sparrow's House at Halifax
Wilson, John
Master (1785) of the Schooner Sydney; Of Sydney (1799); merchant; Cape Breton Island Landowner (1799)
Witts, Broome Phillips, Gentleman
Of London; Sparrow Acquaintance; Broome Phillips Witts of Friday Street, Cheapside, London, silkweaver
Wood, Daniel Jun
Halifax Signing Witness; Clerk;
Halifax Attorney (1789, 1792, 1793)