ERIC KRAUSE
In business since 1996
- © Krause House Info-Research Solutions -
_____________________________________________________________________________________
ERIC KRAUSE REPORTS
MY HISTORICAL REPORTS
PUBLISHED ON THE INTERNET
Krause House Pages, Website Design, and Reports © by Eric Krause, Krause House Info-Research Solutions (© 1996)
webmaster: krausehouse@krausehouse.ca © Krause House Info-Research Solutions
---

SAMUEL SPARROW ~
18TH-CENTURY CAPE BRETON ISLAND

Return to the Samuel Sparrow Home Page
TRANSCRIBED DOCUMENTS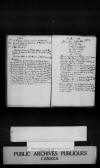 C-1456
http://heritage.canadiana.ca/view/oocihm.lac_reel_c1456/1155?r=0&s=1
http://heritage.canadiana.ca/view/oocihm.lac_mikan_104684
[p. 1209]
31 Decr 1790
Grays Inn Coffee House
Sr W Dolben
Sr H Mackworth
Mr Bainbridge
Mr Sansom
M Petrie
Acct of Charts & Plates which Sparrow sold from the Packages _ £257.5.7.
Number of Copper Plates taken at Sydney by Jn Rhundle 285 large and small.
That 6 Plates were wanting, by comparing the Plates in the Cases with a Complete Impression of the work by Sparrow __ who has also assured on Oath that he had no complete Impression.
Impressions in general sold for 1/ a Sheet, Some 2/6, or half a Dollar.
... Robt Bennett, printer } to meet at Mes M Cock & Co
Jn Wells __ Engr ___ } Snow Hill on Monday at
Char Jn Down Do ____ } 10 oClock AM.
Peabody __ printer }
Sparrow asserted that he had Questions to put to Desbarres that would puzzle him most Seriously to answer; and on being desired to put them he said he meant to put these Questions before another Board.
DesBarres Papers, Series 5, M23, F 1-5, Volume 6, Accounts, 1767-1794, December 31, 1790, p. 1209

Return to the Samuel Sparrow Home Page