ERIC KRAUSE
In business since 1996
- © Krause House Info-Research Solutions -
_____________________________________________________________________________________
ERIC KRAUSE REPORTS
MY HISTORICAL REPORTS
PUBLISHED ON THE INTERNET
Krause House Pages, Website Design, and Reports © by Eric Krause, Krause House Info-Research Solutions (© 1996)
webmaster: krausehouse@krausehouse.ca © Krause House Info-Research Solutions
---

SAMUEL SPARROW ~
18TH-CENTURY CAPE BRETON ISLAND

Return to the Samuel Sparrow Home Page
TRANSCRIBED DOCUMENTS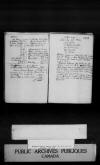 C-1456
http://heritage.canadiana.ca/view/oocihm.lac_reel_c1456/1151?r=0&s=1
http://heritage.canadiana.ca/view/oocihm.lac_mikan_104684
[p. 1202]
13 Decr 1790
Grays Inn Coffee House
Sr W Dolben
Sr H Mackworth
Mr Bainbridge
Mr Sansom
Mr Petrie
Des Barres produced a Note of the 7 Decr instant from Mr Porridge - that McKerby had delivered to Sparrow his Books &c from Halifax in July last.
Produced a Receipt from Wilkinson for £1578.1.6 paid him by D __ [for] Sparrows account Read Sparrows Letter of 27Ap 1786, confirming Wilkinson to be his Agent _ also another Letter of 26 June1785, And an Acct of Wilkinson D __ for sundries to 14 Dec 1785, as a principal.
A Letter from kavanaugh relative to contract Said to by Sparrow to have made for supplying Cape Breton with all the Lumber which would be wanted.
DesBarres Papers, Series 5, M23, F 1-5, Volume 6, Accounts, 1767-1794, December 13, 1790, p. 1202

Return to the Samuel Sparrow Home Page