ERIC KRAUSE
In business since 1996
- © Krause House Info-Research Solutions -
_____________________________________________________________________________________
ERIC KRAUSE REPORTS
MY HISTORICAL REPORTS
PUBLISHED ON THE INTERNET
Krause House Pages, Website Design, and Reports © by Eric Krause, Krause House Info-Research Solutions (© 1996)
webmaster: krausehouse@krausehouse.ca © Krause House Info-Research Solutions
---

SAMUEL SPARROW ~
18TH-CENTURY CAPE BRETON ISLAND

Return to the Samuel Sparrow Home Page
TRANSCRIBED DOCUMENTS
SYDNEY
JUNE 1788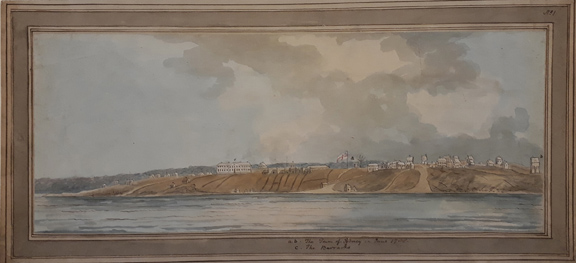 Please Click On The Image For a Larger Version
PAH3153: 'The Town of Sydney [Cape Breton] in June 1788'
http://collections.rmg.co.uk/collections/objects/143100.html
---
Object details:

Object ID PAH3153
A view of Sydney, Cape Breton Island, Nova Scotia, looking east from its harbour on what was then called Spanish River – the inlet leading to Spanish Bay about twelve miles to the north. The town was founded in 1785 by the military cartographer Captain (later Colonel) J.F.W. Des Barres, though there had been a previous small French settlement there. Des Barres was appointed British lieutenant-governor of Cape Breton from 1784 but only arrived at Sydney in January 1785. Following local dissensions and debts he ran up, he left for England on 13 October 1787 and only returned to Nova Scotia after his final posting (1804-12) as lieutenant-governor of Prince Edward Island. He was succeeded by Colonel William Macarmick who remained resident as lieutenant-governor at Sydney into the mid-1790s. The location is confirmed by early maps which clearly show the Barracks (constructed 1785-86) as the largest structure on the headland on which the town was built. The inscription 'No.1' in the top right corner of the wash-line surround also shows the drawing was one of a series (the others not being present in the collection). Curiously, the British flag flying at centre is a white ensign, or an otherwise 'defaced' St George's cross, rather than a Union. The white ensign at this time was only a Royal Naval squadron colour, not the overall naval flag it became in 1864 so its use here is not easily explained. The draughtsman may have been an army officer at Sydney or a visiting naval one: both were trained to make this type of view for professional purposes, though the sky and sea are more artistically rendered than in many such examples. If a military artist, the style suggests he could have been trained by Paul Sandby, who was senior drawing master at the Royal Military Academy at Woolwich, 1768–96. On Wednesday 8 October 1788, during his late Canadian cruise as captain of the frigate 'Andromeda', Prince William Henry (later William IV) made a visit to Sydney, of which there is informal account in the journal of Lieutenant - later General - William Dyott (1761–1847) who accompanied him. Dyott first notes that before sailing up river the Prince visited to the coal mines closer to Spanish Bay, which were a main source of local revenue, and reports that Sydney was then garrisoned by part - in fact six companies - of the 42nd Regiment (the Black Watch) under Lt-Col. [Charles] Graham, who dined on board with them. He makes no reference to Macarmick, which suggests he may not have been there at the time. 'The town', he continues, '…consists of about fifty houses… surrounded to the very sides of the buildings [i.e. of the town as a whole] by an almost impenetrable wood. There is a narrow path from the barracks just to keep up a communication, and that's all the clear country I saw. The barracks are shamefully bad; the troops have cleared a good parade [ground] and made themselves as comfortable as their situation would allow. The officers had no rooms in the barracks, and were obliged to build huts and log-houses.' On Monday 13th the Prince and Dyott dined on the other side of the harbour with 'Mr Cayler' (Abraham Cuyler), 'secretary to the Government of Cape Breton. We had a good dinner, and got outrageously drunk, Prince and subject.' 'Andromeda' left on Thursday 16 October, returning to Halifax, after 'a very pleasant week [and] rather more wine than was good for our constitutions'. ('Dyott's Diary, 1781–1845…', ed. R. W. Jeffery [1907], vol. 1, pp. 58–59). An even more disparaging 1789 account of the town and its economy by an anonymous army writer appears in Brian Tennyson's 'Impressions of Cape Breton' (1986) pp. 60-61. This drawing appears to be part of the Macpherson Collection, acquired in 1928: it has long been filed amid images of Sydney, New South Wales, equally long assumed to be one, and was only correctly identified in November 2017.
Date made 1788

Credit National Maritime Museum, Greenwich, London

Materials watercolour, with ink inscription

Measurements Sheet: 202 x 429 mm; Mount: 406 mm x 557 mm

Parts
'The Town of Sydney [Cape Breton] in June 1788' (PAH3153)
http://collections.rmg.co.uk/collections/objects/143100.html
---
WHO PAINTED THE "THE TOWN OF SYDNEY IN JUNE 1788"?
JUNE 14, 1788
http://heritage.canadiana.ca/view/oocihm.lac_reel_h1988/1421?r=0&s=3
http://heritage.canadiana.ca/view/oocihm.lac_reel_h1988/1422?r=0&s=3
http://heritage.canadiana.ca/view/oocihm.lac_reel_h1988/1423?r=0&s=3
http://heritage.canadiana.ca/view/oocihm.lac_reel_h1988/1424?r=0&s=3
http://heritage.canadiana.ca/view/oocihm.lac_reel_h1988/1425?r=0&s=3
http://heritage.canadiana.ca/view/oocihm.lac_reel_h1988/1427?r=0&s=3
http://heritage.canadiana.ca/view/oocihm.lac_reel_h1988/1428?r=0&s=3
http://heritage.canadiana.ca/view/oocihm.lac_reel_h1988/1429?r=0&s=3
H-1988
Manuscript Group 11, Colonial Office 220, Nova Scotia and Cape Breton Sessional Papers,
Journal of the Executive Council, 1788 (MG 11, C.O. 220, C.B. "B", Volume 4), June 14, 1788, pp. 57 - 64
Perhaps the clue lies with the land flag and whether it is an Admirals flag. And, if an admiral's flag, was the naval artist aboard one of the 4 known ships that paid a visit to Sydney, and were described on June 14, 1788: The Leander - the flag ship of Admiral Sawyer - Rear Admiral of the White, and Commander in Chief - with he and Captain Sir James Barclay on board; The sloop Weazle with Captain Charles Sawyer on board; The ship Resource with Captain Paul Minchin on board; and the ship Dido, with Captain Charles Sandys on board?


At this time a number of men of these ships petitioned for land grants on the Island of Sydney, petitioners that included Admiral Sawyer and Captain Barclay. In all cases, the council at Sydney took these petitions into consideration, and ordered a warrant of survey be issued to survey and lay out the requested land, in order a grant may pass to the petitioner. For example, Sawyer and Barclay requested land as follows: a Lot of land on the W. shore of Sydney River situated between the lands of Colonel Cuyler and the farm appropriated to the Government. Later, we see this land still being described in the 19th Century:

[https://vbtree.heroictenor.com/getperson.php?personID=I183&tree=treeVB - Multi-part deed 1815 Henry Lewis from Henry Adams bk D p. 153-161 North West Arm (FHL Film # 808,747) agreement dated 26 August 1811 " "Henry Adams of Sydney...yeoman... [sells to] Henry Lewis of Sydney...yeoman.... westward of the Northwest Corner of Government Farm thence running by the Magnet South Eight Degrees west thirty nine chains more or less to the northwest corner of lands granted unto Admiral Herbert Sawyer and Captain Sir James Barclay" "Cape Breton County land petition year 1825 Lewis, Henry Petition to Wallace: Petitioner is a native of Virginia, age 65, is married and has eight children. He served in Lord Cornwallis's army. He received a lease for 200 acres which he found unfit for farming. He purchased 300 acres of which the title to 200 acres is a crown lease. He asks a valid title. The land is on the south side of the N.W. Arm of Spanish River. He purchased the land from Henry Adams. Note: approved. Cape Breton no.: 3036 NSARM microfilm: 15799 ..."
LIST OF MEN APPLYING FOR LAND GRANTS
ON HIS MAJESTY'S SHIP LEANDER:

Rear Admiral Sawyer

Sir James Barclay, bart.

Hubert Brawel - First Lieutenant

John Dacres, Secretary to Rear Admiral Surveyor

George Hope, Lieutenant

David Lloyd, Lieutenant

John Jackson, Master

Robert Melville, Surgeon

ON HIS MAJESTY'S SLOOP WEAZLE

Thomas Western - Officer

James Baque - Officer

John Clifford - Officer

Samuel Shrigby - Officer

Samuel Sandys - Officer

Captain Charles Sawyer

ON HIS MAJESTY'S SHIP RESOURCE

Samuel Wickham - Second Lieutenant

Paul Minchin, Captain

Robert Batsey - Lieutenant

Samuel Wickham - Lieutenant

Thomas Audley, Master

Jonathan Hammond - Lieutenant of Marines

John Birtwhistle, Surgeon [or Britwhistle]

John Tyson, Purser

Andrew Napier, Gunner

William Walters, Boatswain

John Craycroft, Carpenter

William Darley, Lieutenant of Marines

ON HIS MAJESTY'S SHIP DIDO

Captain Charles Sandys

Charles Dudley Pater - Lieutenant

Charles Gray - Lieutenant

John Atley, Master

Henry Montieth, Lieutenant Marine

George Taylor, Purser

William Selby, Surgeon

Return to the Samuel Sparrow Home Page