ERIC KRAUSE
In business since 1996
- © Krause House Info-Research Solutions -
_____________________________________________________________________________________

BACKGROUND GENEALOGY
---
Germany
---
962
The area in which German was spoken around AD 962
(the ascension of Otto the Great, taken as the establishment of the Holy Roman Empire).
German is closely related to and classified alongside English and Dutch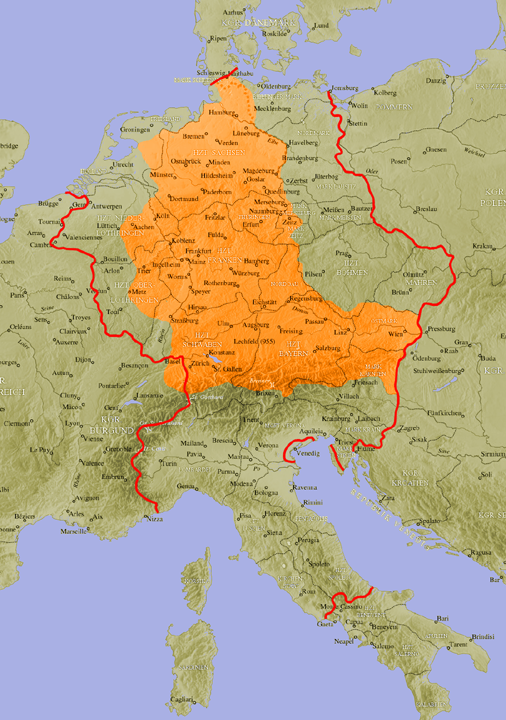 [http://en.wikipedia.org/wiki/Image:DeutschesSprachgebiet962.png ]
---
1522
Martin Luther based his translation of the New Testament in 1522 mainly on Meißner-German (mostly like Middle High German), the bureaucratic standard language used in Saxony, the most influential region amongst the German states.
---
1740 - 1748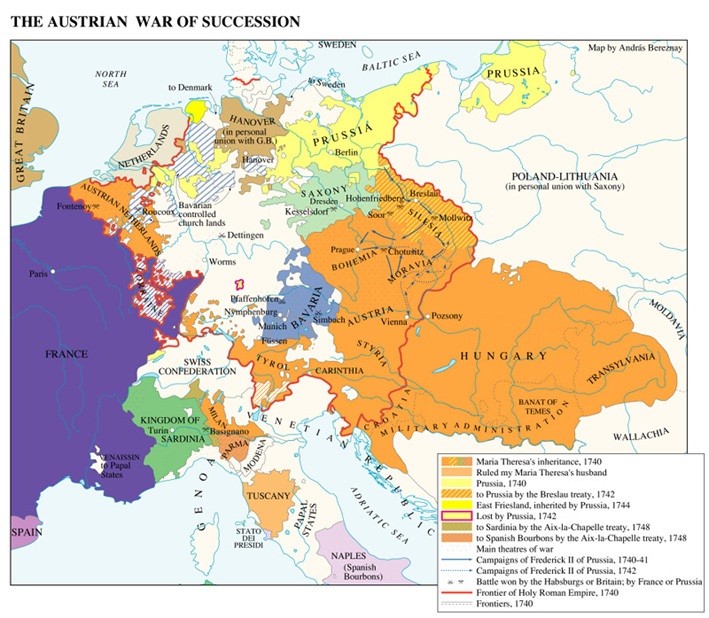 [Source: http://www.historyonmaps.com/ColourSamples/cbig/AustrianWar.jpg ]
---
POST 1745 - to 1918: Hapsburg Empire
German was the language of commerce, the townspeople, and government in the Habsburg Empire (or Habsburg Monarchy). It encompassed a large area of Central and Eastern Europe ruled by the Austrian branch of the House of Habsburg, and later, the House of Habsburg-Lorraine. (From 1804 to 1867: called the Austrian Empire; From 1867 to 1918: the Austro-Hungarian Empire).
---
1812 - Rheinbund

[Source: http://www.ieg-maps.uni-mainz.de/gif/d812RB_a3.htm ]
1815
Detailed German Confederation Map, 1815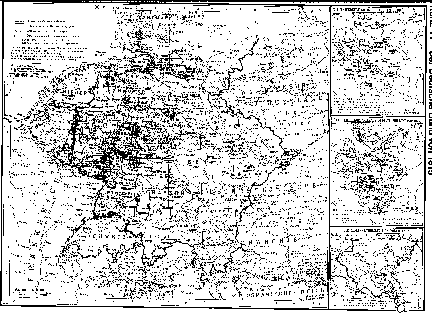 Source: http://www.genealogy.net/gifs/maps/bund1815.gif
1815 - 1868

German Nation (1815-1868) - http://www.welshistory.org/files/Vol1No2pp04-8.pdf
1815 - 1920
Prussia rose up as the second powerful, dominant state in the German-speaking territories during the 18th and 19th Centuries, alongside Austria.
During this period, the ancient, Catholic kingdom of Poland was partitioned-off. Austria took Galicia in the southwest. Protestant Germany annexed Silesia and parts of the Polish Baltic. Orthodox Russia occupied the rest and Poland as a geographic entity was no more until 1914.
An Austrian-Prussian rivalry became the dominant political factor in German affairs. In 1871. Germany first appeared, as a federal state, with foreign and military policy determined at the national level, but with most other policies the purview of the states.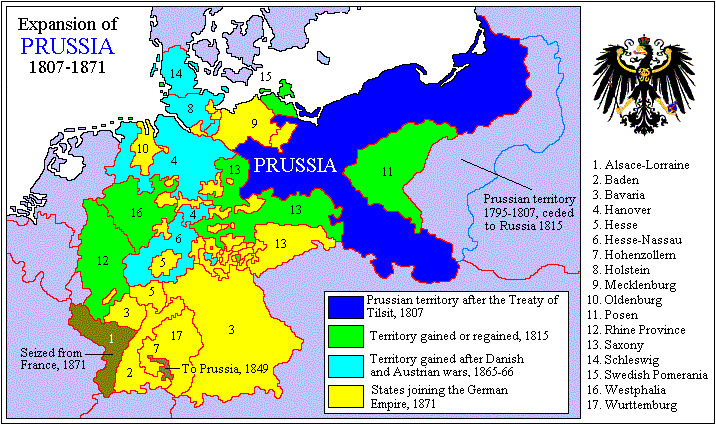 [Source: http://en.wikipedia.org/wiki/Image:Ac.prussiamap3.gif ]
---
1945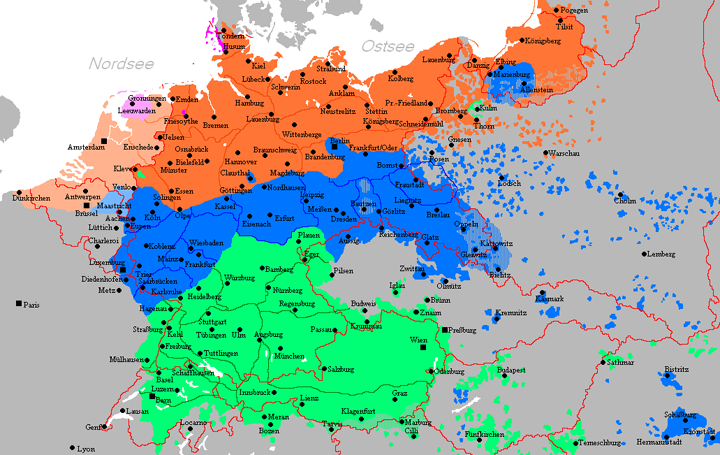 [ http://en.wikipedia.org/wiki/Image:Deutsche_Mundarten.PNG ]
The spread of the German language until around 1945 in Central Europe.
Orange marks Lower German, blue Middle German and green Upper German dialects.