Marconi Website Design and Content © by Eric Krause, Krause House Info-Research Solutions (© 1996)
All Images © Parks Canada Unless Otherwise Designated
Researching the Fortress of Louisbourg National Historic Site of Canada
Recherche sur la Forteresse-de-Louisbourg Lieu historique national du Canada
Search All Sites/All Menus ~
Cherche Tous les Sites/Tous les Menus
Marconi at Louisbourg Site
Trans-Atlantic Receiving Station
1913 - 1926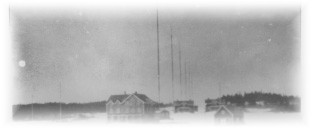 THE MARCONI - LOUISBOURG CONNECTION
People
GUGLIELMO MARCONI (1874 - 1937)
Marconi was an Italian physicist known for his development of wireless telegraphy. Before the end of 1895 he had transmitted wireless signals a distance of over a mile, an event that many consider to be the birth of radio. In 1909, he received the Nobel prize in physics (1909).
By 1913,

transatlantic business had grown enough to warrant the opening of a receiving station at Louisbourg, Nova Scotia.

Because of his work , 1995 was celebrated around the world as the centennial of radio.