Parks Website Design and Content © by Eric Krause, Krause House Info-Research Solutions (© 1996)
All Images © Parks Canada Unless Otherwise Designated
Researching the Fortress of Louisbourg National Historic Site of Canada
Recherche sur la Forteresse-de-Louisbourg Lieu historique national du Canada
Parks Canada ~ Parcs Canada
Cape Breton ~ Le Cap-Breton

CAPE BRETON HIGHLANDS NATIONAL PARK OF CANADA (N.S.)
Park Description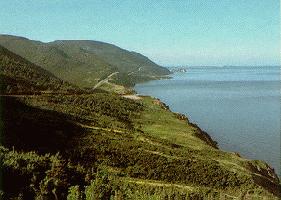 Cape Breton Highlands National Park protects 950 sq. km (36 sq. mi.) of magnificent highlands and coastal wilderness. It was set aside in 1936 as the first national park in the Atlantic Provinces.
Sightsee along the world-famous Cabot Trail that runs through the Park. Explore some of the last remaining protected wilderness in Nova Scotia.
See whales, bald eagles and moose. Stroll along picturesque valleys and ocean coves, or enjoy the rich Acadian, Scottish and Irish heritage.
Choose from six campgrounds, hike 27 diverse trails, swim, bicycle, play tennis or golf.
Plan you trip for late September or early October when the Park is aflame with dazzling fall colours. During the winter, snowshoe, toboggan, or cross-country ski.