Encampment2006 Website Design and Content © 2006 by Eric Krause, Krause House Info-Research Solutions (© 1996)
All Images © Parks Canada Unless Otherwise Designated
Researching the Fortress of Louisbourg National Historic Site of Canada
Recherche sur la Forteresse-de-Louisbourg Lieu historique national du Canada
Search All Sites/All Menus ~
Cherche Tous les Sites/Tous les Menus
Encampment ~ Rassemblement
Fortress of Louisbourg ~ Forteresse-de-Louisbourg
National Historic Site ~ Lieu Historique National
August 11-13 ~ 2006 ~ 11-13 Août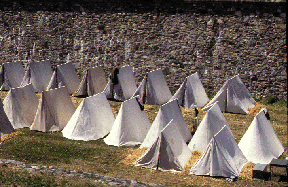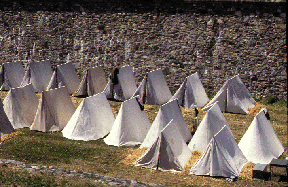 Meal Planner

Home
This sheet was archived on August 14, 2006
FORTRESS LOUISBOURG ASSOCIATION
ENCAMPMENT 2006
MEAL PLANNER
MEALS:
The Hotel de la Marine Restaurant (7 am-9 am - for Encampment participants only)
Two eggs, bacon, toast and apple juice $7.25 Cdn. (includes 15% tax & 10% gratuity)
10% off any menu item in any of our period restaurants
L'Epee Royale (5:30 p.m. - 7:00 p.m. - For Encampment participants only)
Upper Class Meal of the day $21.00 Cdn. (includes 15% tax and 10% gratuity)
Soup, Main Course (Fish or Chicken), rice, vegetables, tea or coffee
---
Staff will be required to work extra shifts to accommodate these meal times and special food items will need to be order. Consequently, the Fortress Louisbourg Association will require a 25% deposit on all meals. Please fill out and return the attached MEAL PLANNER along with your deposit cheque, money order or credit card number by JULY 15, 2006. The MEAL PLANNERS can be mailed to the address below or faxed to (902) 733-3046. If you have any questions regarding meals please call
Ann Marie Pitcher at (902) 733-3230 (May 15 – July 15, 2006) or (902) 733-3180 (before May 15, 2006).
FORTRESS LOUISBOURG ASSOCIATION
265 PARK SERVICE ROAD
LOUISBOURG, NOVA SCOTIA
CANADA, B1C 2L2
FORTRESS LOUISBOURG ASSOCIATION
---
ENCAMPMENT 2006
MEAL PLANNER
Name: _____________________________________________
Phone Number: ______________________________________
Credit Card Number: ____________________ Credit Card Type: _________________
Card Holders Signature: ___________________ Expiry Date: __________________
FRIDAY, August 11, 2006
Number of Breakfasts Required
_____________ X $7.25 = $ ________________
Number of Dinners Required
_____________ X $21.00 = $ ________________
Saturday, August 12, 2006
Number of Breakfasts Required
_____________ X $7.25 = $ ________________
Number of Dinners Required
_____________ X $21.00 = $ ________________
SUNDAY, August 13, 2006
Number of Breakfasts Required
_____________ X $7.25 = $ ________________
Number of Dinners Required
_____________ X $21.00 = $ ________________
TOTAL MEAL COSTS: $ ________________
25% DEPOSIT ENCLOSED: $ ________________
---