Encampment2006 Website Design and Content © 2006 by Eric Krause, Krause House Info-Research Solutions (© 1996)
All Images © Parks Canada Unless Otherwise Designated
Researching the Fortress of Louisbourg National Historic Site of Canada
Recherche sur la Forteresse-de-Louisbourg Lieu historique national du Canada
Search All Sites/All Menus ~
Cherche Tous les Sites/Tous les Menus
Encampment ~ Rassemblement
Fortress of Louisbourg ~ Forteresse-de-Louisbourg
National Historic Site ~ Lieu Historique National
August 11-13 ~ 2006 ~ 11-13 Août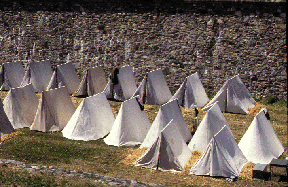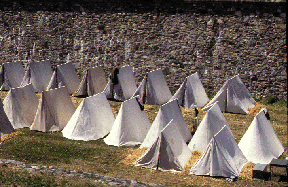 Black Powder Regulations
This sheet was archived on August 14, 2006
FORTRESS OF LOUISBOURG NATIONAL HISTORIC SITE
ENCAMPMENT 2006
DEMONSTRATION AND BLACK POWDER RULES
**We will provide black powder. Groups are not permitted to bring their own**
SMALL ARMS
MISFIRES
No misfires will be cleared in camps. All powder to be dumped and muskets must be empty before leaving the demonstration field.

LOADING
Keep empty cartridges after loading and return at the end of the tactical. Unused cartridges to be returned prior to returning to camp areas.

FLASHGUARD
Must be properly and securely fitted into priming pan. Mandatory for any demonstration involving firing in closed ranks.

RAMRODS
May be carried, but will not be used during the tactical demonstration.

FIELD INSPECTION
For public safety, the field will be policed immediately following the demonstration ensuring that no unspent cartridges or papers were dropped. This must be done before units return to their camps. Parks personnel will participate in and supervise this exercise.

PISTOLS
While pistols may be carried in the encampment, none shall be carried in tacticals or any black powder demonstrations.
---
ARTILLERY
VENTS
Must be cleaned and of the proper size (i.e. worn vents)

EQUIPMENT
Must be of appropriate size for the gun.

FIRING INTERVAL
Five (5) minutes minimum must elapse between a gun firing and the introduction of powder in any form (including cartridge and primer/quill) into the gun.

Artillery will only be fired at designated times and in designated areas by full crews (appropriate to the size of gun but a minimum of two fully trained persons are required)

LOADING DRILL
All guns will be double sponged and double wormed for all blank firings. There will be no live firings.

SAFETY ZONE
The danger zone is an area 45 meters (50 yards) to the front of the muzzle and within a 60-degree angle emanating from the muzzle. Artillery will not fire if opposing or supporting forces are within that zone.

If an opposing force enters the danger zone of a loaded artillery piece the gunners will immediately cross the rammer and sponge over the gun to signal the approaching force to HALT their advance and withdraw until the piece is discharged.

No one should cross in front of the muzzle (when on the demonstration field) during the cleaning, loading or firing procedure.

MISFIRES
All persons must stay clear of the muzzle to a 45-meter (50 yard) distance until such time as the gun is discharged or the charge cleared.

MOVING GUNS
During a tactical demonstration guns will not be moved from their previously fixed location unless approved by the Site Historic Weapons Supervisor. No gun is to be moved in a loaded condition for any reason.

CLOTHING
All gun crews firing black powder artillery shall wear only natural fibre (cotton, linen, wool, etc. no nylon or polyester) long-sleeved outer garments or full uniforms and footwear, as a protection against flash burns.

EAR PROTECTION
Hearing protection is required for all artillery crew members and should be compatible with historic dress where possible.

GUN CREWS
Must be fully trained and proficient in their duties.

This event is not an opportunity to train inexperienced gunners.

Will be asked to demonstrate a 'dry' firing for the Site Historic Weapons Supervisor prior to the event.

Artillery crews are not to be disturbed unless pre-arranged scenario has been approved by the Site Historic Weapons Supervisor.

GENERAL
Field commanders will be informed by a member of the gun crew when a gun is no longer participating in the demonstration.
---
EDGED WEAPONS
TACTICALS
No hand-to-hand combat or closing with edged weapons.

Knives, axes and cutting tools used for active purposes (i.e. cutting wood, food, etc.) will not be used in tacticals or other demonstrations.

During a tactical demonstration, bayonets may be fixed upon approval of the Site Historic Weapons Supervisor and overall event commander. Bayonets will be unfixed and sheathed prior to advancing toward each other.

DEMONSTRATIONS
When appropriate (see #1 above) as per period military practice, bayonets may be fixed and swords may be taken out of the scabbards.

The throwing of tomahawks, axes, knives or fired projectiles (such as arrows) is prohibited.

All edges weapons (swords, bayonets, etc.) used in historic weapons demonstrations (I.e. battle re-enactments) will have dull edges.

When showing edged weapons to the public, caution must be used and the weapons should not be completely drawn from the scabbards. The public will not be allowed to handle edged tools and weapons.

SAFETY
Pole arms should be carried in the vertical position. Store in a safe position.

All edged weapons or tools must have sheaths or covers when not in actual use, except for pole arms.

All edged weapons, when not in use, must be kept in a safe, secure location, or under immediate supervision.
---
GENERAL
Once cartridges are issued, they are the responsibility of the individual and must remain on them. Cartridges will be issued prior to a demonstration. Unused cartridges will be returned immediately following a demonstration.

Safety Officers may stop any black powder demonstration at any point if safety is compromised. They may also request the removal of unsafe weapons or persons from the demonstration area.

The random discharge of firearms is prohibited. Weapons will be discharged only in designated areas. All firing must be done on the approved range and only with the prior approval of the Site Historic Weapons Supervisor. They will not be fired in camp.

The public may handle unloaded firearms as part of an interpretive program only if the re-enactor maintains physical control over the weapon.

Only cartridges (musket and artillery) issued by the Fortress of Louisbourg will be allowed for demonstrations.

The making of cartridges is strictly forbidden on the site unless pre-approved by the Site Historic Weapons Supervisor. All cartridge-making will be done in the Site laboratory.

When two opposing forces close to less than 45 meters (50 yards), the weaker force, as detailed in the tactical briefing, WILL GIVE GROUND and re-establish itself to at least 45 meters (50 yards) difference. NO PHYSICAL CONTACT IS PERMITTED.

No smoking at any time within the demonstration area, or at any location where powder is present.

No black powder in bulk is allowed on the site.

All powder horns are to be empty at all times whether carried or not.

Modern firearms are strictly prohibited

There will be no demonstration of 'rapid-firing'.

Wargaming is strictly forbidden.

Each individual is responsible and accountable in regards to being aware of procedures, locations and conduct of all demonstrations.

Any participant who shows an unsafe attitude or endangers the public or other participants in any way may be expelled from the site. The same rule applies for a whole unit. Unit commanders are responsible and accountable for the behaviour of the members of their unit.

At the conclusion of any demonstration, individual unit commanders will verify that all weapons are cleared prior to that unit being allowed to leave the field (following the field 'sweep'). Misfires shall be cleared in a duly designated 'safe' area.

In order to make the event enjoyable, educational, and safe it is imperative that ALL participants be willing to abide by the rulings on the field and co-operate with the chain of command.

Once powder has been distributed, participants should not mingle with the public and must not enter the site buildings with cartridges on their person.

No firing must take place closer than 5 meters (16 feet) from the security ropes to ensure that the audience is protected.

No grenades, carcasses or petards, or miscellaneous other explosives or fireworks or simulations of grenades, carcasses or petards are to be employed.

USE COMMON SENSE. Remind the other person if he is doing something unsafe. Apply these and other safety rules, treat all weapons as if they were loaded with ball and had a 'hair' trigger.

Projectile ammunition (ball, shot) is not to be carried on the person when firing or during historic weapons demonstrations.

Never smoke while loading, shooting or handling black powder.

Black powder will be kept at least 8 meters (25 feet) away from campfires.

Children under 16 years of age are not permitted to take part in the tacticals or historic weapons demonstrations. Children between the ages of 16 and 18 who plan to be part of the tacticals or historic weapons demonstrations must be accompanied by an adult.
---