Encampment2006 Website Design and Content © 2006 by Eric Krause, Krause House Info-Research Solutions (© 1996)
All Images © Parks Canada Unless Otherwise Designated
Researching the Fortress of Louisbourg National Historic Site of Canada
Recherche sur la Forteresse-de-Louisbourg Lieu historique national du Canada
Search All Sites/All Menus ~
Cherche Tous les Sites/Tous les Menus
Encampment ~ Rassemblement
Fortress of Louisbourg ~ Forteresse-de-Louisbourg
National Historic Site ~ Lieu Historique National
August 11-13 ~ 2006 ~ 11-13 Août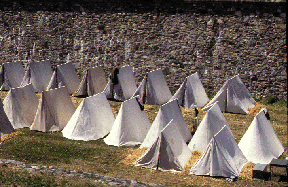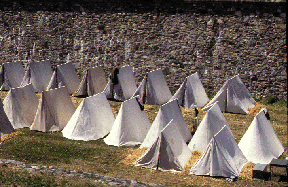 Event Announcement
This sheet was archived on August 14, 2006
August 11-13, 2006
Fortress of Louisbourg Encampment 2006
Time Period: 1713-1763
Site/Location: Fortress of Louisbourg National Historic Site of Canada, Nova Scotia
Contact: Laurel Martell OR Danielle Baldwin at 902-733-3552
Email: laurel.martell@pc.gc.ca OR danielle.p.baldwin@pc.gc.ca
OR contact Anne Marie Coutinho at (902) 733-2280 (ext.3501)
Email: anne.marie.coutinho@pc.gc.ca
The Fortress of Louisbourg experienced sieges in 1745 and 1758 that shaped the history of North America. It is now the site of North America's largest historical reconstruction with a large living history program depicting life in the town ca. 1744.
This year we will be holding an invitation-only encampment of military and civilian French, British or Native re-enactors. This will be a unique opportunity to camp inside an 18th century town and fortress.
Unlike the site's Grand Encampments of 1995 and 1999, this year's event will be limited to only 250 participants. Most, if not all, participants will be camped along the town's waterfront. We are not able to offer interior accommodation.
Weekend Itinerary:
Thursday: early arrival and set-up after 6:00pm.
Friday: set-up with lectures and siege tour.
Saturday: for the military, participatory fascine battery construction and firing the fortress' 18-livre guns; for civilians, workshops in basketry, lace-making and drop-spindle spinning; for the children, demonstrations of 18th century games.
Sunday: continuation of military activities and demonstrations by re-enactors (activities to be scheduled in consultation with participants).
Application for invitation must be received by June 30, 2006. Apply for an invitation on-line at ApplicationFormE.htm
Applications received after the June 30th deadline will not be considered. Preference will be given to groups that most accurately depict Louisbourg's history.
---

Home