BillOshea Website Design and Content © by Eric Krause, Krause House Info-Research Solutions (© 1996)
All Images © Parks Canada Except Where Noted Otherwise; Research © Bill O'Shea
Researching the Fortress of Louisbourg
National Historic Site of Canada
Recherche sur la Forteresse-de-Louisbourg
Lieu historique national du Canada
Search All Sites/All Menus ~
Cherche Tous les Sites/Tous les Menus
THE BILL O'SHEA WEBSITE
LOUISBOURG HISTORICAL NOT-FOR-PROFIT SOCIETIES


English Harbour Heritage Society
Contact Us
SHEKATIKA PROJECT
For a number of years an excellent model of the S.S. Shekatika has been held by the Louisbourg Library. The model, believed by the Society to be the builder's model, was obtained by the late George Lewis, a former Mayor of Louisbourg, from an executive of the Sydney Steel Company, in Sydney, Nova Scotia.
Over the years, exposure to direct sunlight, dust and mishandling resulted in the model being damaged. The Society undertook to have the model restored by Eric Dawe, former curator of the Maritime Museum of the Atlantic in Halifax, Nova Scotia. Mr. Dawe was unable to complete the restoration which was taken over by Clary Peters of Timberlea, Nova Scotia. Mr. Peters worked on the model from the fall of 1997 until he had completed the restoration in the fall of 1999. The Louisbourg Heritage Society underwrote the cost of the restoration.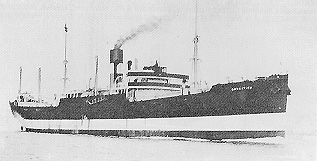 The Shekatika was built in 1936 at the Dundee yard of the Caledon Shipbuilding and Engineering Company, as was her sister ship the Sirikishna. Along with the Saganaga, built in 1934 by the Clyde firm of D. & W. Henderson, these ships were time-chartered on the St. Lawrence coal trade. All three ships were sunk during WWII.
In October 1940, the Shekatika set out from Halifax with a fast HX convoy but could not keep up with the convoy. "She was loaded with steel below, and pitprops piled high on her decks. In fact, so stacked with timber was she that the well-decks were full, and poles standing ten feet above the bulwarks prevented wholesale log cascades into the sea. Plank walks with wood handrails were nailed in place on top of the last of the mighty stack; by this means the crew walked from aft to duties amidships, and to the galley."
Because she could not keep pace Captain Robert Paterson was ordered to turn back and join a slower convoy (SC7) that was following.
That convoy was attacked by a wolf pack of German submarines and the Shekatika was hit by 3 torpedoes from U123 ( Moehle), U100 (Schepke) and finally sunk by U123.
The entire crew of 36 men was saved.
S. S. Shekatika - Statistics
Regular Port: - Leith, Scotland
Tonnage: - 5458 gt, 3,333 nt
Dimensions: - 407x56x28 feet
Engines: - Triple expansion, 3-cyl., 256 hp, D. Rowan & Co Ltd., Glasgow.
Built: - Dundee, 1936, Caledon Shipbuilding & Engineering Co Ltd.
Owner: - South Georgia Co.
Call Sign: - GWSJ
Last voyage: - Gaspé - Hartepoole
Convoy - SC7 (Sydney Convoy)
Cargo - Steel, 2,000T and
Pit props, 6,000T
Torpedoed - pos 57/36 N 11' 0 W,
0311 hrs, 18 October 1940
U123, Captain Moehle, 2 torpedoes
U100, 1 torpedo
Crew - 36 men, all survived.
SOURCES
See Paul Lund and Harry Ludlam, Night of the U-Boats , and Jürgen Rohwer, Axis Submarine Successes, 1939-45.
See also Graeme Somner, From 70 North to 70 South, A History of the Christian Salvesen Fleet, Christian Salvesen Ltd., Edinburgh EH4 1EQ, Scotland, 1984. ISBN 0 9509199 0 X.
---