ERIC KRAUSE
In business since 1996
- © Krause House Info-Research Solutions -
_____________________________________________________________________________________
DÜCK GENEALOGY [DUECK]
_____________________________________________________________________________________

Return
DÜCK [DUECK] PHOTO ALBUM
Margaretha Ens (July 31, 1865 - July 16, 1919 [July 29, 1919])
Four women, including Margaretha Ens, still single, with her hands on her hips, all apparently training to be seamstresses
Roppov was an area of about 3.5 sq. miles and was divided into 4 homesteads. Our paternal grandparents took over one of them after they married in 1913. We are not sure whose place this particular one was. This occasion must have been special to have contracted a photographer, for these well-dressed folks to pose in a boat and for another group to assemble across the water. We can see that the buildings were substantial. It appears to be springtime by the way the folks are lightly dressed, by the bare trees and the submerged grass near the water's edge. The man at the stern of the boat is unknown. The young couple next is David Mathies and Helena Balzer. This occasion according to Oma was their engagement. David and Helena were among those killed on a terror-filled night here in August of 1918. In front of them holding a guitar is our Grandmother (Oma Dick), 18 years of age at the time. Beside her is Maria Mathies, her best friend and sister to David. In front of them is Oma's brother Heinrich and at the bow of the boat is her brother Peter. The man in between in unknown.
January 10, 2014 5:32 PM
Hi Eric,

I was doing some searching on the Enns genealogy and came across your site.
Very very interesting. Justina Groening is my great great grandmother. She was first married to Herman Enns.
I was looking at some of the pictures and I have this same one which I'll attach.
We knew a few people on it but you filled in a few gaps.

I'm sending you another photo of Abram Dueck.....maybe you could tell me which one is Abram and who the other gentleman is.

Looking forward to your reply.

Regards

Ron Enns
St. Catharines, ON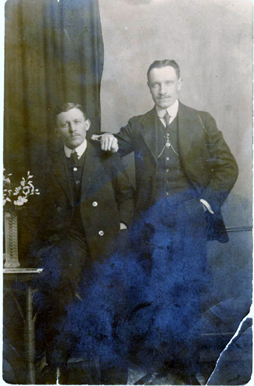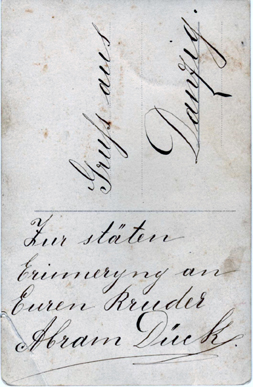 © Ron Enns, 2014
7th of July 1911
Margaret's (Oma Mathies') Oldest Brother, Abram Dueck, standing.
Seated gentleman is Johann Gerhard Peters (February 4, 1886 - October 3, 1953)
Perhaps taken in Danzig, that is where he went to University, I believe - Source Louise (Mathies) Ross
--------------
On Fri, Jan 10, 2014 at 7:43 PM, Louise Ross <lross@mnsi.net> wrote:

Hello Helen ..

There is a Mr. Ron Enns from St. Catharines that owns the attached photo, front and back.
He sent it to Eric Krause to see if he could identify the gentlemen in the photo.
We know the man standing is Abram Dueck, our mother's oldest brother,
however do you know who the other man is that is sitting down?
Since the photo was taken in Danzig it must have been while Abram was there at school.

Mr. Ron Enns also has the family photo in your book p 65 b and is related.

Hope you know the answer .... Louise
From: Helen Johnson
To: Louise Ross
Sent: Wednesday, January 15, 2014 11:49 AM
Subject: Re: Wanting to pick your brain .... Old family photo attached
Hi Louise!
You have really asked a very easy question for identification. Ron Enns is the son of Jakob Enns, who was a son of our Cornelius Enns, who was raised by our grandparents. Unfortunately the chap with brother Abram Dueck is from the Sara ( Enns) Gerhard Peters family p. 99a and b. His name Johann Peters who was also sent to Danzig for 2 years of bookkeeping and business administration. I have a very similar card in my possession given to me by a Peters relative in Wpg. The two guys are there with the same background. My card was written 7th of July 1911 and has a clear letter which I will send you and you can scan it for me. I'll send you the translation, too. I would like the original back. Johann's story is on p 105 &106 [and 107] ...
--------------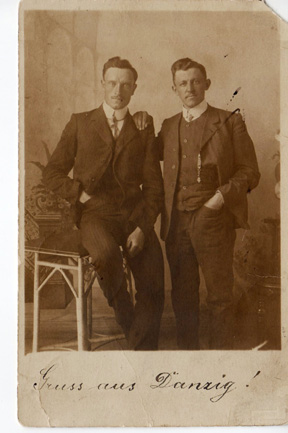 © Helen Koop Johnson, 2014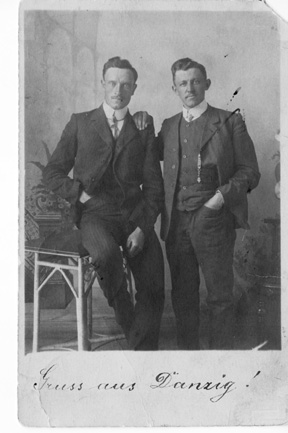 © Helen Koop Johnson, 2014
© Helen Koop Johnson, 2014
From: Louise Ross
To: Ron (Cornelius Enns FB) Enns
Cc: Eric & Lynda Krause
Sent: Saturday, March 22, 2014 10:45 AM
Subject: Photo postcard copies & Letter from Helen Koop Johnson
Ron:

Attached are front and back copies of a postcard from Johann Peters sent to his mother. The photo is of Abram Dueck and Johann Peters with greetings from Danzig. Also Helen's translation of the back. Helen asked that I copy the postcard and her translation and return the originals back to her ...

Louise Ross
--------------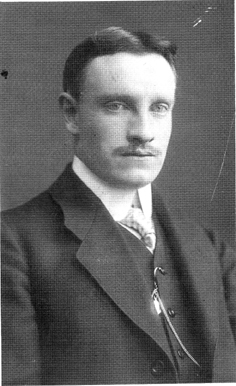 This picture was taken in 1911 in Danzig.
[Helen Koop Johnson, Tapestry of Ancestral Footprints (1995), p. 125 a]
--------------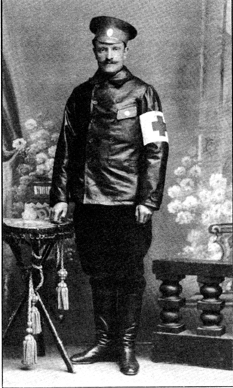 c. 1914 - 1917
Abram Dück while serving with medical corps
[Ernest J. Dick, Courage, Courage, The Lord Will Help, The Family History of Johann P. Dück and Descendants from Schönfeld, Southern Russia (Leamington, John H. Dick, 1990, p. 51]